PLACE DVD 11
Auf der vorerst letzten Place DVD gibt es mal wieder feinstes Skateboarding. Ruhrpott Section, Domplatte Retrospective, Converse in Helsinki, Patrick Bös Part, Moto City Check Out und Last Summer in Berlin Montage. Alles hier drunter. Viel Spass.
PLACE DVD 10
Auf der PLACE DVD 10 erwarten euch die Geheimnisse einer Full Pipe, Rough Days, Michi von Fintel, Stephan Günther und Luc Paulus.
PLACE DVD 09
Auf der PLACE DVD 09 befinden sich 5 Full Parts von Denny Pham, Andi Welther, Skippy, Marcel Kühnemund und Tobi Fleischer. Außerdem 2 Chaos Parts mit Lennie Burmeister, Jan Kliewer, Michael "Fidschi" Tan und vielen anderen. Sowie dem Red Banks Set Attack in Stuttgart! We are proudly presenting you PLACE DVD 09
PLACE DVD 09 OPENING MONTAGE
TOBI FLEISCHER

RED BANKS SET ATTACK

THE OTHER SIDE OF THIS LIFE

SKIPPY

DC TEAM GER / AT

MARCEL KÜHNEMUND

ANDI WELTHER

DENNY PHAM

OUTRO

CONS IN STUTTGART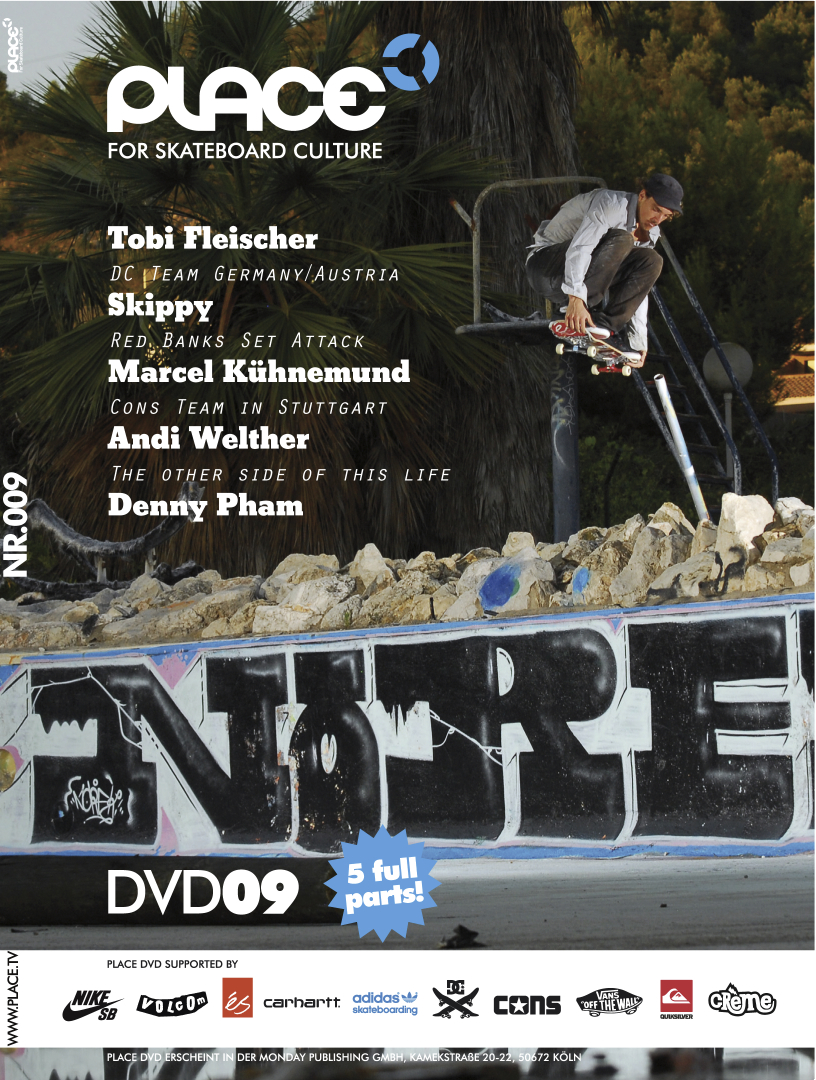 PLACE DVD 08
Die Place DVD 08 zeigt eine Opening Montage mit Phil Anderson, Klaus Bohms, Stephan Günther, Alex Mizurov, Yannick Schall und vielen anderen, den Cons Fanta 4 Part mit Wilko Grüning, Norbert Szombati, Danny Sommerfeld und Alessandro Magnani, sowie die deutschen DC Fahrer Fabian Lang und Xaver Pfriender. Weiter geht es mit Marcus Jürgensen, der Mob & Radio Tour, sowie einem Full Part von Glenn Michelfelder! Get ready for PLACE DVD 08!
OPENING CHAOS MONTAGE

CONS FANTA 4

FABIAN & XAVER

MARCUS JÜRGENSEN

MOB & RADIO TOUR

GLENN MICHELFELDER

OUTRO

CPT. CRACKER