From the vault (no Vans pun intended) pulled to your screen just because it was too good to rot away in some corner of the internet. We did this interview with Mr. Geoff Rowley around 1 year ago in Paris, France. His "Take It Back" part was about to drop, his Rowley Classic just had been re-released and we had some prying questions about Liverpool, his 19 pairs of signature vans, and how important it is to have creative control when it comes to your career. So without further ado, Geoff Rowley for your enjoyment.
Interview + intro by Roland Hoogwater.
Images from the Chromeball incident and Vans,
Did you just come from the U.S. ?
No, I came from England. Liverpool to be exact.
The hometown! Ok, first-question, have you had a lot of creative control over what you have put out?
Yeah, I have always had my hand on what I put out.
Okay, because it seems like, creative control seems something you are very keen on having, right? You were heavily involved with creating the early flip videos on the editing side as well.
Yeah, that is right!
Same with the shoes, especially that just got re-released, correct?
Yeah, it has been in and out. It kinda got pulled for a bit. We put it back now, it is back to being in the line full time. It is still a favorite of mine, we just cleaned it up and made some improvements in the manufacturing process, and put it back out for the people to skate it.
Sounds great! I was thinking about that recently because you had a lot of shoes on vans right? I counted them actually and it is 14 original models and 19 shoes including different editions in total. You are on Vans for 20 years now, so that is almost one shoe a year.
That is right.
That is pretty impressive!
It is really humbling. The brand has always supported me and had my back, you know. And that says a lot about the Vans-brand and about myself. I am a pretty loyal guy. I am not the kind that wants to ride for a company for a bit and then go somewhere else. I am a people person. I like to talk to and hang out with my people. When I believe in the company and the staff that I meet, then I make a choice and to be part of that. Vans has always believed in me. It is a great brand and I am proud of its history.
I recently saw that Nine Club Episode with Caballero and he actually credited you a lot for bringing Vans back to the forefront. So obviously, It is not only that Vans has stayed loyal, but you also brought a lot with you.
I mean, if Steve Caballero was not at Vans, I would not be there. Steve paved the way for Vans during the 80s and 90s. Nothing but respect for Steve. And then Tony Alva, it still is the same as before. He still is with the brand. Through good times and really bad times. So I think Steve is like that too and I have nothing but respect for him. I mean he is an incredible skateboarder.
Transitioning back to creative control, You made the decision to create your own brand. FREE DOME 66/99. Can you tell us a little bit about that?
Well, I was involved in the skateboard business for most of my life. But after a certain time, it (FLIP) did not end up going in a direction that was necessarily healthy for me. So I had to remove myself, and this is a hard reset. A brand new start. I feel really positive, stoked and creatively inspired to rebuild again. And thats what I am doing with this brand. No Rules, I do not have a business plan and I am going to do it all on the fly, all the time.
What I really enjoyed when I went to the website was the open call for sponsor-me tapes. I believe it said: "The Gnarliest of Gnar" and "Positive of Mind and Spirit". I really enjoyed that, because it shows pretty much both sides of skateboarding. What was the thought process behind that?
Well, that heavy side of skateboarding. Bigger, faster, and more aggressive, just that Cardiel "skate and destroy" thing, that I have been inspired by. It does not have to be a negative thing. It is not an angry attitude. That is not an attitude against the concrete and the handrails. It is about getting that emotion out when you are skating. You can be in a positive state of mind when you are doing that. That is what I meant by that.
If you are going to skate and you are going to give it everything you got. You still have to have the right attitude. You know? Especially now, more than any other time, we have got so many challenges with all of the digital technology that is being thrown on our brains. It is not healthy and I want to count to that.
I can feel that with the brand. The boards for instance look kind like they are screen printed.
They are! All of them. Every season we have been screen printing them. As long as we can handle the workload. It is a little more labour intensive than using the digital transfer, which you can do a lot of cool stuff with as well. But the process of putting a graphic on to a skateboard the pure way is with paint. Right?
It feels more like an object when it is painted.
It is a different feel, it smells different and it slides better. We are always going to try more of these types of things. I come from a manufacturing background, you know? I do a lot of manufacturing with my knife company that I do. I am learning a lot about what we can do or not do with a graphic. I like pushing boundaries too.
I really like the analog feel to these things. It feels more like a return to how you maybe started skateboarding. Just think about how boards and t-shirts looked back then.
I want to build an environment for the brand for it to be healthy. When you usually start a brand you do about 4 drops a year. Maybe 5 other small drops in the middle of that. But that is being done already and there is an opportunity to build different relationships with retailers and customers. So that they understand your intentions. It is really important to me that the focus goes to the skate shops. Because that is where it started for me.
Is that also why going to Liverpool, is important, because of "Lost Art", Dave Mackey and those kinds of people?
That scene is hugely important to that part of England. To give kids a place, to go to where they feel accepted and be a part of that kind of skate culture.
I am from Liverpool, I am from the north. That is where it started so for me and for my story with Vans that is an important part of the story. So for instance, for my shoe re-release we did an event in a bombed out church, those places mean something they are tied to my story.
I heard it is a very famous spot, that you used to go by on your way to School every day?
I used to get off the bus there and go skate. So that I did not have to take the one-way service, that would actually take longer, it went all the way across the city, to the skate spot that would all meet at. So I would get off at the bombed-out church and I would skate down the hill, down Bold Street, passing by Lost Art Skate Shop all the way down to the bottom of High Street just mess with the students along the way. Trying to power slide past everybody. And then, I would hide on the back street, so I would not get beaten up. Because It was pretty rough back then.
Liverpool was not the same as it is now. You were not the cool kid in school with a board back then, right?
Yeah, I was spat on, I was shouted at, all the worst things you could imagine people screamed at us. We were attacked and beaten in every way possible.
That has really changed, hasn't it, skateboarding is more accepted now.
Yeah, in most cities in England, before there were cameras everywhere (CCTV), they were more violent, more aggressive, dirty, unhealthy and sick.
It is obvious that Liverpool and England is important to you but you also like taking people on trips and showing them the spots, is there something in that for you?
I have always been in England, even around the time that I lived in the US since 1994. I think there is not one year that I have not been back to the UK. I usually go back between two or five times a year. I go to Europe a lot you know? Those trips are not really intentional. But when asked, where I want to go skate to start making a video, my immediate answer is where I am from. It is always like that really. That puts you in a good frame of mind and you know, you are going somewhere, that you are comfortable at and that fires you up. Also, a lot of the skateparks in the UK are different, they are older, from the 70s and early 80s. Some of them are forgotten, so there was something to that too. My last project with Pedro Barros & Ronny Sandoval, some of the gnarliest park guys. I wanted to see them skating in the same parks I grew up skating.
That is what I mean by taking them there. Maybe there is a particular skatepark, in Scotland or somewhere else for instance and you are wondering what these guys can do there. And it gives the scene something too, to be featured, and show these parks.
You are the first person from Europe and from England specifically to ever get awarded Thrasher Skater of the Year.
From Europe? I have never even thought about that. You're the first person that has ever even mentioned that to me. Are you sure that's correct?
I double checked it!
Bob Burnquist from South America was before that right? But that I am the first from Europe?! That is fucking rad!
That means a lot, I think. Maybe it is not spoken about a lot, but just mentally people remember that you are from Europe and it reminds them that they can do it. It is not just for Americans.
Skateboarding was not really global back then. The industry was still out in America, California mostly. The European scene was still fragmented from that pro circuit side of it. We always had amazing skateboarders coming out of Europe, but when I moved to the states in the mid-90s, that was just about to happen. A lot of the videos when I moved and we started to film, we wanted to come to places in Europe and film there. There were not a lot of videos prior to that, that showed Europe, South-America, Asia, we wanted to be worldwide. With a global presence. I think the first ES video, "Menikmati" was an important step towards that and then the videos that came after that…
Flip "Sorry" which is a big part of European skate history.
We all filmed everywhere. As a catalyst, to show that skateboarding is global. To the American community in Southern-California. That kind of growth, was healthy for everybody.
That 100% true! And it was inspiring to see for the European skate scene. Maybe moving to the states then was necessary then, but it is not anymore. Maybe you were the catalyst that started that change.
I agree, that it is not necessary, but a lot of the industry is still there. It is the birthplace of skateboarding and the tree has grown from there. There is still a lot there, that is still a reality. But it is awesome, that it is open to a public community, for skaters, boys, and girls, people everywhere, how sick is that?
Do you have a prediction who could be the next skater of the year from Europe? People that just make you think: "Wow". Because you can not just become SOTY you gotta have something special.
Daan van der Linden has the ability! But there are a lot of great skateboarders right now, and I think we are going to see kids popping off in the next two years, that are going to knock people's heads off.
I mean there is a great one from Liverpool too right? Charlie Birch for instance.
Charlie is an amazing skateboarder. I have known Charlie since he was a younger kid and he is a good example of what we just talked about.
He is undeniably for Liverpool with an accent like that.
Very humble too! Very nice family, very great skater and nothing but respect for Charlie.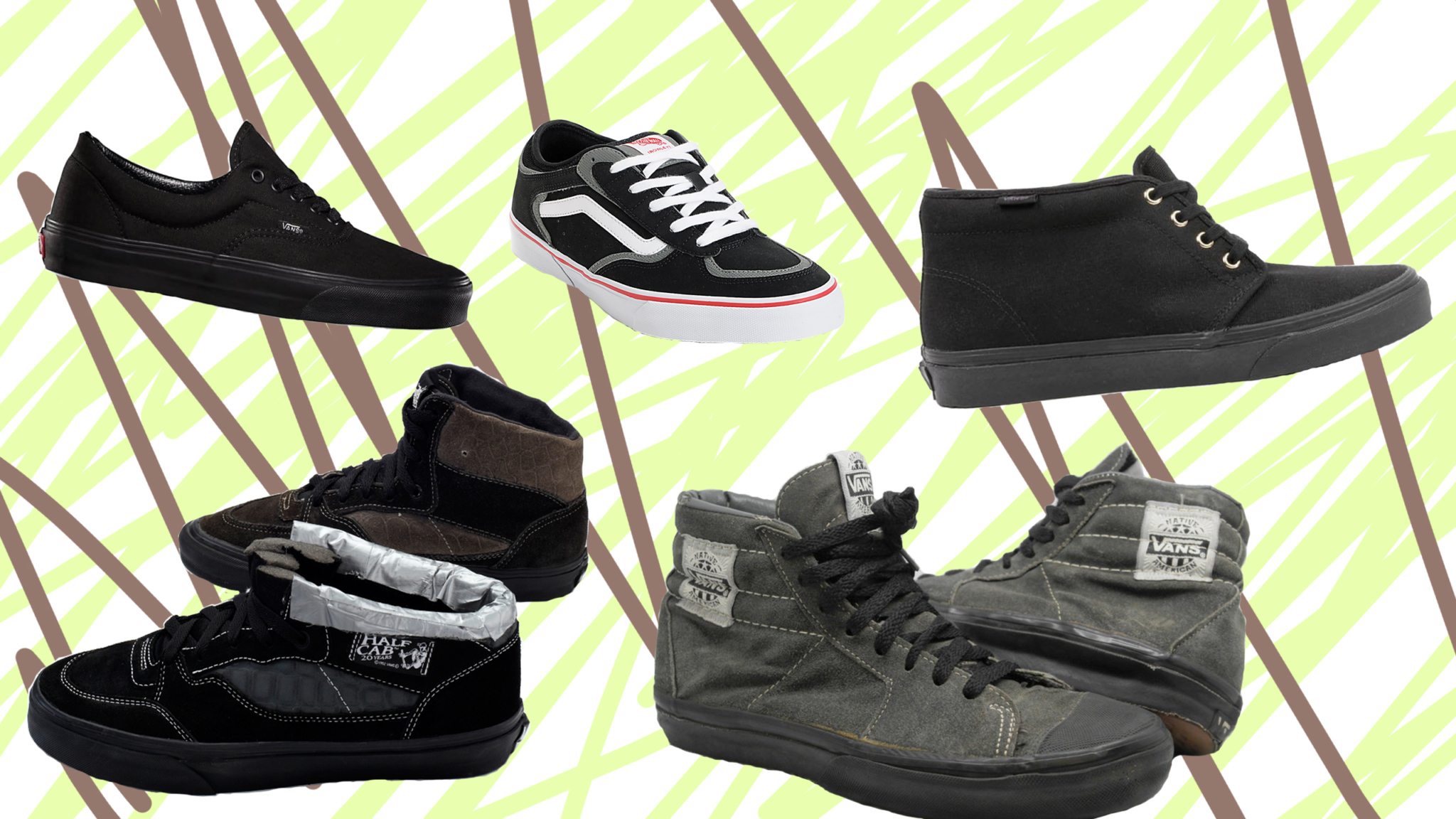 One last question. If you were to rate, Top 5 shoes you had with Vans, which ones would that be?
I can tell you that I do not favorites. I can tell you 5 that I like though:

1.Black Canvas Era's, not suede. Black Canvas Era's, I like those.
2.The Original Half Cab in black and grey. Incredible shoe.
3.The Rowley Classic, that is three right? So two more that are memorable.
4.The original Vans Natives, do you remember those? In grey suede, I love those.
5. Black Suede Chukka Boots with brass laces. Because when I was first growing up I had about five pairs of Chukkas in different colors. The black ones were much harder to get tho. So they always kind of stuck in my head. And when I got them I skated better, than with the other ones because I was so juiced up.
That really makes a difference. Looking down and you really like what you see.
"Toe down" is what they call that.
Is there one shoe out of those 19 pairs that had your name on it, that you would like to re-release next to the classic?
If I would be straight up honest, I like them all. I designed them, all for a purpose. So I can not really pick one honestly.
There has been a couple of great ones. The XL2, the first one (XLT). I really liked those.
The XL2 design-wise but the XL3 was really comfortable. The best one out of those 3. That one was my favorite for comfort. Because it was a little bit slimmed-down at the right spots and it had the right shape on the feet. It would be great to see those again.
Thank you so much for your time. It's pretty cool that you were the first guy that I interviewed when I started in skateboard media. It would be cool to do this again one day.
Thank you too. Really good questions too!