Today is Monday, tomorrow is Tuesday, and after that comes Wednesday. A lot of those days have passed since this trip to Marocco happened. But through the wire and a solid time machine finally now comes the time to present to you 2018 in a 1994 format. Rabat was the scene, Louis Deschamps was the filmer & Hugo Maillard, Alexis Jamet, Clement Harpillard & the always elusive but talented Mortensen brothers were the sk8ers. Why 1994? we don't know but Louis went to New York in 1993. Maybe that has something to do with it? Anyway, instead of having just text to read, we invested in something very 2021, namely a translator who reads the story to you! To keep with the times we asked him to speak to our international audiences in 3 languages. That way the Maroccan skaters can choose Arab or French, The French can choose….well French and The rest of us that don't speak any of those can choose the queen's English.
Pictures by Alexis Jamet & Clement Harpillard.
Intro by Roland Hoogwater.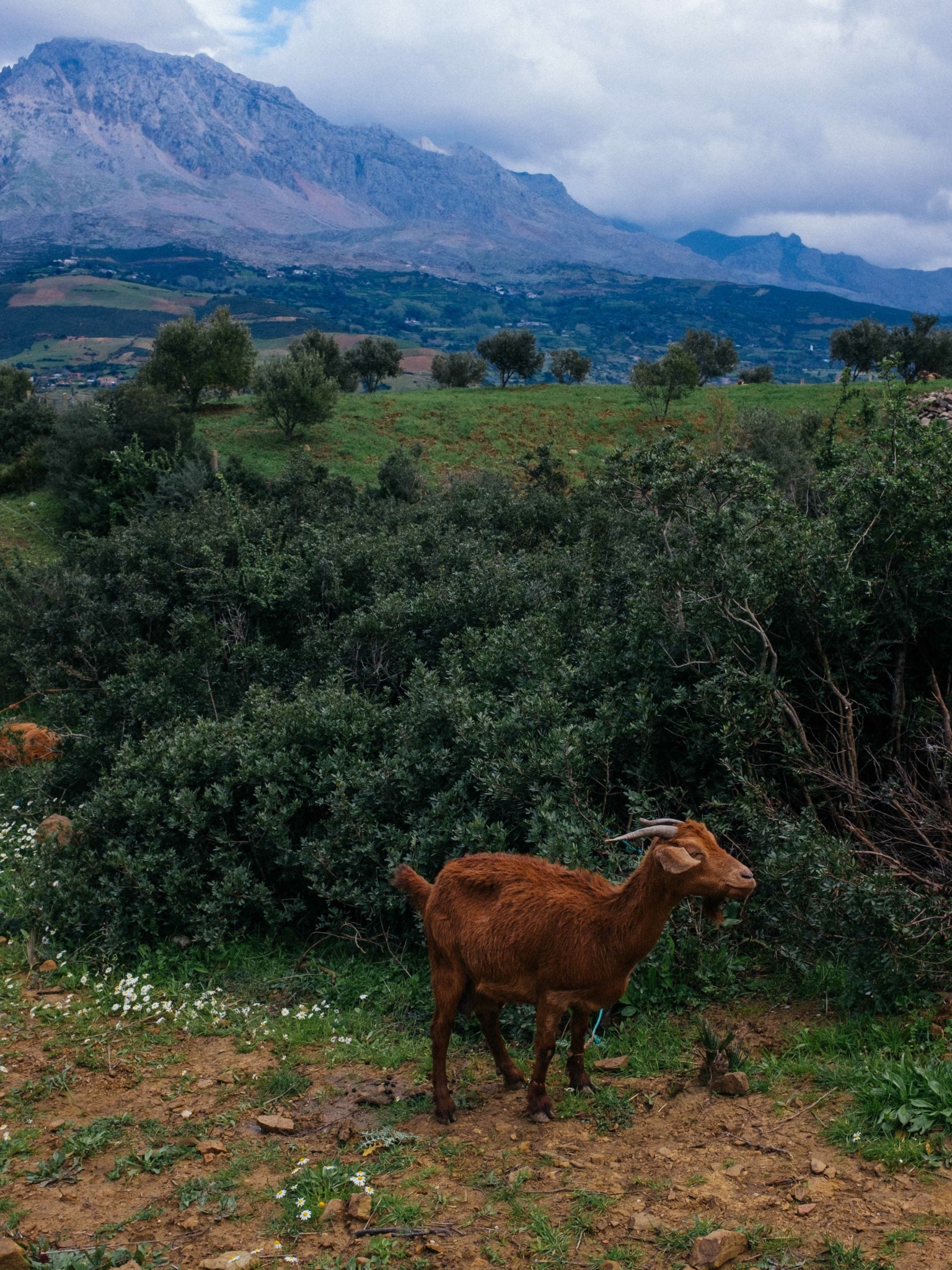 Louis Deschamps version of events:
My dear Hugo and I wanted to make new skate friends. We were dreaming about a new way of skating, freer, happier, and more Marcel Duchamp-like (You know, the French artist who used to play chess in the toilet). Suddenly we ran into a video by the Mortensen brothers on Youtube.
We recognized ourselves in their purity and fun. I wish I had shot their videos. And that's how it began, a video love-letter between our two couples. It was super hot like Beauvoir writing to Sartre.
So that is how we found our two lead skaters for the video. We needed to build a skate team so I took my phone and called my partners in crime: Harpi was scratching his balls: Easy to convince. Jawad was working as an art director near a swimming pool close to Los Angeles, he said « fuck it, I quit! » When we arrived in Rabat, Patrick and his Jeep were there to pick us up. He is living in Morroco working on a scientific type of study and enjoying his free time.
We discovered an amazing city, a lot of palm trees, fancy people, and on the other hand, street kids and a lot of poverty. The Rabat skate scene is quite amazing: Real Thrashers! We were here to skate too but a load of shit happened to us: the Mortensen's got hurt early on the journey. They also puked their Swedish guts out. The French were having their typical phone arguments with their girlfriends. Harpi and Alexi began a fake shoe scam company and forgot to skate. And then we discovered surfing! You should definitely try it!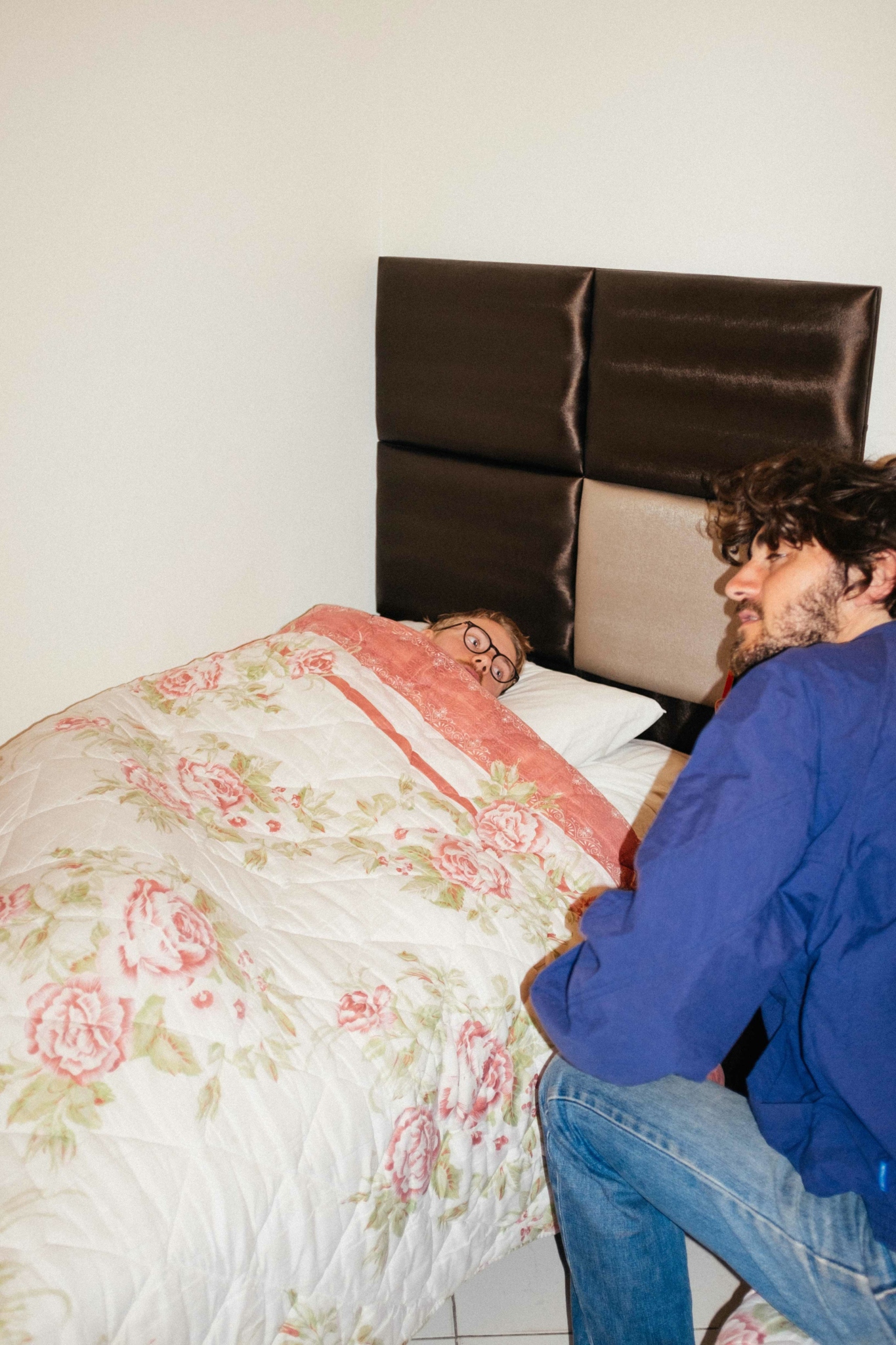 Amandus' side of the coin!
This is one of the funniest pictures I have ever seen. Been laughing hard every time I look at it. It wasn't good that Sondre was sick but he got better not too long after this moment so that was good.
The mountain sequence is a picture of togetherness. Thankful for each other.
Hugo is good at skating and his heartwarming jumps keep on inspiring me like a bird on the horizon.
Surfing rules!
We are really sad that we didn't give Patrick our boards! Next time Patrick! You are one of the best! The world needs more people like you! Open house to strangers and a teaching soul.
The way, way too sweet mint tea. Not our favorite but we took one every now and then, Marroc style!
Louis was handling the camera like none other and he is a beast in the water! Let us surf soon BRO!
Thanks, Romain Batard for lending his vx1000 to Hugo, maybe we will see the footy sometime?! (laughs) Clement, such a class act and is shit good!
A journey within and on the chess table, I never thought I could even lose against any of these amateurs but then I lost one time and it was a humbling experience.
These guys are the best! We definitely weren't too sure about the whole idea of going on a trip with 6 people we never met before, but the moment our eyes met it was a done deal. It was going to be nice! Like Popcaan says: "Everything is nice".
Alexis, you don't even have to say it, he is just that good of a person! Reminding us to appreciate every moment, with the most hit playlists out there. He also found some great corduroy pants for me at the market that I wear very often, thanks A-lot brother!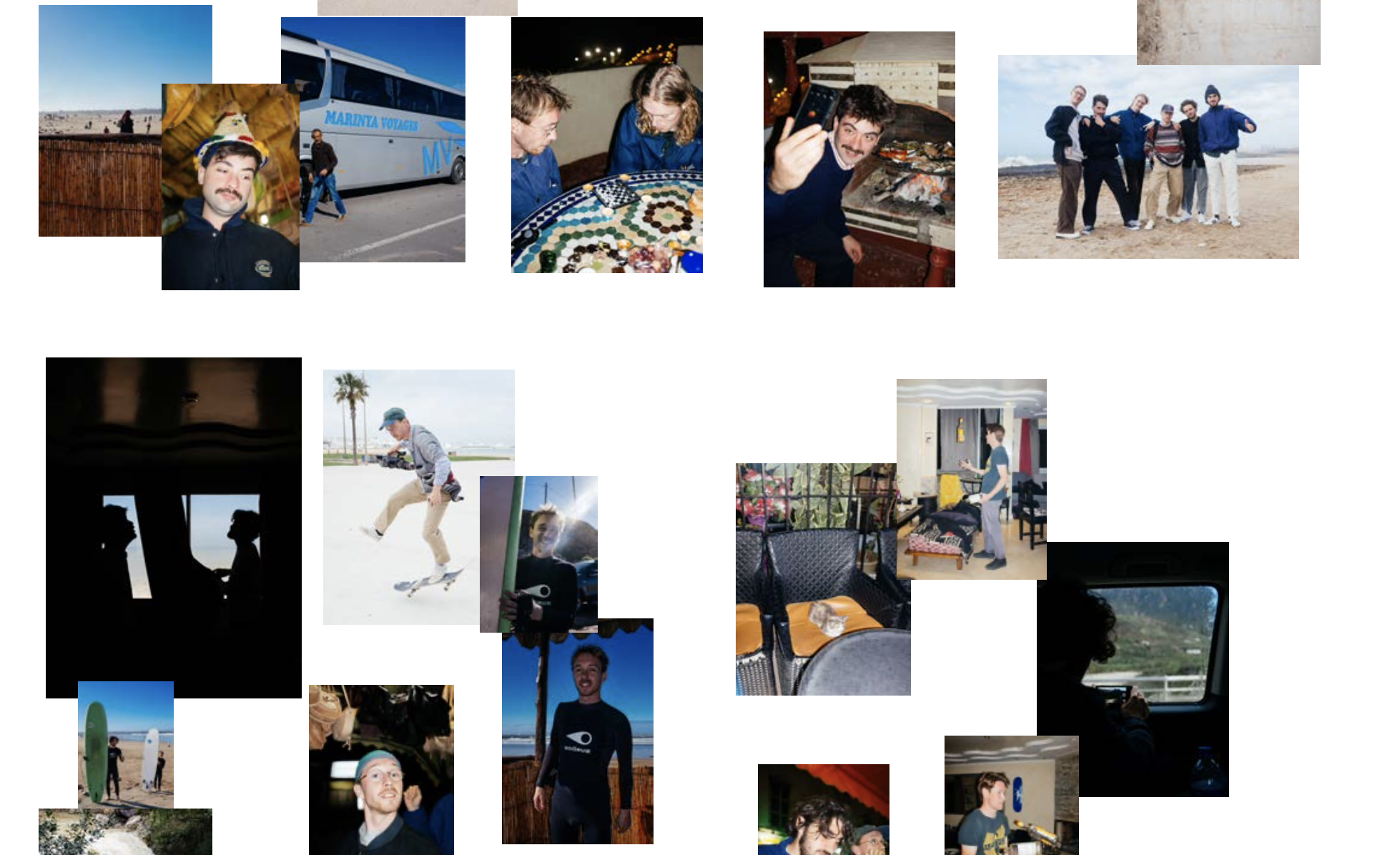 Hugo tells all (IN ALL-CAPS)!
ALEXIS DID ABOUT A HUNDRED CROOKED GRINDS TO MAKE SURE HIS HAND ALLIGNED PERFECTLY WITH THIS MOUNTAIN LANDSCAPE IN THE BACKGROUND! GOOD JOB ALEXIS! IT DOES LOOK GOOD!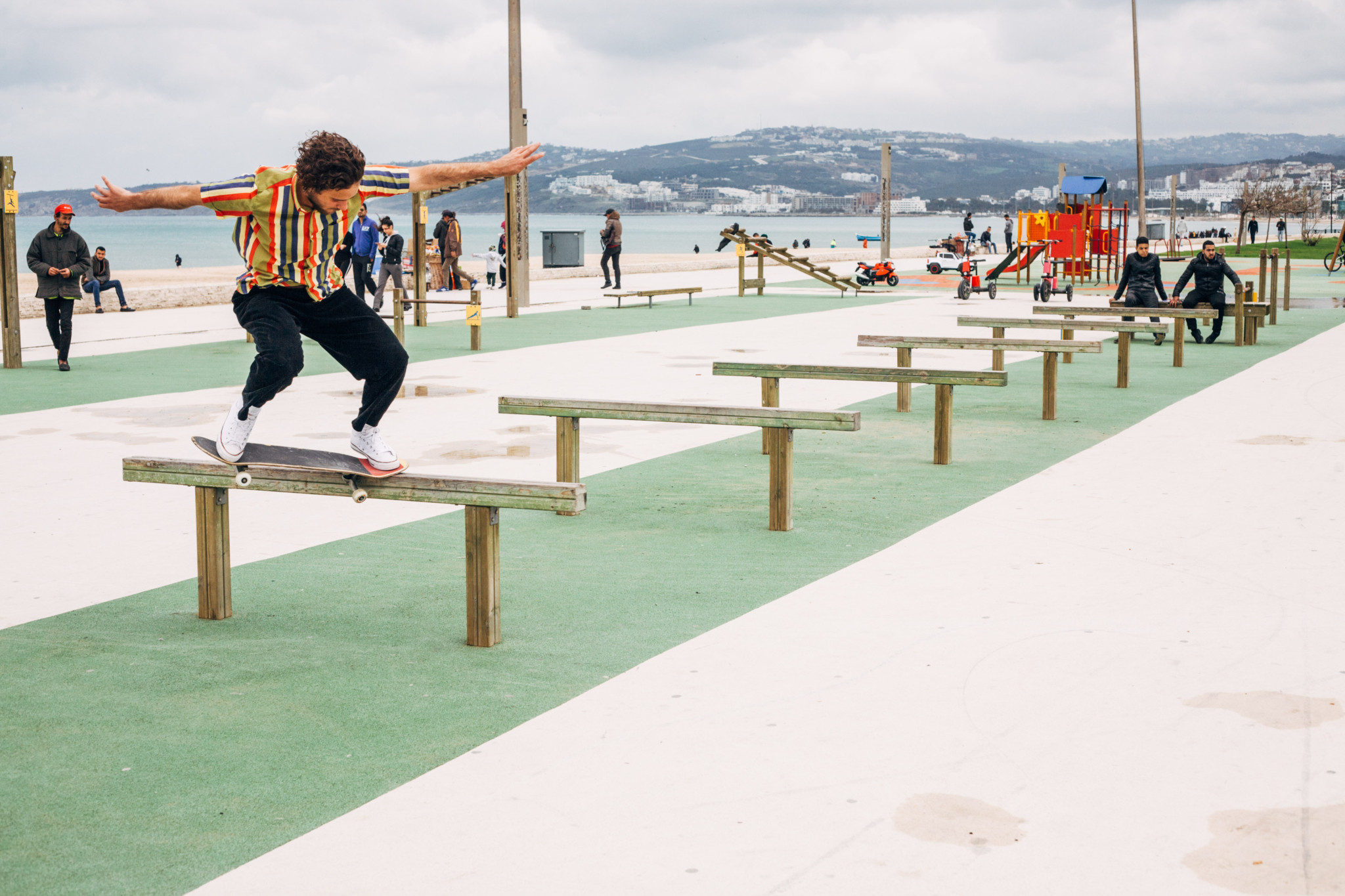 AMANDUS IS THE AMBASSADOR OF CHESS, THERE ARE NO CHESSBOARDS IN THIS PICTURE BUT BE SURE THERE IS AT LEAST ONE IN HIS BRAIN AT ANY MOMENT.*
MARROCAN SKATERS HAVE A LOT OF DETERMINATION.
THOSE CLASSY SHOES: EVERYONE IN THE SOUK MADE FUN OF US WHEN WE WERE BUYING THEM WITH SONDRE, I GUESS THEY WERE WOMAN'S SHOES. ANYWAY, A MONTH AFTER WE CAME BACK I THOUGHT THESE SHOES WOULD WORK GREAT FOR A MARIAGE TYPE OF SUIT. BIG ERROR, MY JEANS MADE ME LOOK LIKE THE PERFECT REDNECK, GOING OUT TO A COUNTRY CLUB WITH MY GILRFRIEND'S FAMILY…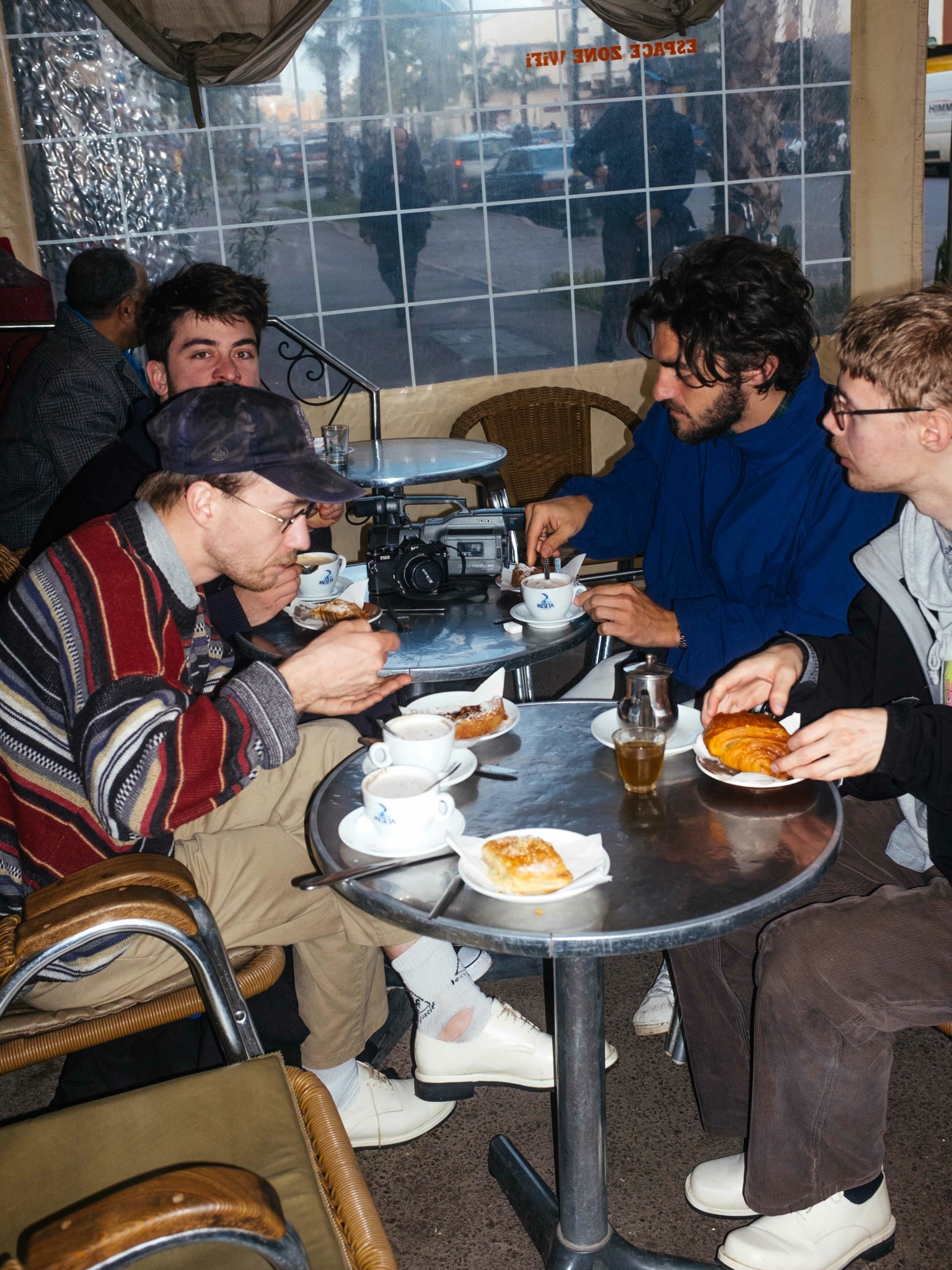 WHEN WE TRIED TO GO TO A WATER- FALL, WALKED AT LEAST AN HOUR ON THIS PATH ALONG WATER, AND FINALLY GOT STUCK BECAUSE THE WATER WAS TOO HIGH TO CROSS THE RIVER. WE TRIED TO BUILD A "BRIDGE" DIY STYLE, BUT THERE WAS AT LEAST 10 RIVER CROSSINGS LIKE THIS ONE TO GET TO THE WATERFALL SO WE DECIDED TO GIVE UP… ONE MAN CANNOT BUILD 10 BRIDGES IN A DAY.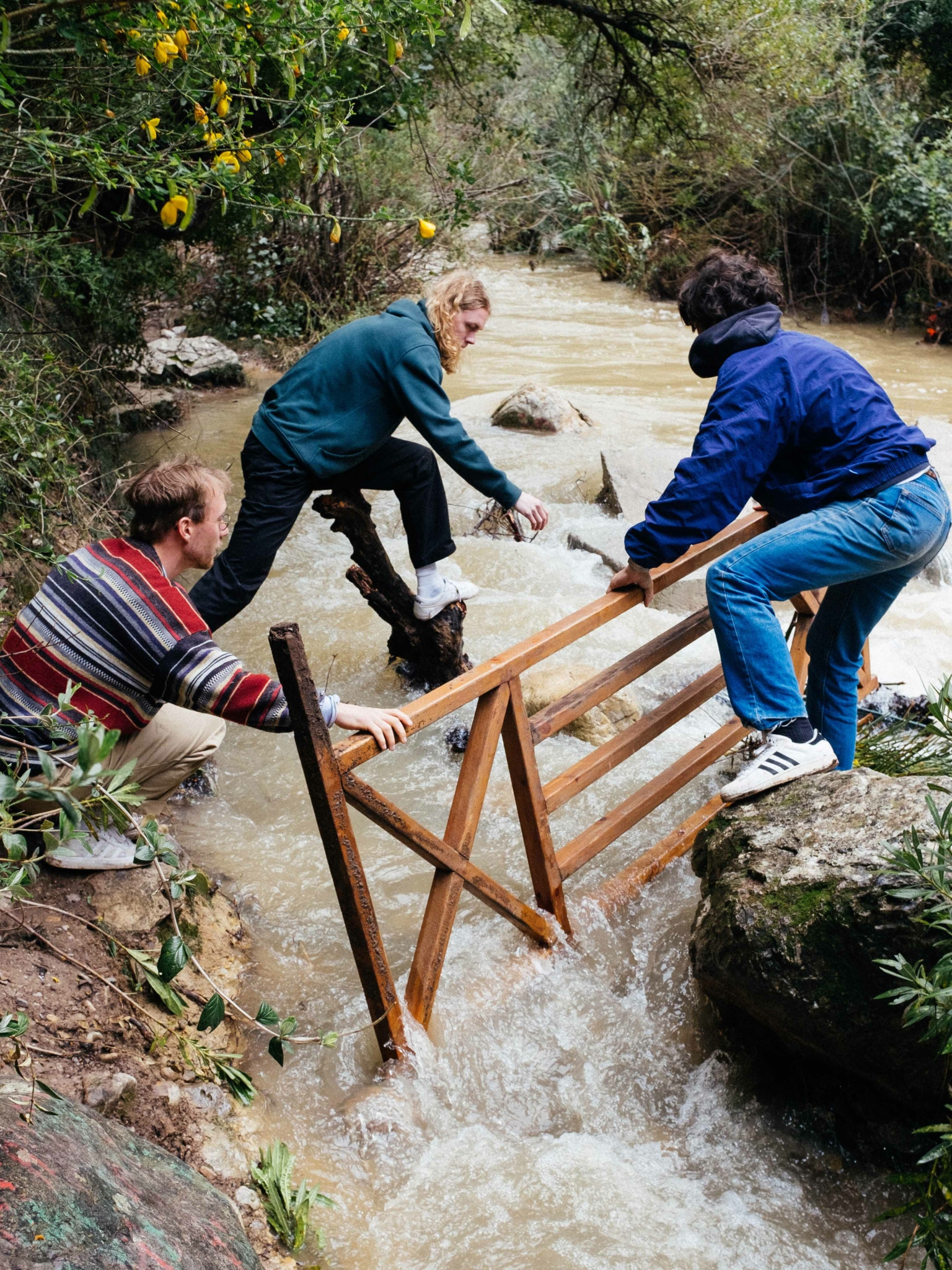 I MUST ADMIT THAT WE WENT TO OUR ONLY MCDONALD'S OF THE TOUR. I AM ALREADY THINKING OF IT IN THIS PICTURE? GOD MAY KNOW. ANOTHER FUNNY FACT ABOUT OUR MCDONALD'S MOMENT IS THAT A WEIRD BAREFOOT GUY AWKRARDLY FOLLOWED US FROM THE SPOT TO THE DRIVE-IN PATH AND HELD UP THE FOURTH "PAYMENT DESK" WHILE HE ASKED US FOR MONEY.
AFTER ORDERING WE WANTED TO EAT OUR MEAL IN THE CONCRETE SKATEPARK BUT WE HAD TO PAY AN ENTRANCE FEE SO WE DECIDED NOT TO GO. THIS WAS THE END OF OUR "QUART D'HEURE AMÉRICAIN"