We are all part of the labyrinth – aren't we? Today we present you "Labirinto" an independent full-length video by Bruno Rocha featuring André Saide, Leonardo Favaro, Akira Utida, Bruno Prado, Claudio Junio, Felipe De Carvalho, Matheus Du Bronks, and many more. Filming for almost 5 years and visiting 8 countries the video not only delivers great skateboarding but also confronts us with deeper questions about existentialism, racism, and capitalism. Because it was too hard to decide on only one part out of so many, we are going to present a special mixtape featuring André Saide, Leonardo Favaro, and a few more to give you a glimpse into the whole project. Accompanying we have an interview with André Saide talking about Labirinto, social-political questions, and the necessity of their presence in skateboarding culture. Enjoy!
Intro & Interview by Lea Isabell Uhle.
Filming & edit by Bruno Rocha.
Hi André, lovely to talk to you! It has been a while.
Hi Lea, yes exactly! Good to talk to you too (laughs).
Maybe we can start with a little introduction, André. I mean we have both known each other for a while now, but let's do this for the people that don't know you (laughs).
My Name is André Alexandre, but everyone knows me as Saide. I am Brazilian from Campinas and I have been living in Barcelona for five years now and yeah, I'm a skater and a filmer!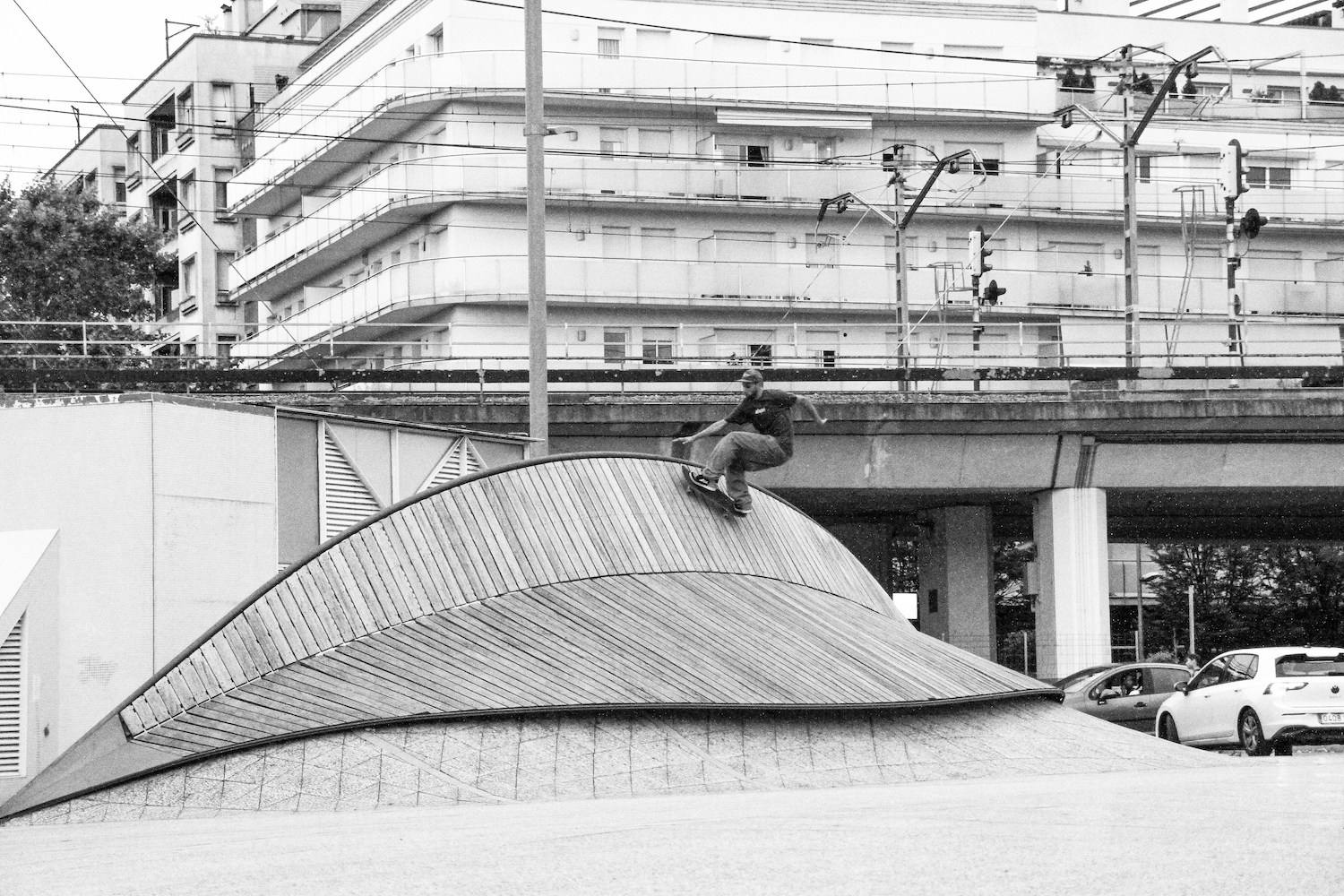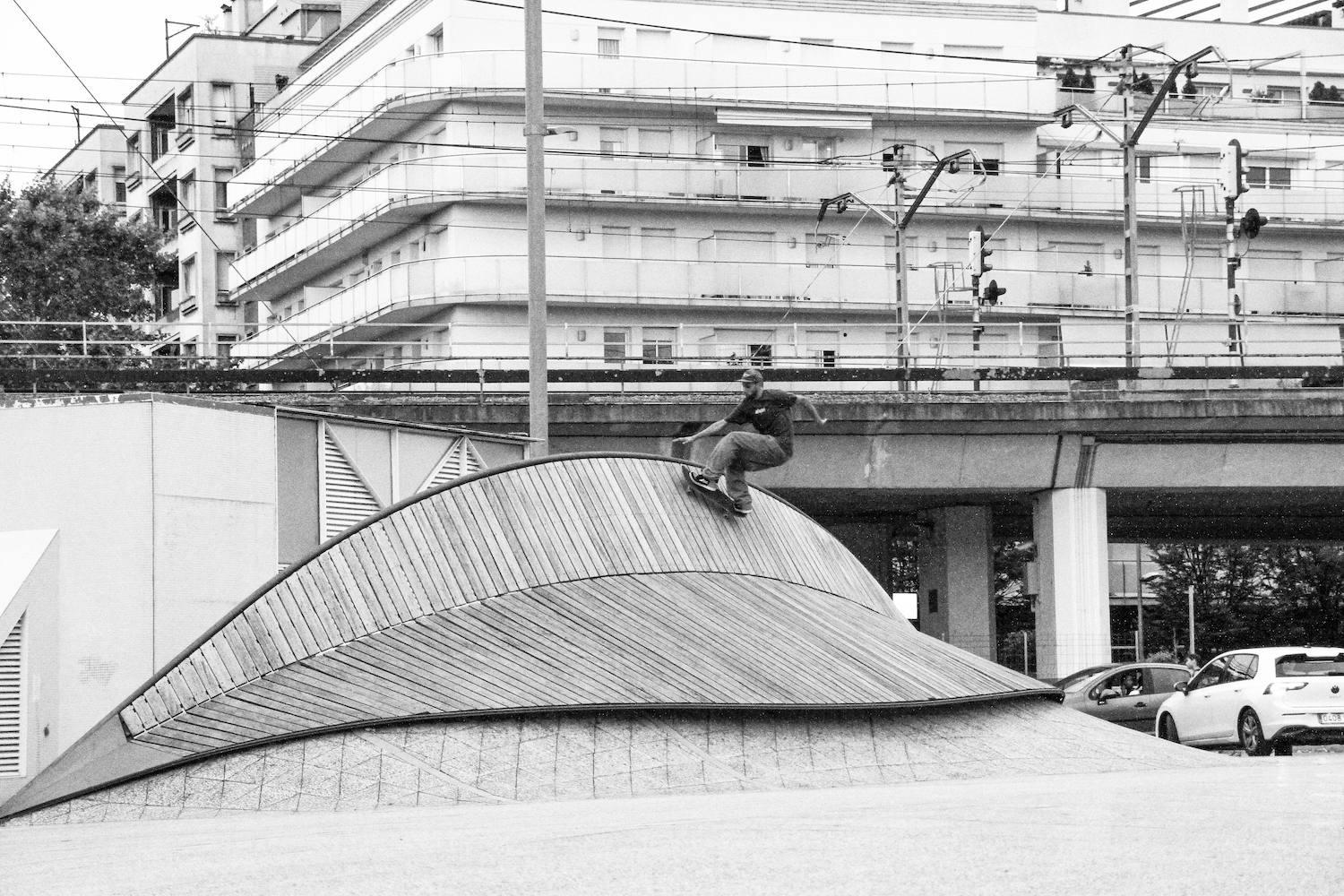 Lovely! And here we see a part of yours, which you filmed with Bruno Rocha. Can you remember the first time you met him?
I met Bruno in the Alcarrer Skate shop in Barcelona when he was working with them as a filmer. They hosted a video premiere by the Colletividade 'Por Amor Bela Dor' and Bruno filmed almost 90% of the video. We spoke a bit and he told me about his project Labirinto. At the same time, he invited me to be part of it and that's how we became friends. We spent a lot of time together, having fun, getting clips, and yeah, a lot of things happened you know (laughs)? It was crazy because we didn't have a full part in mind when we started to film. It came together really naturally.
How long did it take you then to finish your part?
Around two years, maybe a bit more. I think the video premiere was the first premiere that happened after the quarantine, so we started shortly after.
Oh yes, the quarantine! I heard that Barcelona was really shut down during the most intense stages of the pandemic. How did it feel afterward? Did you start to travel again?
Yeah, we went to Alicante. We did a trip with a van, you know, like a worker's van (laughs). It was Akira Utida, Pablo Márquez, Bruno and me. The van only had three seats so they were in the van and I followed the van. In Alicante, we were kinda camping. We slept at the beach and explored the city with the van and I had my bike with me. It's a really small, but beautiful city. We also went to Copenhagen together but I think, besides some smaller cities around Barcelona, that are the places we went to for my part in the Labirinto video.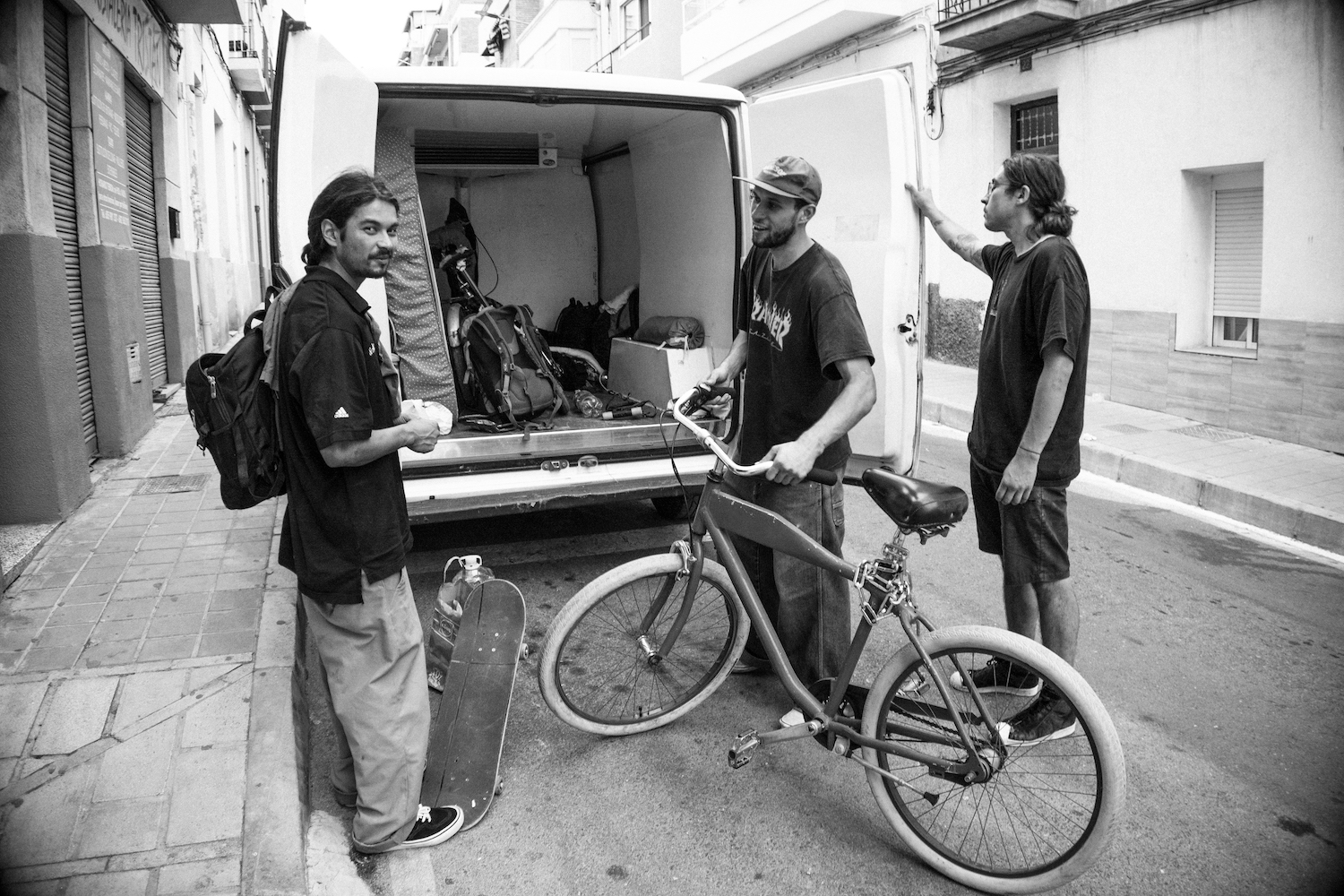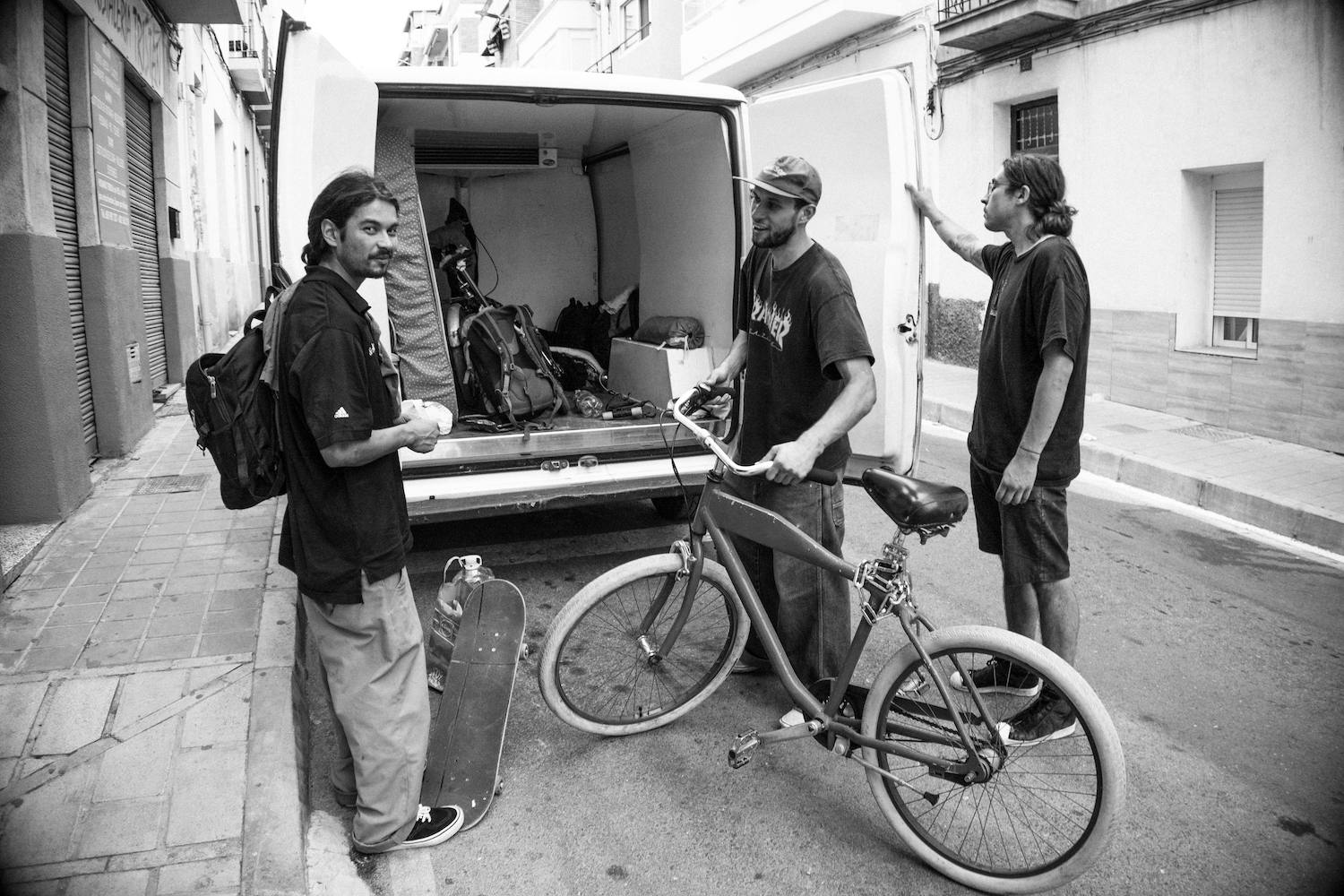 I saw that Bruno had been to Berlin. Where were you during that time?
After Copenhagen, I came to Berlin as well (laughs). I was there with Felipe Humphreys, who is a filmer, and Rodrigo Gonzales. I remember that when we were in Copenhagen we were like "Yeah, let's go to Berlin and get some clips"(laughs) but after one day in Berlin, we went to Frankfurt.
I think…
Yeah, Lea, we met there (laughs).
Yes, I remember (laughs)!
When I was on my way to Berlin I texted you that I was coming. A couple of minutes later you replied that you were in Frankfurt, and I said that I will follow the next day (laughs). Actually, we were supposed to stay at Patrick Rogalski's place in Berlin for a bit but he told us he was coming back from New York and would leave straight away for Frankfurt too. So we just bought this cheap 9€ ticket where you could take public transport all around Germany and went too. I remember how we tried to take the ICC (fast train) but got kicked out because the ticket was only for the regional trains (laughs).
Oh no, I remember a lot of people misunderstood the rules of the ticket and the trains – even us Germans! How did you like Frankfurt?
Frankfurt is fucking crazy! I couldn't understand anything. I mean I can introduce myself in German (laughs), but it wasn't enough for Frankfurt because everyone just speaks German.
Yeah, I think outside of Berlin it can get harder to find people speaking other languages in the streets (laughs). So no tricks in Germany for Labirinto, right?
No, sadly we were just skating and partying in Germany (laughs). Unfortunately, I missed the other trip to Germany with Bruno. He went there some weeks after with Akira and Matheus Du Bronks but I had to work in Barcelona.
Talking about work. Something that also really caught my attention in the video was the sequences in between the skateboarding elements. A lot of audio, animations, and texts relate to topics such as existentialism and racism, which really give you a reality check. Even the title's deeper meaning is related to the Cretan Labyrinth, which was created in order to hide the negative side effects of King Mino's greediness. Bruno told me:
,,By applying the ideology of the myth to our current times, I still see ourselves trapped in a Labyrinth that keeps hiding from us the greed of this capitalistic world around us, leaving us lost in endless paths and taking us away from harmony, equality, and love towards the other.''

Bruno Rocha.
Would you agree with that message, especially when it comes to capitalism?
I think capitalism is part of everyone's life. There are moments when you only live to work because you have to make money in order to survive. I think life shouldn't be like this. Life is actually about feelings, family, and friends. Sometimes I am really focussed and I am just working, working, working so I make a lot of money, but at the same time I just do it to have money to be able to have even better experiences – you know? In the end, money is not that important to me. I believe that after death, our soul lives forever and it's not dependent on money. So I kind of don't understand why it has to dictate all our lives on earth.
I think I know what you mean, yes. I also think that regarding capitalism it is really important that the effects of it are not equally tangible for everyone and that racism is a driving factor that keeps the system of capitalism alive. I know that you traveled a lot and that you have been to places where you experienced the effects of capitalism. Can you tell me about that?
I think when I was in Thailand I saw a lot of negative effects. For us, as people that live in Europe, everything is super cheap over there and even from this little amount of money, nothing goes to the people. For example, I met a girl from there who was doing commercials, but she had to pay so many security taxes, that her salary ended up being really low. Even if you have a good job, you know? And next to really low salaries, there is a whole culture of materialism. You need this and that to be happy, to fulfill certain kinds of beauty standards, to make life and work easier, you know? I mean you have been there, it's flooded with commercials of how life should look like! It's the same in Brazil. If you have no money you're nothing!
Are you experiencing the negative effects of capitalism too?
Yeah, I think so. Sometimes I have money and I have to pay shit, sometimes I have no money and I still have to pay shit (laughs). Everything depends on having money. For example, when I'm traveling and something goes wrong with my business in Barcelona, I would not even be able to return. It's crazy how everything just depends on these things.
Does skateboarding help you to cope with those situations?
Yeah of course. Sometimes I just go skating to forget everything. Even though it's just for a single moment. It feels really good to forget about certain stuff – especially all the money struggles because when you are lucky you can just go out in the streets to skate and hopefully you don't have to pay anything for it (laughs).
Do you think that videos like Labirinto can help to create more harmony by reminding us of those topics?
Yes, I think all the people in Barcelona were really impressed and I was too. If you just see skateboarding in a skateboard video, you just see what you see you know? But those little elements in Labirinto really make you think and they also connect you in a certain kind of way – because everyone experiences capitalism and racism even if it's in different ways. People sometimes forget because they are trying to live their lives and survive. They are just trying to make money and have no time to think, you know? Also during the premiere here in Brazil – it's a topic that really has to be seen and heard. A lot of people don't know how the world works, you know?
For example, I went to Sao Paulo because Gabriel Furka and Rodrigo bought a Hotel and I wanted to help them, but it was a catastrophe. It was just raining, the whole night. It destroyed a lot, the streets, the walls, the houses! We didn't have any connection – that's why it was so hard to reach me. Everything was shut down, even the streets. We were stuck for 3 days and still, we were the lucky ones, because we had money to buy food and we had a safe place to stay. The poor people here are really helpless because when it's raining a lot and all the water comes down from the mountains, they don't even have any possibility of fleeing. 40 people died, and 30 people are still missing. It's crazy! The people started stealing from each other because they were worried about their lives.
I think that's a really good example of the effects of capitalism. It pushes so hard against solidarity and mutual cohesion – even in emergency situations.
Yeah, in Brazil you can experience a lot of shit about capitalism. For real, I came here because I was missing my family and I was thinking about the future. But after spending some time here, I am quite sure I want to go back to Europe just to live a better life. That's the reality!
I think that's a reason why I hope that in the future we will see more skate videos like Labirinto. I think we mostly hide under the idea of a problem-free safe space in skateboarding and forget that we're still a part of the whole system. It's really important to use our platform to inform about those topics and give space for reflection – and not only push them away.
This video inspires me a lot too! I'm trying to make a video because I was always filming people for their projects. So now I thought about starting my own project. A couple of years ago we got an occupied house in a small city next to Barcelona and next to it was another one, where a lot of Brazilians live. I started filming with one of the guys living there and started to get interested in their living situations, you know? Like paying no rent, but also having no water, no electricity, the possibility of getting kicked out every moment, and the hustle if you end up losing your home. We spent a lot of time there and I would like to show the living situation of the people and how they grow up. Maybe I might even be able to finish it this year.
I think that's a great project and I think it's really important to show that having a safe home is a very privileged thing. Now, coming to the end of our interview, is there anything you would like to say to the skateboard community?
I would like to say that we have to go back to the days when it all started and look at what they were doing. How they started skateboarding. They invented the skateboard just because there were no waves you know? It was about having fun! No companies, no bullshit! Just go, have fun, and make sure you are aware of the circumstances you're living in!
Thank you, André!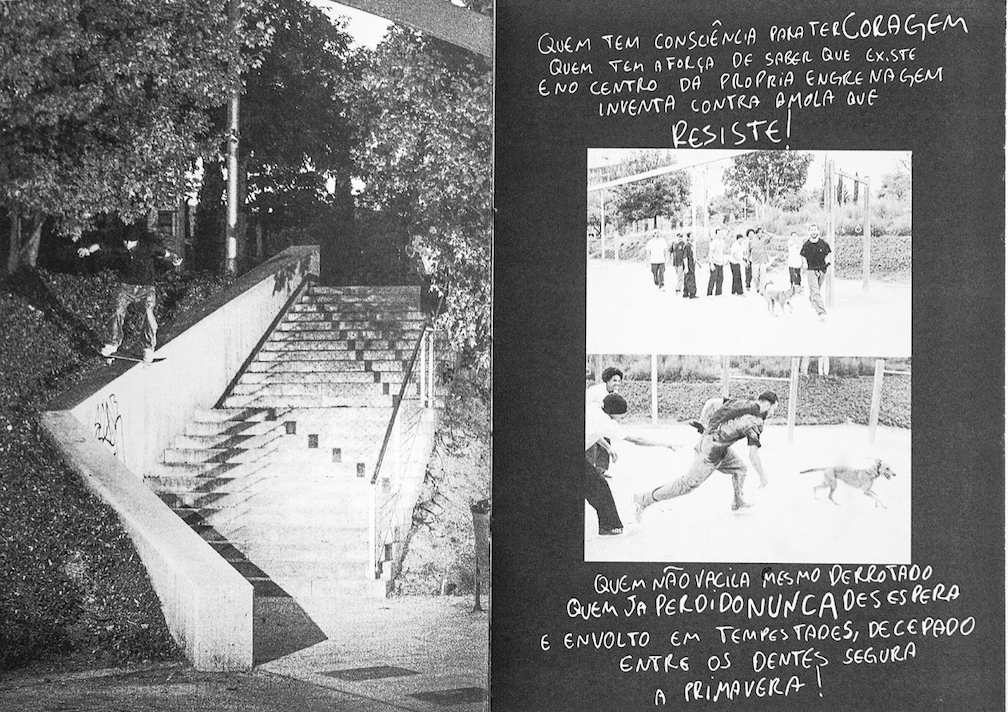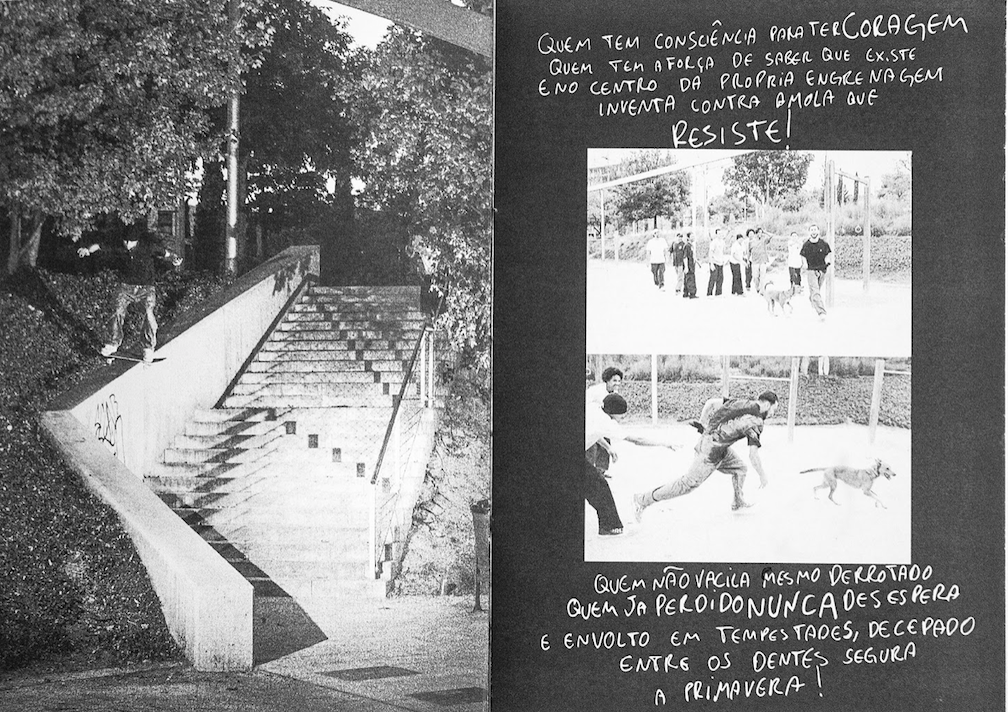 The full length will be online on the 20th on YouTube.