What constitutes a great skate video? Well in our eyes it is all based on one simple question "Does it make you want to skate?" If the answer is yes, the people making the video did something right, if the answer is no, that doesn't mean the video sucks. It could just as well mean this one wasn't for you. With that said, this video by Martin Danielsen called Computer Punk gave us all kinds of emotions, but most of all it is fun and it made us want to go skate! So, we as Place Present to you Computer Punk. Enjoy!
Text by Roland Hoogwater.
Film & Edit by Martin Danielsen.
Photos by Wietse Thomas.
Tell me a bit about yourself.
Yahoo, my name is Martin and I'm a 26-year-old guy working as a graphic designer in Oslo. Currently drinking beer and preparing for the Polar premiere screening in Oslo. I'm so excited because this is the film I'm going to watch while crying and eating frozen pizza for the next 5 years.
When did you start skating?
I'm the classic case of the kid that had an older brother that skated and I played a lot of Tony Hawk, (laughs)! Started taking skating seriously just around when both skate 1 and the Lakai – Fully Flared video dropped. That was a weird golden era for skateboarding, around 2007 I think!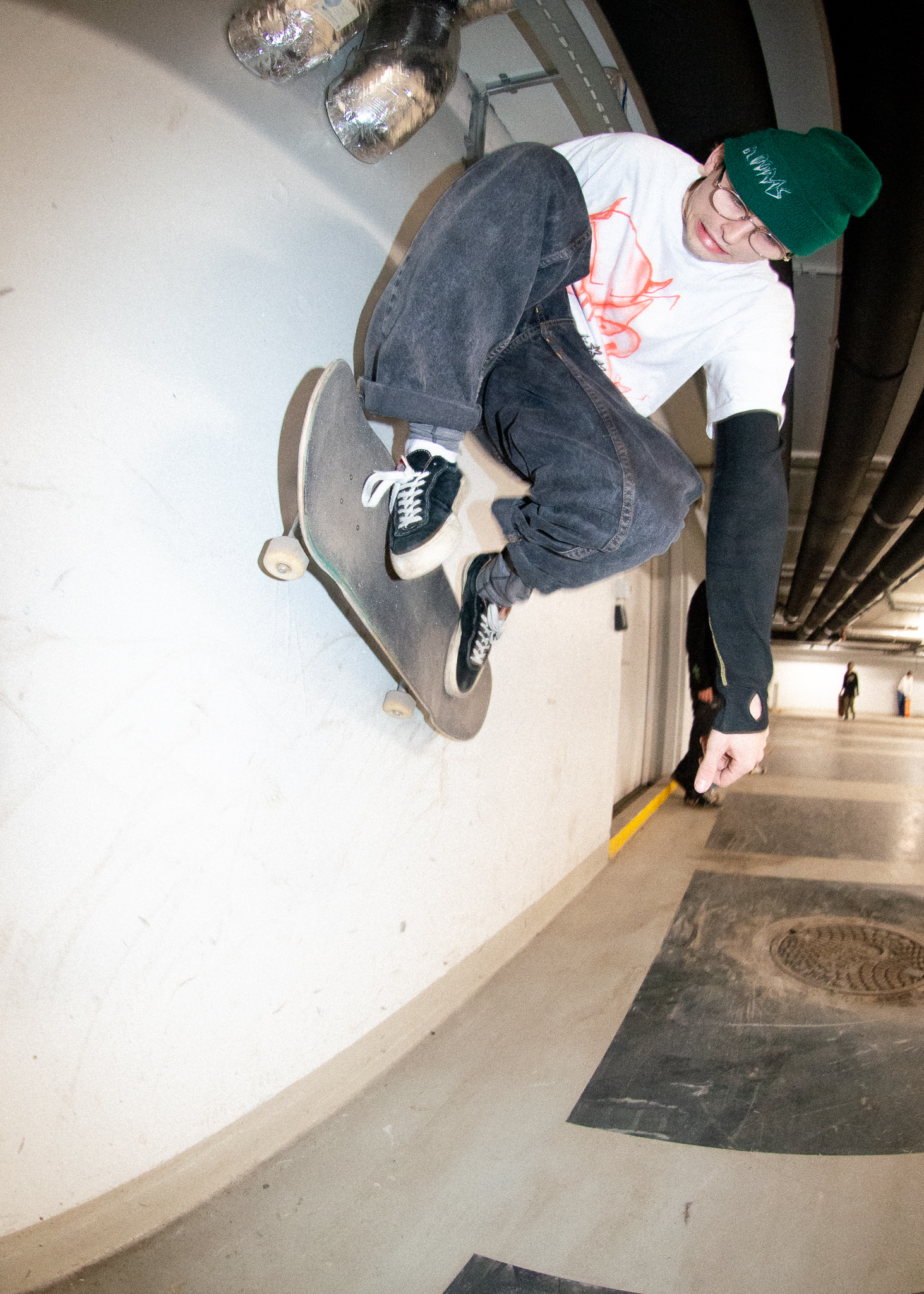 When did you start filming?
I started filming shortly after I started skating. Then it was all about filming kickflips in the driveway and being an off-brand jackass. I soon understood that I had more fun behind the camera than in front of it. So I quickly became the filmer and photographer guy. After a while, I got bored of it and put the cameras away, but when I started hanging out with the @Bloomsoslo boys during the first covid summer of 2020, I brushed the dust off my filming interest, and I'm happy I did so!
Tell me a bit about the scene in Oslo.
It's small, but small in the best way possible. There are a lot of good, like super good, skaters from here and it's an everybody knows everybody type of scene. So everyone is super down to help each other out all the time, which feels amazing. We also have a lot of really good spots considering how small Oslo is, but it's usually insanely crusty. Also, the Norwegian weather is a bit all over the place, so you need to have stuff to do besides skating. There are tons of creative minds amongst us, so always fun things to do! Hanging out with my friends has a good-time guarantee!
How was your last video? can you tell me what you wanted to do differently this time around?
I've made one shorter video called «Glam Margera» which was released last year. Working on shorter projects has its pros and cons. It's harder to make room for all the dorky fool-around things that happen in between all the skating, but it's easier to keep the viewers in focus. I always return to the edits where the skaters are really great friends and have a lot of fun, and the friendship part is really important to me in every project. There are so many great characters in our crew and it would be a shame not to let them shine!
Computer Punk was never meant to be this long, but I'm so happy it did. I wanted to make it a fun watch that is easily digestible with a whole lot of good skating and documenting as many goofy things as possible!
I need to know about the soundtrack, tell me how you came to use them, and tell me your general process of picking songs and how important that is.
Soundtracks can make or break a whole edit so the music is very important to me. I try to have as much fun as possible with picking songs and for this project I wanted it to be a clear red line through the whole shebang. I tried to make it feel like one whole video and not 10 different parts if that makes sense. It's a sweet balance between choosing songs you love and songs that reflects the skaters really well.
But at the end of the day, I just choose the music I listen to daily. I'm heavily into internet culture and this soundtrack reflects that a lot. But damn, you get tired of the songs you pick, (laughs). I can't wait for the soundtrack nostalgia for this project to hit, maybe 5 years from now?!
That were my questions, thank you for doing this Martin!