Lille or Rijsel as some Flemish people probably still call it, is a funny town in France. To be honest, a pretty good one. It has a very nice skate shop with a long history in Zeropolis. It has some nice spots, some rough ones too but overall Lille is one of our favorite cities we have been to in France. We spoke to Greg Tos, who made this video and is part of the brand "low profile.". Enjoy.
Film & Edit by Greg Tos.
Intro by Roland Hoogwater.
Photography by Arto Victorri & Benjamin Meunier.
Tell me a bit about yourself.
My name is Greg Tos, I am 29 years old. I'm from Lille, in the north of France. I would call myself a skater and video maker. I also work at Zeropolis Skateshop in Lille. 
When did you start skating?
I started skating when I was around 10 years old in a small city an hour away from Lille. My childhood best friend asked me if I wanted to go to the skatepark with him. I didn't know much about it except through video games. He insisted a bit so I took my brother's board and we went over there, I never stopped skating since that day.
When did you start filming for this project and with whom?
We filmed for one year, starting in September 2022. At first there was Augustin Fabvier, Martin Lemas and Benjamin Meunier. Augustin and Martin are both young bloods that are really motivated to skate street and make a project happen. Then, once the project became a bit more serious, Simon Volpoet joined us. He is from Lille as well but now lives in Biarritz. It took a bit more organization to be able to skate together but we did it! You can also find Charles Messmer, Baptistin Vacheret, and Sammy Mould in the video. They are all good friends we love to skate with, we also have to mention Arto Victorri who's my personal filmer. Through him, I can show my skating in this video.
Ben, our photographer, decided to get a new haircut every day. You can't miss that head of his in the video. I couldn't look at his face without laughing during that whole trip.
Tell me a bit about the scene where you are from.
Lille skate scene is not that big, everyone kind of knows each other but still, there are many different styles of skating—each crew has its own vibe. Lille is a student city and people don't really stay long, It is often rainy, and there are not many obvious spots so if you are really into skateboarding you might want to find somewhere better. Besides that, it's a great city to party and make friends. To be honest, there is still a lot to skate if you like to look around. You should come, we would be glad to give you a city tour.
This is not your first video what came before, and what is different this time around?
I've been making videos since I started skating. For me, both belong together. I made videos with my crew when I was young, then for local skate shops but it really changed when I got a VX1000. Before that I wasn't using a proper skate camcorder and the result was, for me, always a bit disappointing. With Augustin and Martin, we made a video called « Don't feed the pigeons » which was the first video I was really proud of. Filmed with a VX1000. Then I bought a PD170 which also has this vintage skateboarding look but way more practical to use.
low profile. video is different from everything I did before because after seeing how motivated the guys were and how much effort they could put into our projects I felt like everything came together to make a real board brand. This was something I always thought about but there was always something missing. This time I had a good idea how it should look. I told the crew about this and they were really hyped about it. One year later my idea became a reality!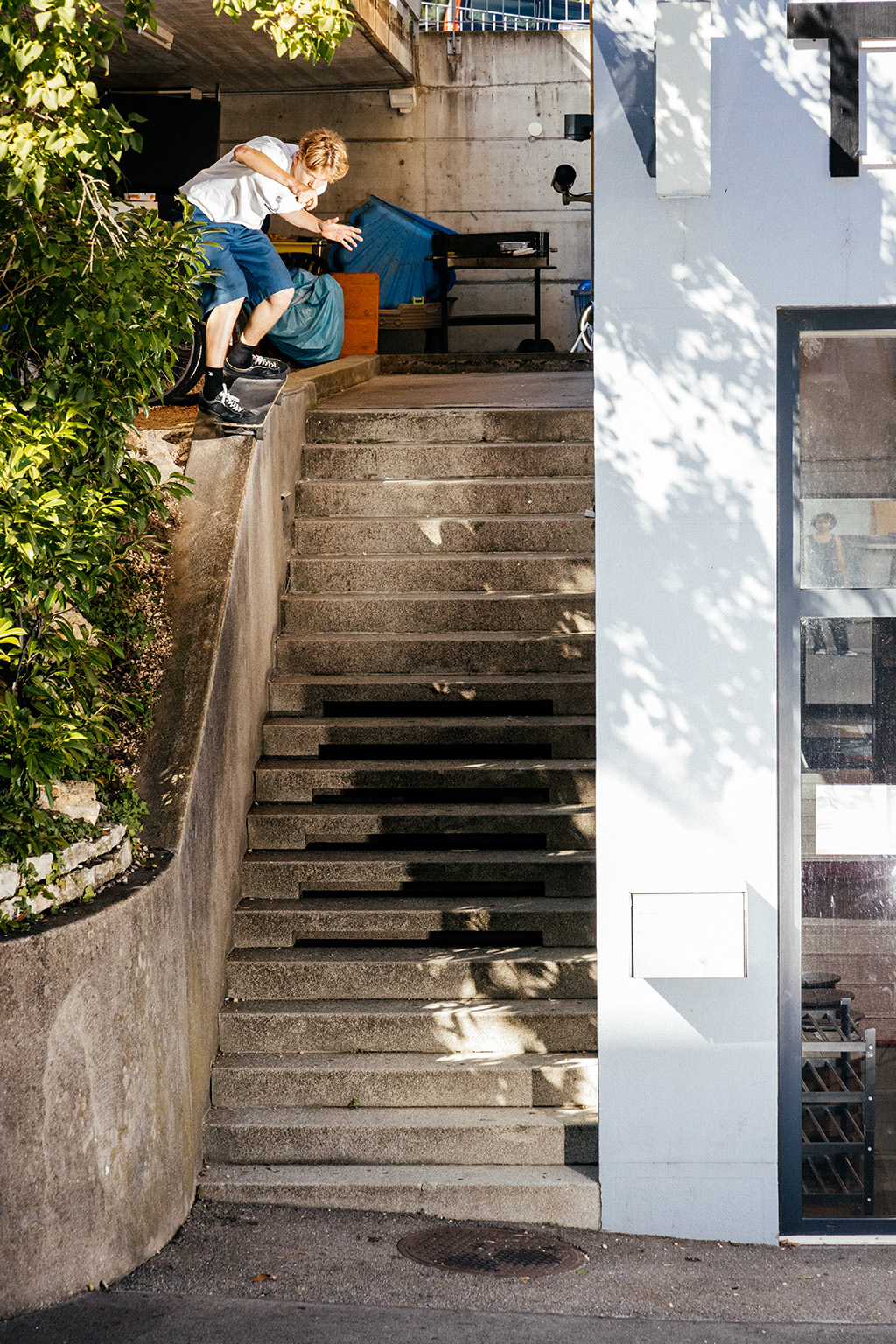 I need to know about the soundtrack, tell me your general process of picking songs and how important that is to you.
This is what takes the most time when I'm editing. I'm looking for songs that give the right emotion. I really like to give the footage that « painful but beautiful » atmosphere. It refers to skateboarding in my opinion. I spend hours on YouTube listening to songs I never heard before until I find the right one. Sometimes it really takes days or weeks. I love discovering songs while watching skate videos, and so I'm also trying to have people discover music through my project.
Lille is hard to skate, but it seems like there are a lot of spots to be found, give me your three favorite ones from this video.
You are right, it's hard to skate, there's no actual perfect plaza, and there's always something wrong. But it makes you look at the city differently and I really like that. If I have to pick 3 spots located in Lille from the video it would be the metal bar around the tree we use to slappy (slappy 180 switch crook in the first part). It looks easy to skate but when you try something different than a regular grind it could be a real battle.
For the two others, it's more about what we did there than the actual spot by itself. First is the red bricks street gap to manual (Bs 180 to switch wheely in Augustin's part). It was winter and we filmed it at night, it was so cold! Augustin wanted to try this trick so bad and he struggled a bit to make it. But then…it happened like magic as always with him. I love how the clip looks, the colors, the lights, the execution and how happy he is after he made it.
The last one is not exactly located in Lille but is about 20 minutes away by car. It's the big ditch at the end of the video (Half cab flip drop-in then ollie from the block) because everyone skated it from the block and I wanted to see someone skate that from the top. Once again Augustin was the right guy for this mission. His board went to the water many times so he used mine and made it pretty quick. Great memories.
Any special stories you would like to share about your project?
Many things happened during our trips. In Zurich, Ben, our photographer, decided to get a new haircut every day. You can't miss that head of his in the video. I couldn't look at his face without laughing during that whole trip. In Madrid we were confronted by police many times for different things like drinking beers in the street, looking at spots without our boards, and stuff like that 🙁
The most memorable was on our last day, when Simon found a stairs set with a window sill he wanted to noseslide. It's a museum next to Madrid castle so after 2 tries the security came and asked us to leave. Of course, we really wanted the clip so we pushed the situation and tried a bit more, it pissed the security off and they called the police so we went into hiding. We came back one hour later with the flashes ready, set everything real quick, and started trying… The security guards came out again but way more pissed. We had to leave it was too intense.
Greg thank you for this chat and we hope to see more from Low Profile soon.
Thank you for doing this!