Last September we organized 'Creating Lines', a three-day event that took place in Rotterdam. We highlighted and discussed notable changes and differences between the older Dutch and more specific Rotterdam styles of skateboarding. We did this in an attempt to bring skateboarders of all different generations, sorts and areas closer together.
A big part of the Creating Lines project was an exhibition about Rotterdam's skate history, a premiere of our full-length skate video 'Momentum' and various panel discussions about the history and future of skateboarding in the Netherlands.
'Momentum' consists of five main video parts, made by various talented Dutch filmmakers. They were given 6 weeks to make a short video, in which they had to incorporate the theme 'change'. Besides having a part in the video, Jan Maarten Sneep also managed to glue together the entire thing. He spent many hours watching and editing classic Rotterdam skateboard footage to create several Memory Screen montages for the video. These videos showcase the changes in skateboarding throughout our history. All the main parts of the video will be shown right here on Place Skateboard Culture the coming weeks and the full project can be found via our socials.
Intro text by Martijn van Hemmen.
Filmed,edited & text by Jan Maarten Sneep.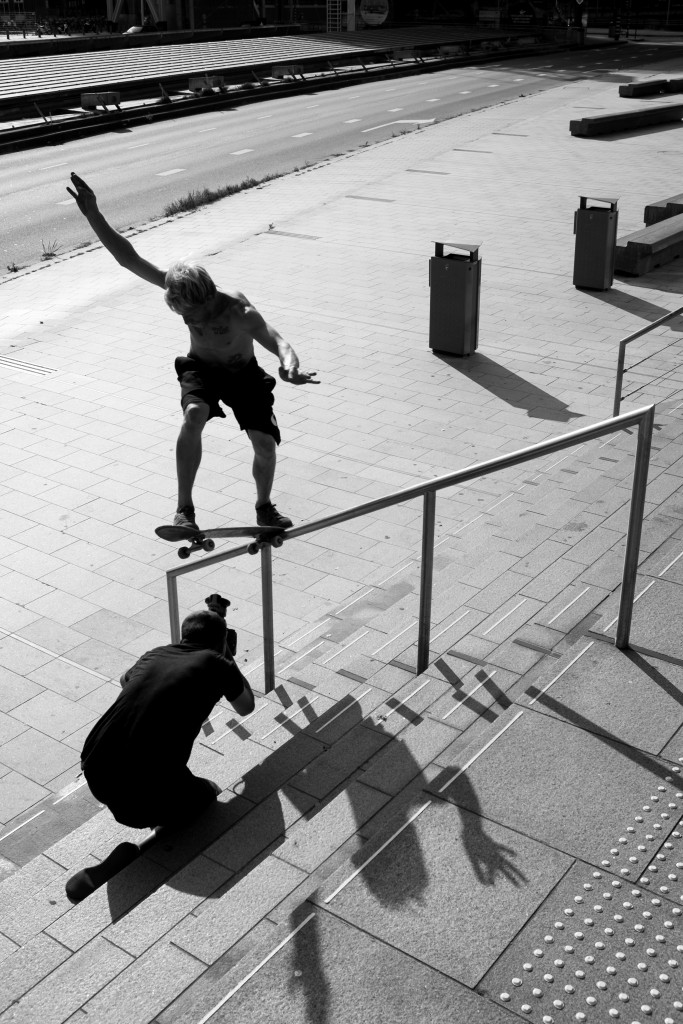 Part 1:
SUPER ZOOM ELECTRONIC 010 
The making of SUPER ZOOM ELECTRONIC 010
With change being the topic, I focussed on the change in video cameras over the years. After having filmed for a number of years with various HD cameras, I went back in time for this project, back to the VX-1000 from 1995, and the Canon Super Zoom Automatic 1014 from 1973. I didn't use these cameras in the traditional way instead I utilized the technical possibilities of 2018 and combined them. For example, I recorded the VX images on an SD card instead of tapes, and I used my phone to film through the viewfinder of the Canon 1014.
I had purchased this old Super 8 camera some years ago, during the making of The Bombaklats video to be exact. But after I received a number of bad cassettes, I did not have that much confidence in using it anymore. Partly because when filming with the VX-1000, we regularly film the tricks with our phones through the viewfinder so we can watch a clip back without overusing the camera. Via that technique, I came up with a new idea. I attached a phone case to the super 8 camera so that I could film through the viewfinder and it worked! Meanwhile, we are on Duct tape prototype number 4, and the images are sharper than ever.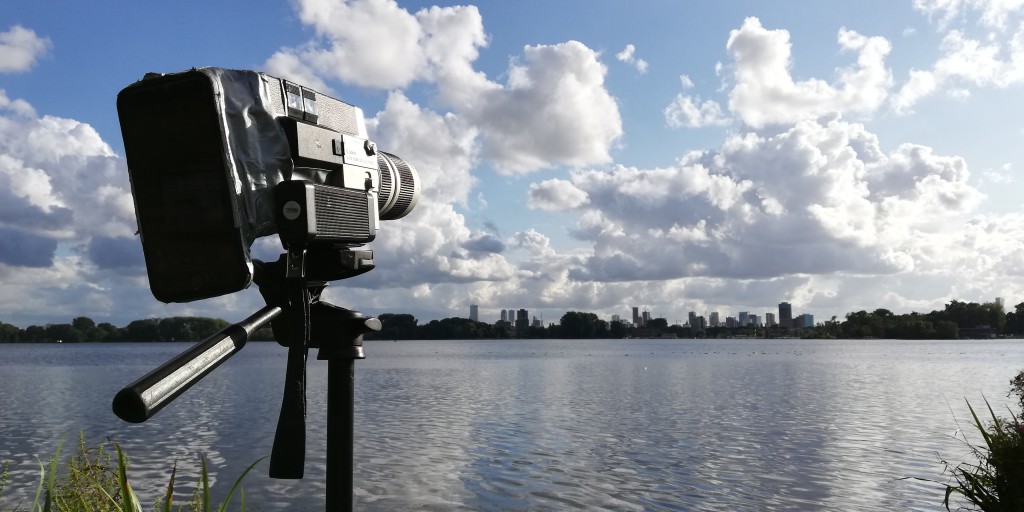 This spot, right next to Rotterdam Centraal, is inspired by Dirk Middelkoop in the Boombap video. He does a line there in which he comes from behind the pillars and does a big Fs Blunt on the curb. I always thought that looked so sick, Robbin de Wit agreed.
The first time we went to this spot together, while Robbin was checking out the spot, it started to rain a little bit – no worries the spot has a roof over it-  but not even fifteen minutes later it turned into a huge storm, the hailstones poured past us, and the streets filled with water in no time. We were dry, happily covered, but skating was no longer a possibility. It turned out to be quite the storm, later on, we heard that this storm caused a lot of damage to the city of Rotterdam.
A couple of days later we went there again but now with a larger group. I, myself would never think of trying a back noseblunt on something like this but you can always ask Robbin to do one. It took him a while to figure out what he wanted to do at the beginning of the line but once he did it did not take that him long to make the line. Ziggy (Schaap) was there and made this lovely picture! The spot, the trick, and everyone in the background.