Why would a website about skateboarding go deep on politics and, on top of that, write about a situation in a country that is so far away from their office? The news about Donald Trump becoming the 45th president of the United States got to me on the morning of the 8th of November. Actually, the first thing I did that morning was pick up my phone, surf to a news website all while walking to the bathroom. My legs immediately started to shiver when I was reading who won the election. I do not know why exactly I reacted like that but it is probably because I was scared that a person like Donald Trump will be in a position that holds that much power and control.
A few hours went by and after I went through all the websites reading the news of the day I actually had to go to Wikipedia, just to see how it felt, reading that "He" really made it. And there it was, in writing, just underneath Donald Duck it said Donald Trump president of the United States.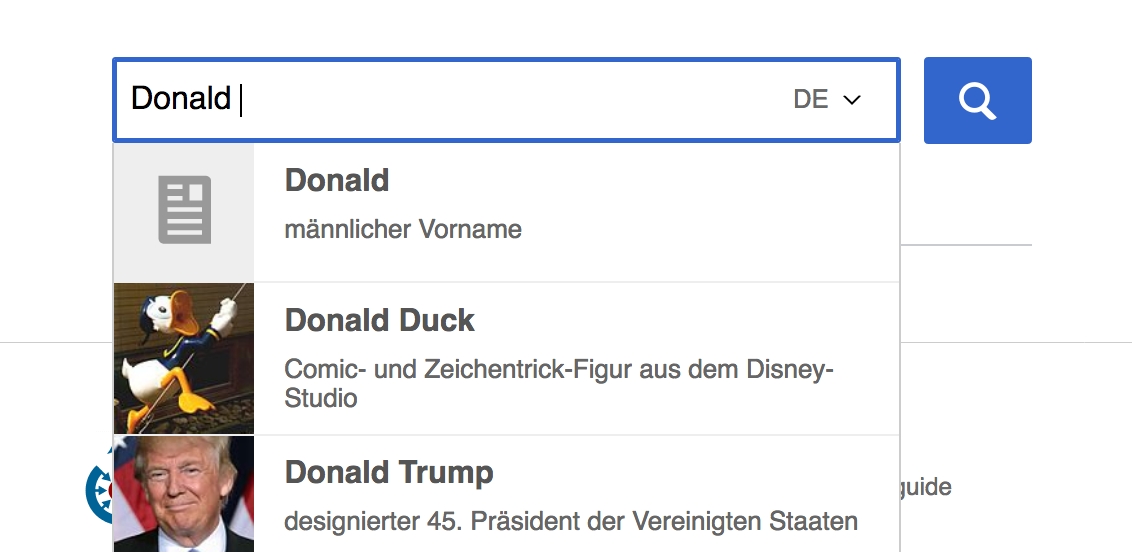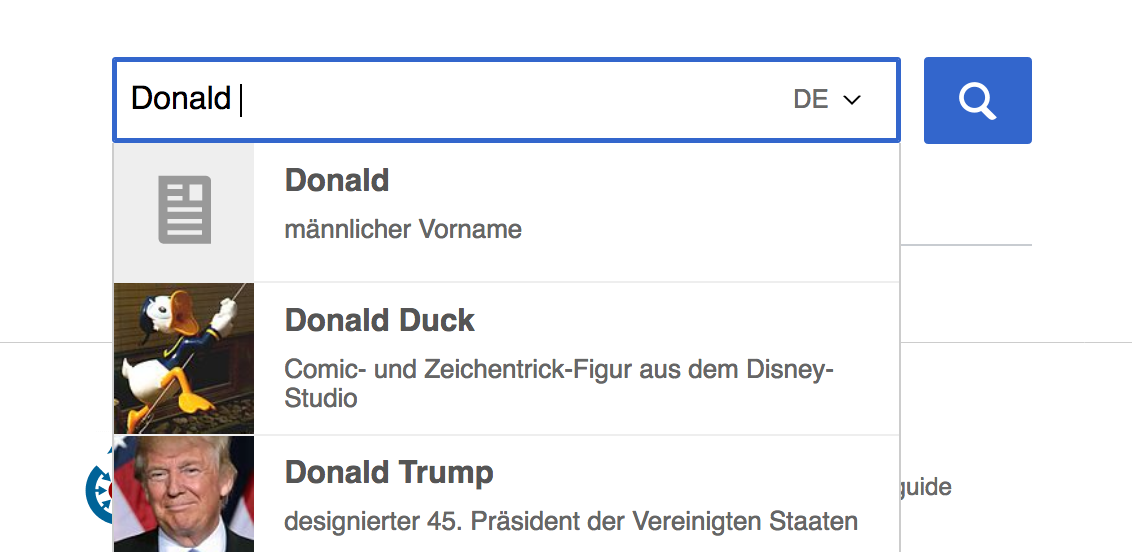 But, why is this touching us so badly and what are the consequences going to look like for the people in Europe? It is not like it would have been paradise again if Hillary Clinton would have won the election. The newspapers and political magazines where throwing more and more wood into the fire with cover stories like "The End of the World" or "World War 3" and I was wondering what kind off thoughts a ten-year-old girl would have about those headlines.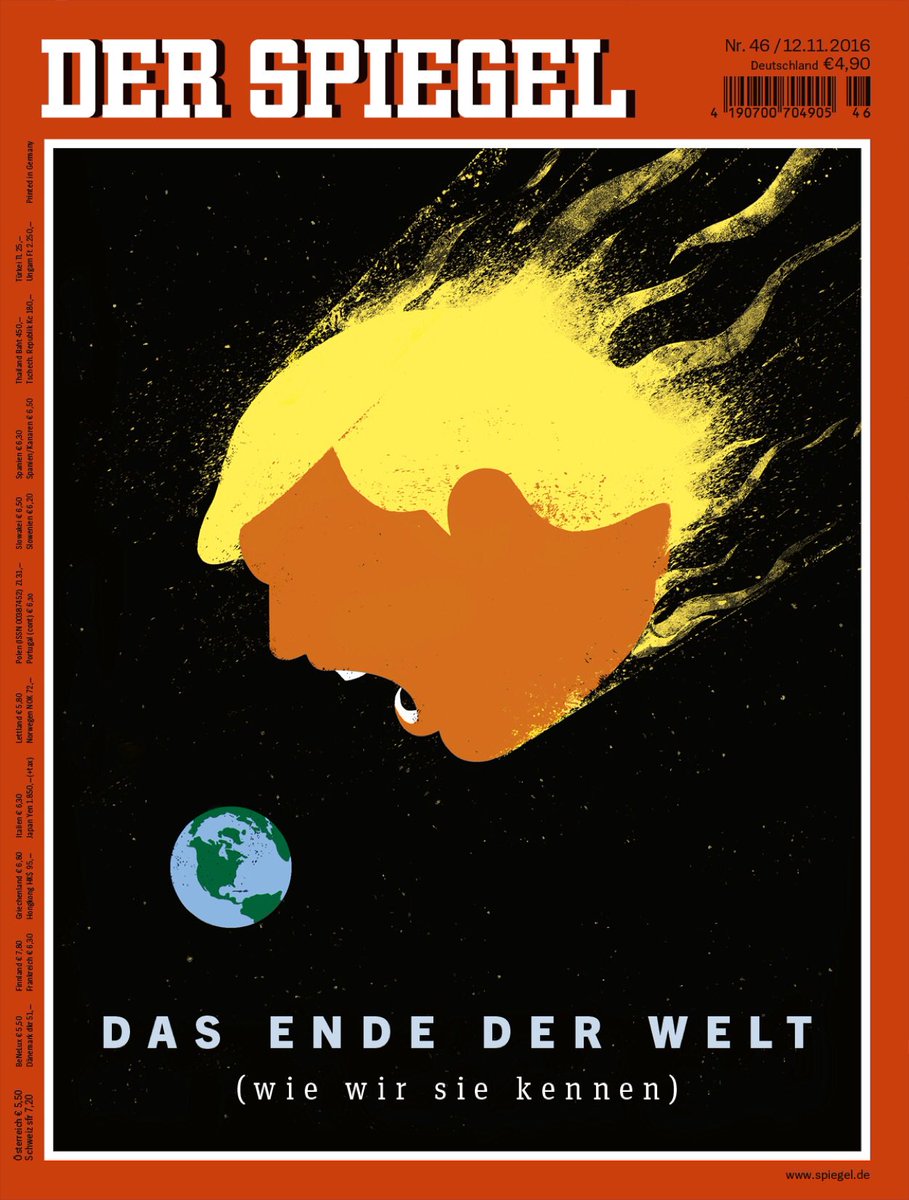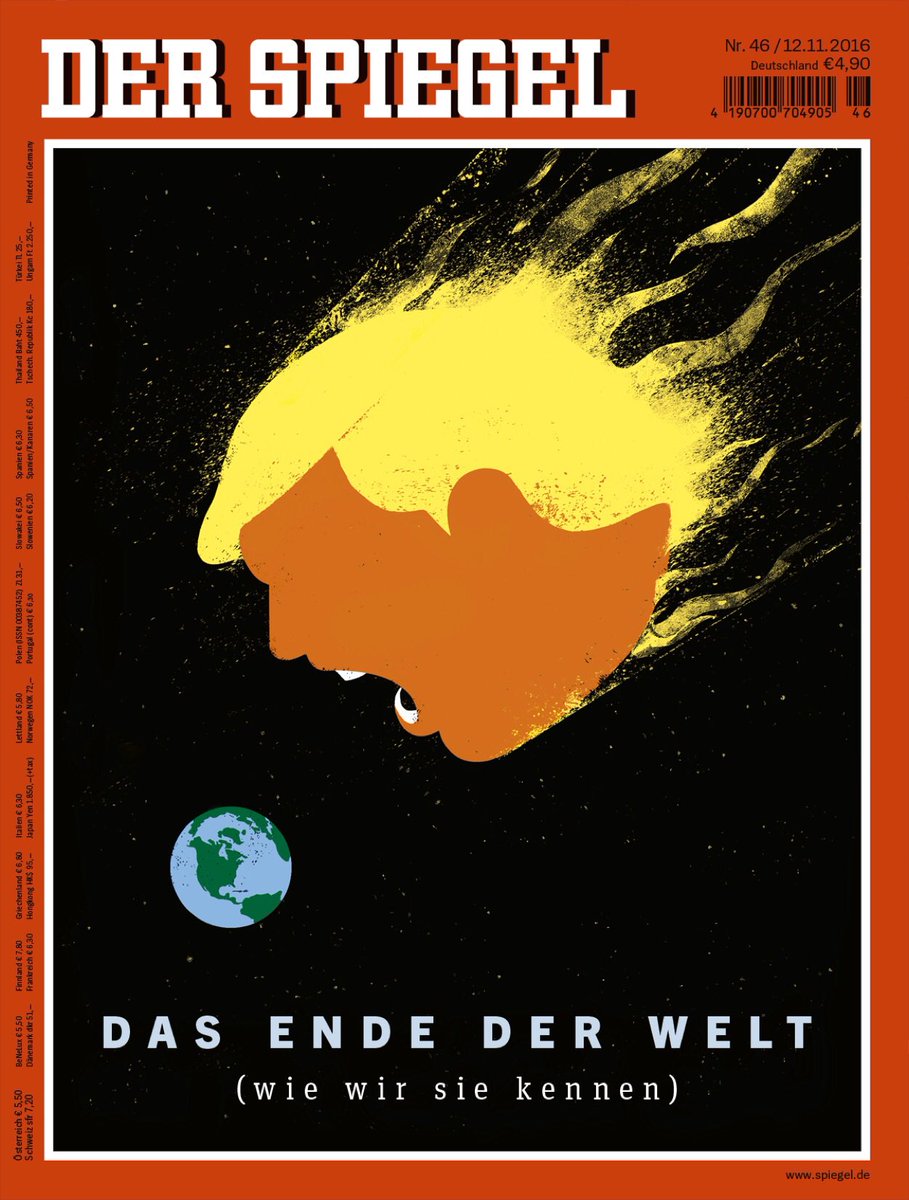 Cover of Spiegel magazine Germany. ("The End Of The World")
We thought it would be time to ask some people's opinions, people that are actually affected first-hand by the election and well known in our skateboard world and to say the least, there is definitely a tendency in our community because we actually could not find a single Trump supporter amidst our ranks.
Nestor Judkins, dual citizenship Spain and U.S. Living in New York City:
"HOPELESSNESS. Today I returned to the USA after one week of feeling stunned and horrified. Beyond the racist and sexist rhetoric, the social and economic inequality he represents, I fear for the future of our environment at this most crucial point in human and environmental history. The denial of climate change and the promise of reversing all initiatives to slow down global warming and return full force to the methods that led us here will have an irreversibly disastrous effect on all of the humanity. I weep for this beautiful and fragile world where we have been able to enjoy our brief time in the sun. We've evolved into impossibly intelligent beings only to be trumped by the ignorance of many and the hubris and greed of the few."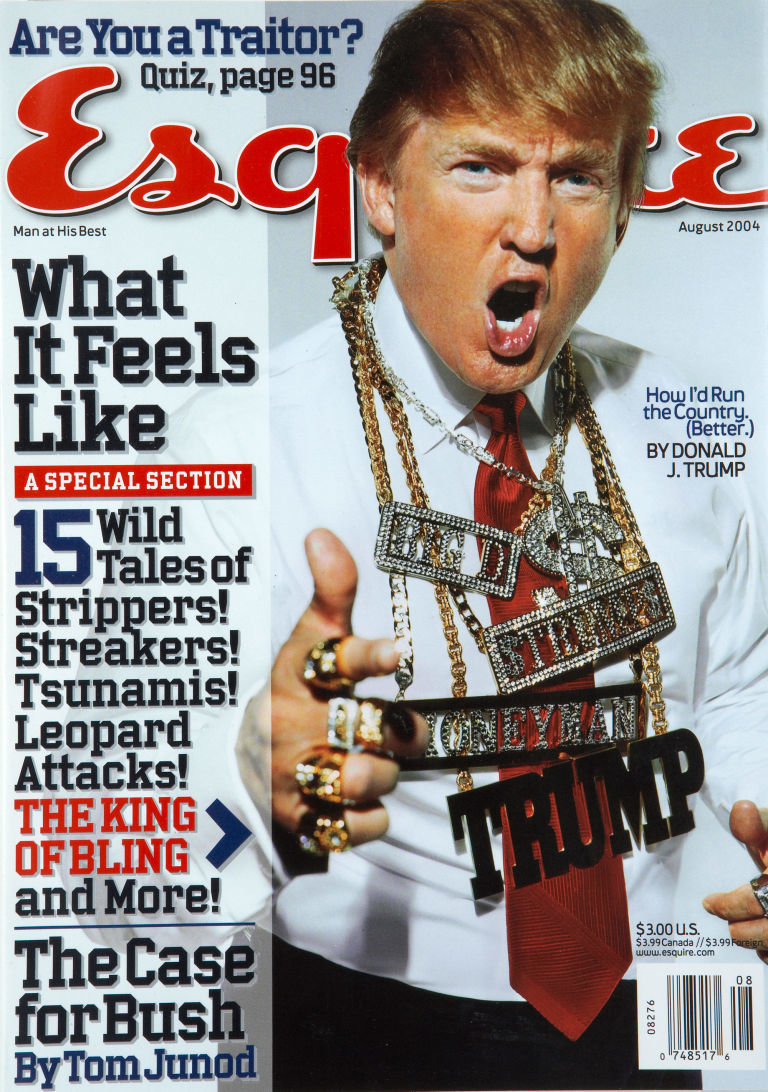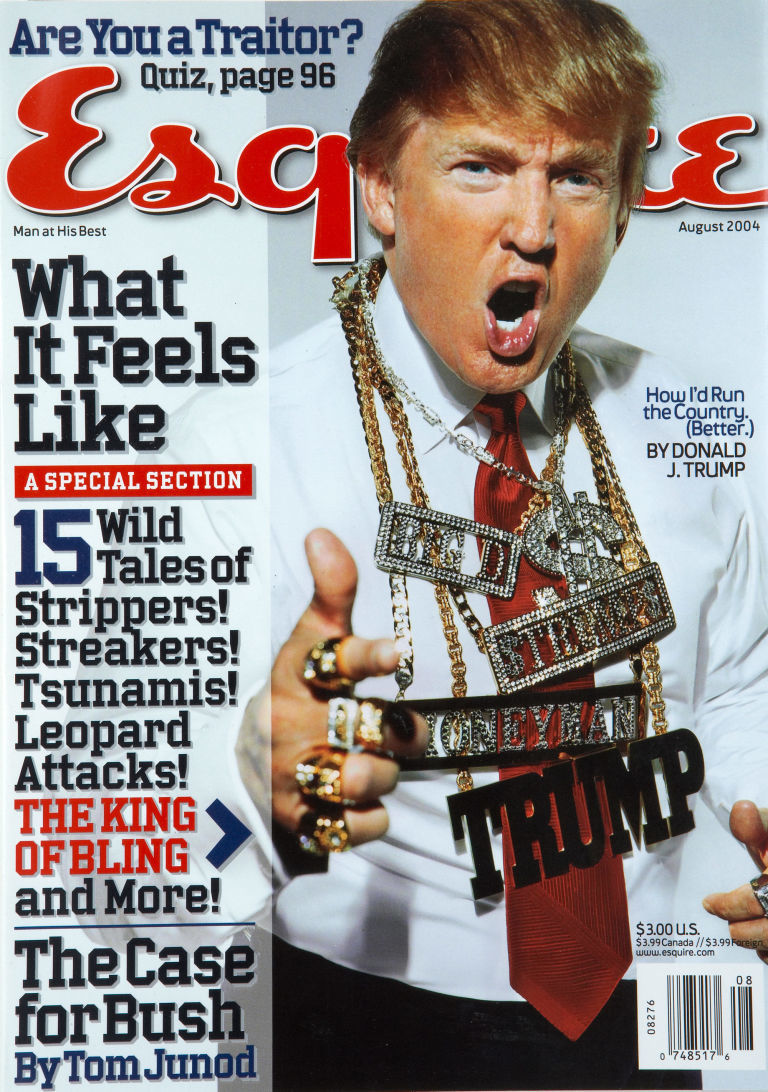 Esquire Magazine; August 2004.
Mark Nickels, U.S. citizen living in Berlin/Germany:
"With the election, there are times you hope to wake up and find out it is a bad dream. Unfortunately, I found out while on a flight to Frankfurt that this is quite real and f*ckin' mental. I thought things got bad with the Brexit vote, but people are even more bat sh*t crazy in the US than in the UK. America has to be #1 in everything, always I guess… And because I have a dual national, this is another thing to apologize for. I see myself buying a lot of 'I'm Sorry' beers in the near future.
I am in LA right now on a trip and it really feels like someone just died here. No one can make sense of what just happened, nor can I. One thing we all need to remember is, Hillary Clinton won the popular vote. In a sane world, she would be President. That is how it is supposed to work, right? Trump said he would fight if this happened to him and not concede. He also said the people's voice should be respected, but his tone has changed quickly since the roles are reversed… how presidential of him. As for Obama's work over the last 8 years, he spent a lot of time rebuilding the tarnished image of this country, all that just flew out the window in one evening.
Living outside the US, I am much more political because I see first hand how the rest of the world views us. To be honest, I am scared for Trump to be the leader of the free world, which is justified because of the way he spoke on the campaign trail. Real things happen when you have a leader that makes outrageous claims like he has and it can be dangerous on so many levels. You are now seeing a 'Carte Blanche' situation, certain people feel it is okay to be openly racist after the votes have been counted because they won in the polls. Racism is never ever ever ever okay unless you are just a f*cking sh*tty human being who sucks at life. I still can't believe that is a lesson that has to be taught in 2016.
I am extremely fearful of what my country can become if people like myself become complacent and sit still doing nothing after these election results. In order to fight back, I plan to donate money regularly to organizations like the ACLU (American Civil Liberties Union) and other causes I believe in, in order to help and protect the social progress made under President Obama. I also will support media outlets like 'The Guardian' who actually do the type of investigative journalism needed during these times. Outlets like these help expose the abuse of power/ privilege we all know will happen. I will also talk to friends to make sure they are not part of the 50% of the population who didn't vote & help them register to be a part of the next election in 2018. The best thing I can really do is, to push forward and live my life to the fullest. I will not be paralyzed by their fear mongering/ hate and will stand up for myself; not only as an American or a Brit but as a citizen of the world.
At least there is a silver lining for me in this, I am lucky to be an immigrant in such an amazing country as Germany. Who would ever think you would hear an American say that?!?! Now let's make sure this doesn't happen in Germany next year with the AFD. We can't let hate and fear rule over us, anywhere."
Dennis Busenitz, dual Citizenship Germany and U.S. Living in San Francisco:
"First off, I would like to apologize to the world because America couldn't come through and NOT have Trump as our president! It is embarrassing for me to have to travel internationally right after that. I think it is just a big shit sandwich! I don't know that much about politics but I have a lot of respect for Obama, Obama was not in favor of Trump and so were a lot of other people who know a lot of things, to me it seemed like anybody who had any political experience said he was unfit to be president but the American people decided to give them the finger and voted him in there anyway. So I guess…. Hopefully, they get what they deserve without blowing up the whole world in the process or getting global warming to a point where it is beyond repair. Global warming to me is a real threat and both Trump and America do not seem to think it is a problem that needs to be addressed, which is insane!"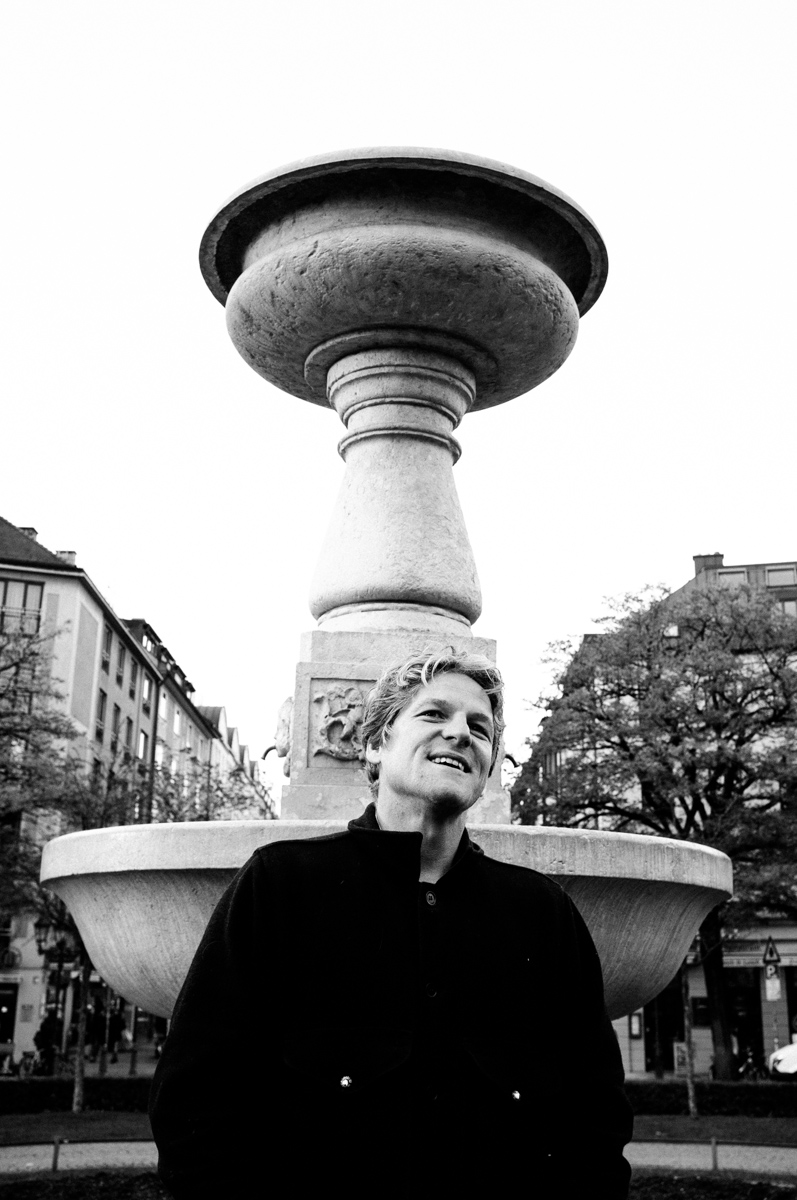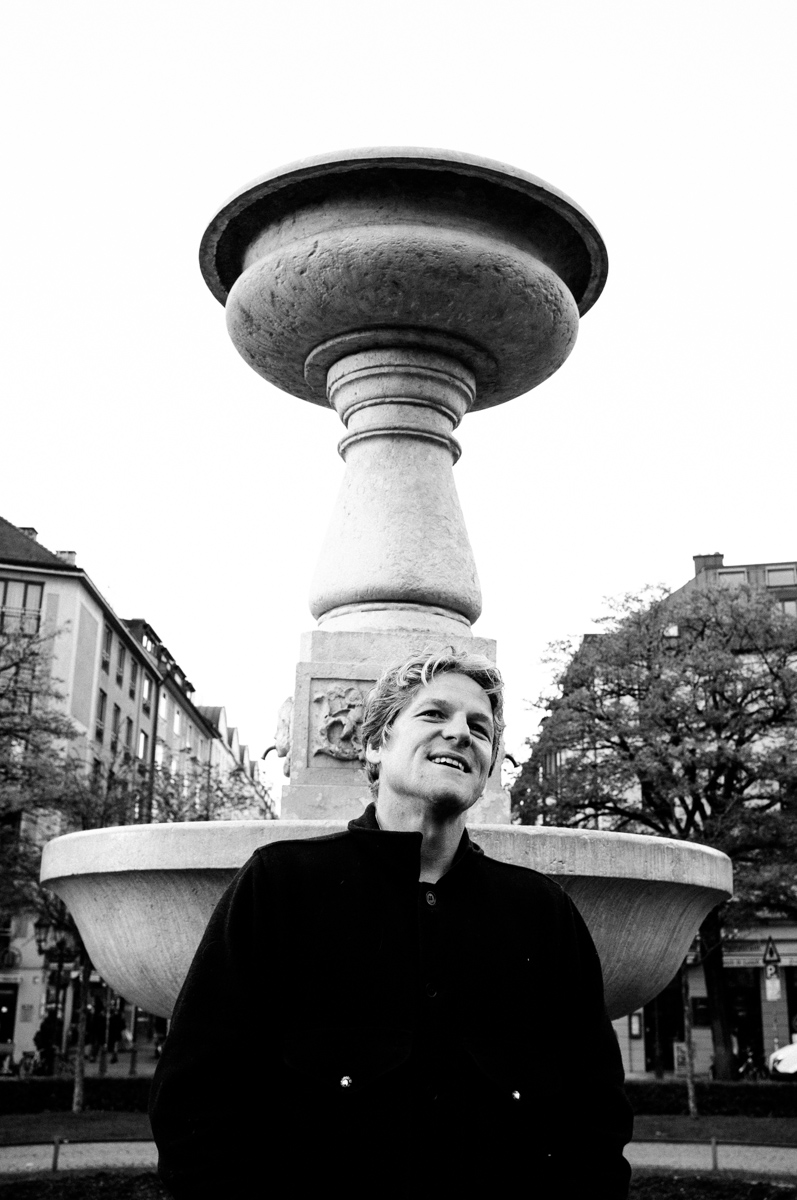 Photo by Danny Sommerfeld, Munich Nov.'16.
Patrick O'Dell, Living in Los Angeles:
"In the last week, I have heard every take on the presidential election that can be had. Its hard to add anything other than I am filled with dread about what Donald Trump will do to our country and our freedom. Usually the 'Right' act as if they have a monopoly on freedom (it is been 8 years and Obama still hasn't taken your guns away by the way). I am worried about the freedoms of women, gays, faiths including Judaism, Islam and also the right to Atheism. I happen to be a Catholic and am filled with pride that even our Pope has denounced Trump. What Christian mocks women for their looks, calls them pigs, brags about 'grabbing pussies,' mocks the handicapped, says Prisoners of War are not hero's, claims a Mexican-American judge can't do his job because of his ethnicity? What Christian is against helping people in need and showing sympathy for those less fortunate?
And the people Trump have tapped for his administration only make me more worried. Giuliani was the architect of the unconstitutional 'Stop and frisk,' obviously an abridgment of the 4th Amendment which should protect us from unlawful search and seizure. Trump's running mate Mike Pence wants to limit women's rights, gay marriage and once supported torturing homosexuals with conversion therapy. Steve Bannon is a known anti-Semite… Trump got elected on a campaign of fear. The only thing that gives me hope is that Trump's message is so awful and has hurt so many people, that hopefully, a strong resistance will emerge. Black Lives Matter, Occupy Wall Street, immigrants, women, non-Christians, LGBT, can all unite as a unified force. I fall into none of these categories as white straight Christian male but I will be traveling to Washington for the inauguration, not to protest the results of the election (I accept them) but to peacefully show that I do not support Donald Trump."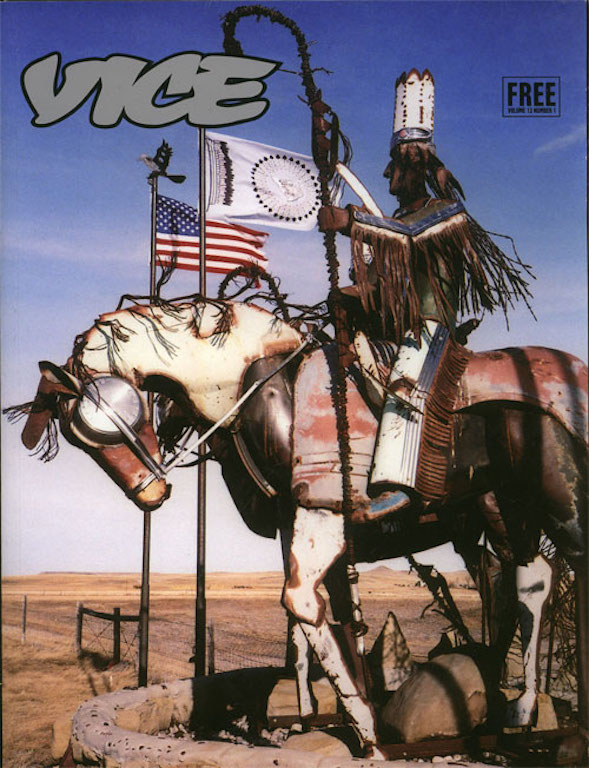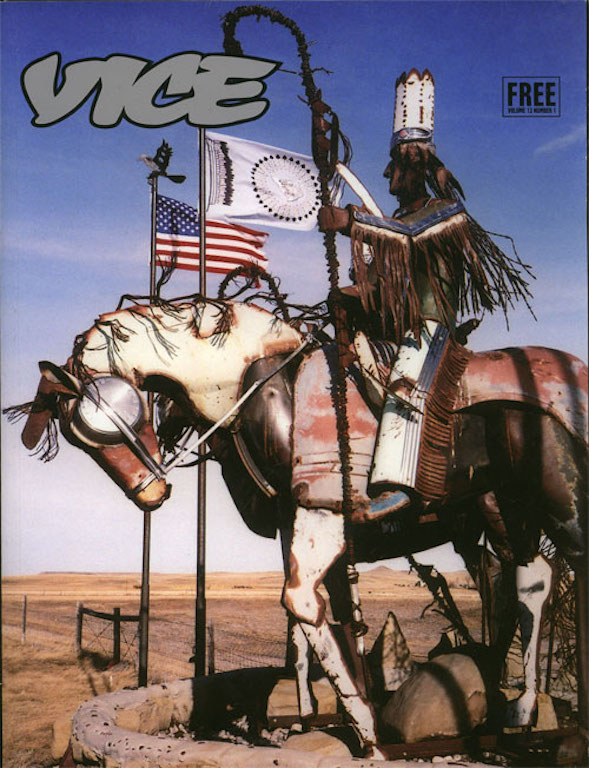 Vice Magazine; Photo by Patrick O'Dell.
Alex Olson, Living in New York City:
"I think Trump is a good thing… but not for what or who he is, his election has brought a whole new motivation to this country… new ideas are being brought to the table. If Hilary would have won nothing big would have changed. Trump brings change but in an indirect way for both good and bad, creative ideas will emerge from this situation, and the coming four years will be an interesting time. People in California are even thinking of becoming independent! Which I think could be very interesting… but who knows, what kind of good things could come from people's passion and rage."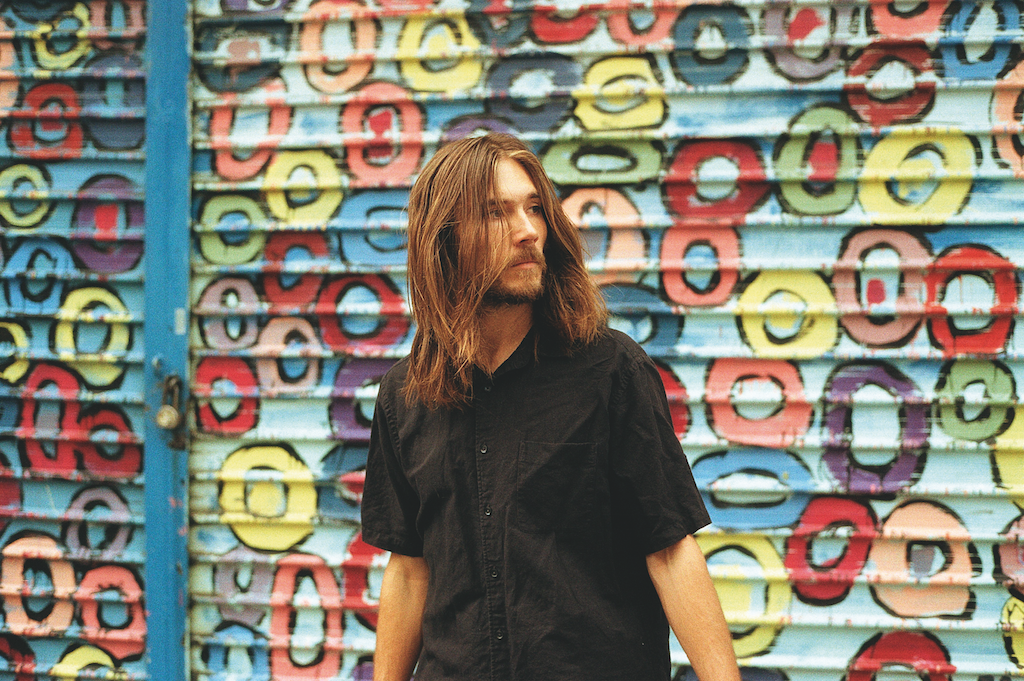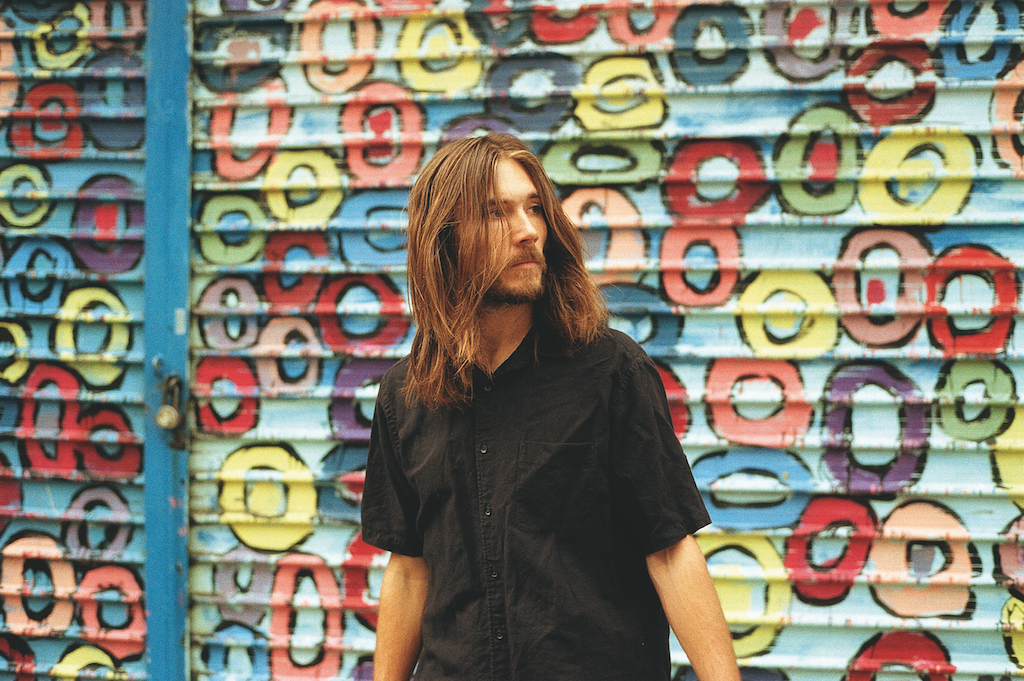 Photo by Conny Mirbach; Manhattan Aug.'16
Words by Daniel Pannemann.
Photo on top by Jonathan Mehring, NYC Nov.'16