From Madrid to home theaters near you RASGUÑO is the passion project of Renan Garcia & Alex Barber. We believe this video shows you some of the future heroes in the Spanish skate scene and we look forward to their next project because everyone is only gonna grow from this.
Intro & Interview by Roland Hoogwater.
Film & Edit by Alex Barber.
Photos by Renan Garcia.
Tell us a little bit about yourself:
Alex Barber: I'm Alex, I'm from Virginia in the USA but have been living in Spain for about 2 years. I moved to Madrid last September. These days I skate, film, and try not to eat too many Maxibon ice cream sandwiches.
Renan Garcia: Yo I am, Renan, born and raised in Alsacia north east of France, came to Madrid when I was 18, I'm 25 now. I mainly take pictures, study photography, skate a Lil bit, and try to learn how to film. Come to Madrid for a chess match y'all!
How did this project start?
Alex Barber: My first day in Madrid I met Renan (who's been a local for quite some time now). He introduced me to the Madrid skate scene and most of the people that would end up in the video. One day I brought my VX to a session, I filmed one clip of Juli Calafat in Plaza Castilla with my cracked ass fucking MK1 fisheye and that was it. The video was born.
Renan Garcia: I met Alex when he arrived in Madrid, a tall ass Yankee destroying Congresos straight from Richmond, Virginia, you can't miss the guy. We immediately clicked and became good friends, Alex also appeared to be a magic VX filmer, the homies were getting very little video coverage, and the timing was perfect. Without even noticing it, we started going on missions to film clips and "RASGUÑO" was born. All those guys in the video got on board, we had crazy good times, also bad times, some got injured, some homies quit skating, some homies left Madrid… But, RASGUÑO is here to stay!
How long did it take for this project to be filmed?
Alex Barber: We started back in October 2021 and filmed up until the day before the premiere in June 2022. On the day before the premiere, at 40 degrees (104 Fahrenheit), Juli hit the classic buzzer-beater ender. We kept it a secret between me and him. Even did a premiere with the homies and re-exported the whole video to include the ender for the actual premiere.
Renan Garcia: Just like Alex said, we filmed and went on missions till the last moment, Juli and him even filmed a surprise clip for the whole crew. A scholar year later Rasguño issa wraaap.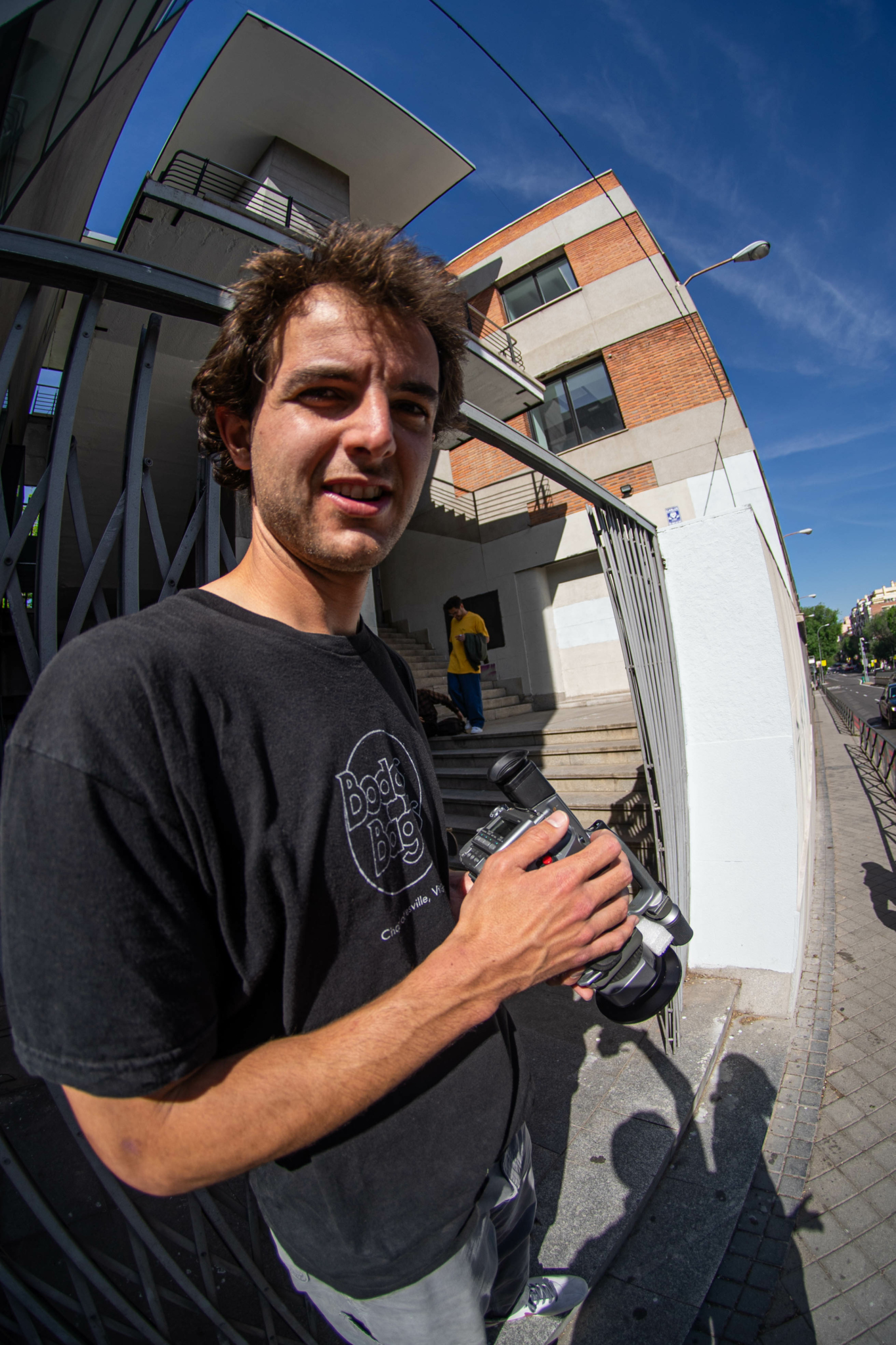 Did you guys consciously go out and film certain people or was it more like you both had parts and the rest of the footage was gathered on those missions?
Alex Barber: I would say the video came together naturally. I ended up becoming good friends with Juli and Ambroise quickly and they were the only ones who have full parts. Mostly just because that's who I skated/chilled with the most. I only planned certain tricks at the very end when I had a better idea of how the video would turn out and what tricks might look best with the song and other tricks they already had. We only went back for a trick once (the Noseblunt Ambroise did at Museo de Prado) As for the rest of the video, I would just film whoever I was with on a certain day and they would make it in there.
Renan Garcia: I feel like all the guys in the video and especially Alex, Ambroise, Juli, Arthur, Said, Claudio are the people I skate and spend time with on a daily basis. Of course, as Alex said, the last part of the filming of the video was chaos, with everybody trying to wrap up the video hahaha. We also ended up going to the same places with a whole range of random spots, just cause we were sometimes with huge squads of pretty different skaters so everyone could try something. Everything happened pretty organically, we went on skate missions instead of skate sesh, stacked clips, stacked photos, and boooom, here we are (laughs)!
In what state would you guys say the local skate scene is in nowadays?
Alex Barber: I mean I'm not from here, but it seems like it's Poppin right now. "Welcome Skateshop" is always collaborating with skaters, brands, crews, etc., and making cool shit. They supported us a lot in the making of the video so shoutout to them.
Sr. Santi Piech, who had a small section in the video, also films and is working on his first full-length. At the same time, he films for various other brands' projects. Basically, he's an all-around beast and you should watch out for his full length.
Juan "Jura" Algora's brand, "Damage ltd," is also working on a full length that will definitely be fire.
And, a week after our video, another shop called "Sk8land Madrid" premiered their new video "Viente" and it was fucking sick. Lots of people came out to both ours and their premiere and showed love.
Overall, the scene is in good shape and there are a lot of sick skaters here with unique styles that should be more known.
Renan Garcia: Better than ever this sick-ass year! I arrived in 2015 we are in 2022 now, I fell in love with Madrid, its street, and its skate scene. Madrid is basically a big city, with a really close skate scene, a very cosmopolitan one also I guess. However I have to say the skate scene really slowed down because of covid, lockdowns, and shit, those past 2 years, but now everything is starting again. Videos and projects are flourishing here in Madrid. Everyone here opened their arms to me as a foreigner these past 7 years, Welcome Skateshop supported us and helped organize a trip to Zaragoza and even put up a photo exhibition and a premiere. The sickest moment of my life (laughs)… The premiere was really sweet. Thanks a lot to everyone: Pablo, Borja, Chema, Jura, Nahon, Santi, and co. over at Welcome skate shop. The support you've been giving the Madrid skate scene all those years has been great. Thanks a lot to Sk8land Skateshop too, Gaby, Manu, Adri, Pepe, Lurdo, Mante, and everyone I forgot, they just premiered their new sick-ass video at a nice outdoor cinema, it is the best Madrid video in a long time (laughs). Party was amazing too. S/O to Gorila skate shop for supporting some underground legends like Iván Suarez better known as Kiko, Juan, and all the Nepalese guys. Shout out one every single person in the Madrid skate scene or related to it by standing behind a camera, from legends like Mario Fortea, Felix Bollain, and Adrian Rios to my brothers Santino Piech, Simone Molteni, Rubens Santos, the younger generation, and others like Rafael Zulman, Santiago Saizu, Sparrow, Dominique Chemille, Macarena Magana with Shojo crew, etc.
What was the worst spot you skated?
Mathias Ferreras: "Definitely Parque de Calistenia. There were some kids watching and getting a bit too close. Every time my board would shoot out they would get it for me, I'd say "gracias" but they were Ukrainian refugees and they didn't understand me, they would only reply with "Gracias" as well. Eventually, my board shot out and hit one of the kids, I felt like shit afterward. I tried apologizing but the mother just had a death gaze.
To Ambroise: As the most cut person I know, what does Rasguño mean to you?
Ambroise Fardel: Rasguno it's a scratch in Spanish, it reminds me of a cut on my shin I got in January while trying a bogus ride-on grind. It became a health problem for a while, even 6 months after it happened I still have a mouth on my right leg and it's a bit tricky to skate. I have to protect my legs from the sun and board kicks, I will have this scratch for life and it will always be a good memory of the video. We all bled a little in one way or another, there were sores but the result is chanmé and there are good memories.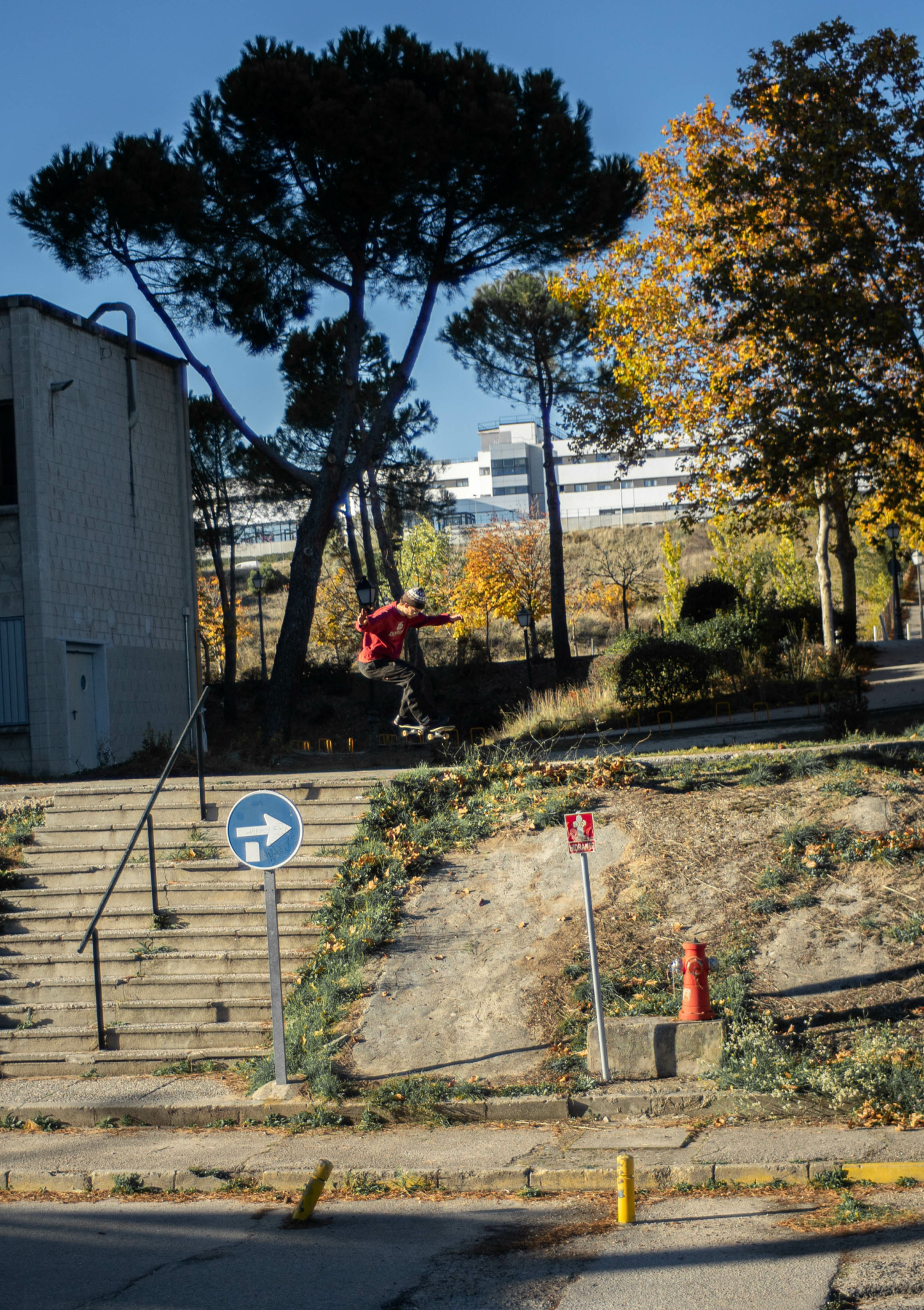 Will we see another video by you guys?
Alex Barber: Does a bear shit in the woods? I don't plan on stopping anytime soon.
Renan Garcia: Hell yeah!
Favorite skater in the video?
Alex Barber: They're all my favorites. No comment there.
Renan Garcia: Those guys are my FAVORITE skaters and some of my favorite people, nothing else to say!
What did you learn by making this video?
Alex Barber: That sometimes skating works differently in Spain vs the US and that's okay. If the average time of getting out of the house to skate is around 5 PM, that's okay. I'm used to the American schedule and lifestyle and it can be a bit slower or later over here but patience goes a long way.
Renan Garcia: Just as my colleague just said, patience is key (laughs)! The sensation of creating a project with all your friends from 0 to something is not something you can explain with words. I think this question is perfect to address a big THANK YOU to everyone involved or that supported this project, you know who you are! Big Love!
Thank you, for doing this with us!