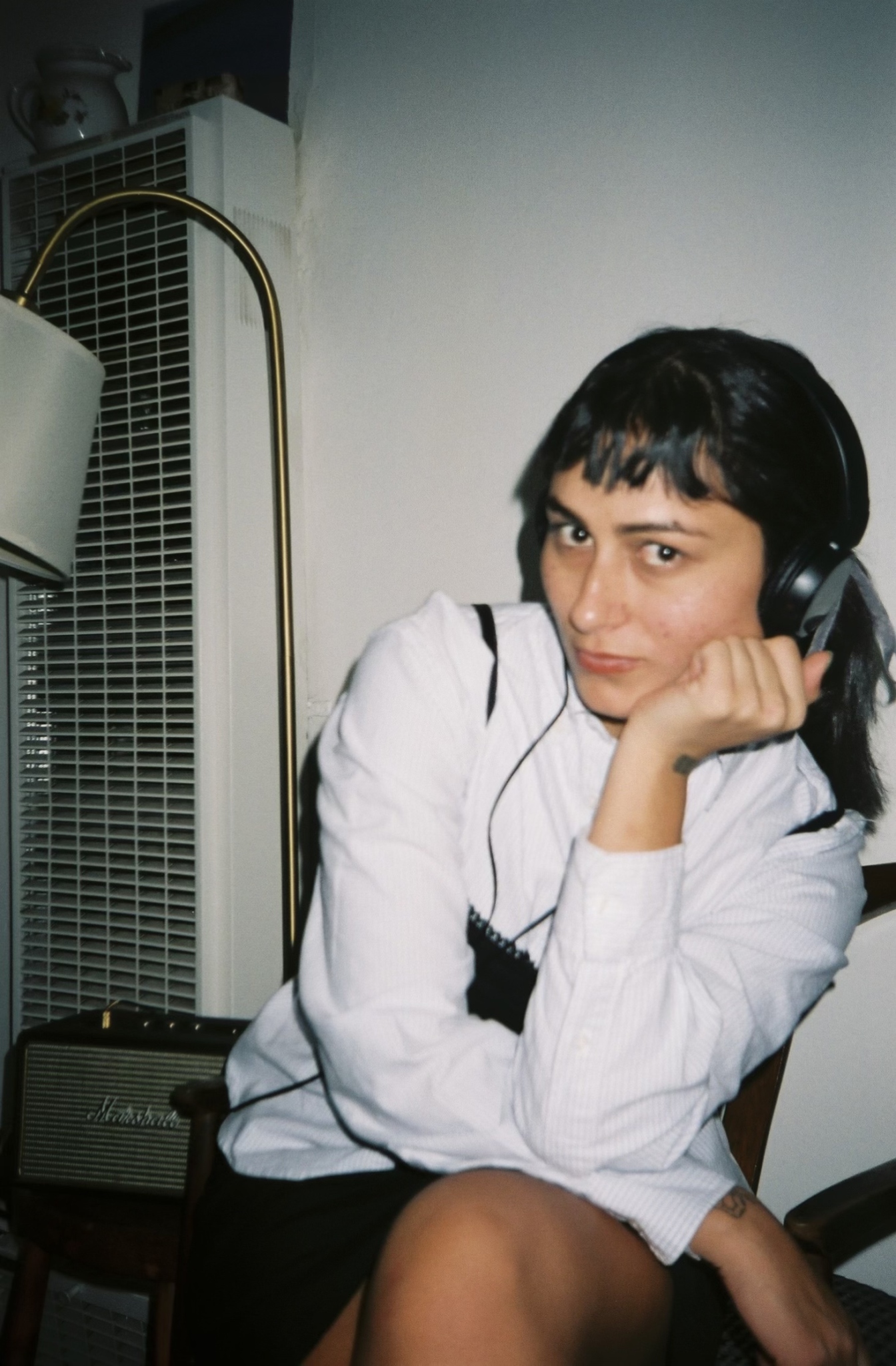 Today we might be launching a whole new column by a very sweet person! A human that has been featured on our channels before but not so much as a wordsmith, her video LUCKY was a well made wonderful journey into her world on the board. Now, Smilegoth a.k.a. Ariana Mamnoon returns with some choice words about her favorite music in skate videos. Why is she an authority you might ask? Because she has done her work by making a video, is in a lovely band and has her own NTS radio show called "Temporal Cove" that we strongly suggest you check out. So, instead of further convincing you we leave the rest of the work to Ari, her words should be enough for you to be journing for a follow up.
Intro by Roland Hoogwater.
Text by Smilegoth a.k.a. Ariana Mamnoon.
Photos by Sophia O'keefe.
Vans – Much Quiet
I met Val Bauer in LA this past November and we bonded over our music taste, specifically our mutual taking of the historic 4AD artists This Mortal Coil and Cocteau Twins. 4AD is a UK record label formed in 1980, home to some of the most prolific shoegaze, and indie artists to exist in the music scene, such as Lush, Pale Saints, Bauhaus, and Red House Painters to name a few. Anyways, when I met Val we naturally began to chat about music, and I mentioned my deep adoration for Cocteau Twins. He then took out his phone to show me a video part of his, "Much Quiet" by Vans, and of course, he skates to Cocteau Twins. Not only was I watching a video of him skating to who I claim to be one of the most iconic groups to ever make music, but he chose to skate to the track "Lorelei" off their 1984 record Treasure, a record I have a huge poster of hanging in my room, and a song I have lyrics forever tattooed on me. So we're sitting in this small dark wine bar (El Prado), and I am watching a video of him skating to "Lorelei" by Cocteau Twins. My first thought was no way, this should not be allowed, no one should be allowed to skate to Cocteau Twins. This rather grandiose opinion of mine was taken back after watching a few seconds of footage. My initial response to Val was, "no – no one should skate to Cocteau Twins, especially that song." However, I realized when speaking these words that I actually didn't mean this. To see Cocteau Twins, the epitome of ethereality, used in a skate video, was unreal to me. Not to mention, Val's skating pairs effortlessly with the delicate yet powerful melody delivered by Elizabeth Fraser. The dreamy, lush track posed against the falls and general roughness that is a part of skating inherently touches on the other side of skateboarding – what we don't see. It's an act that requires attention, willingness, and being vulnerable with the objects around you. Ultimately, the softness that is "Lorelei" highlights the same softness that can be felt within skateboarding.
Bottom Feeder – Daddy AF
This was one of the first times I heard a hyper-pop track used to accompany skateboarding – and it was sick. I watched Bottom Feeder's first full-length skate video at their premier for it on the LA River back in 2021. A ton of friends and I sat on the slanted concrete that is the LA River, peering down at the inflatable projector screen that my friend Chandler had set up. It was night-time in LA, a Saturday night I believe, spirits were high. So, when the energetic electropop track "Daddy AF" by Slayyyter opened up the video, everyone screamed. The song has a certain allure to it – it draws you in immediately and is a change to the normal tracks we see in skateboarding videos. Bottom Feeder's decision to pair a hyper pop with the fast and ambitious skateboarding that immediately takes place in this video pushes boundaries within the skateboarding. I see tons of videos using hip-hop, rock, or general indie tracks, but not a ton of hyper pop. So again, to see a brand that I already am constantly in awe of select a Slayyyter track as their opener was simply so cool and made sense to me, of course, they'd choose something that works to bring a new identity to skateboarding, a new feeling.
"Fugitive Light" – Wesley Banford
I learned about the artist Kumo 99 from my friend and incredibly talented filmmaker Wesley Banford. He told me how he was going to use a song from the diy electronic act in his next video "Fugitive Light," and this is exactly what he did. Banford selects the song "Katsumi" to be included in his almost futuristic and very visually appealing video, and it fits perfectly. I recently saw Kumo 99 perform at an after-hours in downtown LA that my friend Adam had put on a part of his dance series "Pranks." As soon as Kumo took to the stage, the stage being a small area in front of the DJ table in this extremely crowded small gallery, there was a shift in energy. Kumo (vocalist) of the duo stood on top of a chair so people could watch her sing her sultry dark vocals into the mic – with a bulk of her songs being sung in Japanese. Behind her was her partner supplying upbeat and curious beats – providing Kumo with a canvas to paint her unique vocals onto. The crowd went crazy for each track, likely because there is nothing that comes close to what Kumo 99 is doing in the scene right now. So to hear their track used in Banford's video, way before the large Spotify plays we see now, was eye-opening for me personally, and pushed me to listen to an artist I had never even heard of. That's why I love watching skateboarding videos. I am constantly exposed to new music and catch myself holding my phone close to my laptop screen so I can shazam tracks I hear. Props to Wesley for putting Kumo on the map before electronic heads had even heard of them – and if you haven't heard of them, take a listen, you'll be surprised.
Yeah Right! – Brian Anderson
Another obvious selection to shout out, but Brian Anderson skating to "Obstacle 1" by Interpol in "Yeah Right!" by Girl Skateboards. Brian Anderson + Interpol = awesomeness. Based on interviews I've seen and what my skater friends tell me, Brian Anderson is a kind human who skates really well. So, skating to Interpol's iconic track "Obstacle 1" from their first record "Turn On The Bright Lights" released in 2002 by Matador only makes sense. Interpol, to me, biased opinion, is one of the greatest bands of all time. I recently watched the documentary "Meet Me in the Bathroom" – a music documentary highlighting the 2000s music scene in New York, and Interpol were one of the bands mentioned, amongst The Strokes, Yeah Yeah Yeahs, and LCD Soundsystem. Paul Banks (lead singer of Interpol) had it much harder than Julian Casablancas (The Strokes) in terms of "making it." It took Interpol more tours, more years, and more tries to get their music liked by audiences, whereas The Strokes saw almost immediate fame. Not hating on The Strokes, they will always be incredible to me, but Interpol's mysterious ethereal soundscapes always leave me feeling introspective and curious. Paul Banks writes gorgeous lyrics, and the music that accompanies always seems to meet the places you want it to go. So forth, seeing Brian Anderson skate to "Obstacle 1" is a gift, a genius collaboration.
"Mind How You Go" – Jeff Cecere
Okay – this is probably my favorite selection on this list. This recent video by Jeff Cecere, "Mind How You Go" uses tracks from 90s ethereal grunge band His Name Is Alive, an early 4AD band that to me has created some of the best rock music to date. Cecere includes tracks like, "This World Is Not My Home / Home," and "Your Word Against Mine," with other song choices coming from artists like NINA, Arthur Russel, and Bedhead. Pretty much the dream score to a skate film. Back to His Name Is Alive, their 1993 record Mouth by Mouth contains some of my all time favorite tracks, "In Every Ford," "The Dirt Eaters" – every song on this album by Warren Defever is prolific. Their discography goes back to the early 90s to now – there is always something new to discover within their EPs and full-lengths. Anyways, I have always wanted to hear His Name Is Alive used in a skate film, so to see them used in this video, which features the more diy skate scene in New York right now made sense. The music in choice is what the word "alternative" truly means – and I'd say the same thing about skating here. There's always something neat about seeing the underground or the diy scene spotlighted. We get a glimpse into a subculture that we may not have access too, or be a apart of. To me, this is what Jeff Cecere's video does. It places us directly in the cool NY skate scene + exposes us to more obscure music choices – something that not all skate videos can do.