Place Presents is not going on a Xmas break just yet! Today we are taking you to the streets of Thessaloniki, Athens, Hamburg & Berlin for the new Screwloose video called EXILE. Instead of doing the usual, interviewing the people behind the video ourselves, we thought it would be fun if the two creators behind the video interviewed each other. So, we asked Jonas Strecke to talk to George Patias about their joined video project. Enjoy!
Intro by Roland Hoogwater.
Interview by Jonas Strecke & George Patias.
All photos by Dela Charles.
Hi George.
Hey Jonas: "Yo, Let me get some ciggies." (laughs)
First off, just introduce yourself. Who are you?
Yeah ok, my name is George Patias coming from Thessaloniki, Greece. I have been skating for almost 25 years now. And I started filming with you (Jonas Strecke). I met you back in the day, about a decade ago. We were both studying in the Netherlands in Enschede. So we hooked up together with skating and we figured out that we both had the same passion for filming. And eventually, it happened and we bought our first VX1000 together. And from that point on we kept on filming non-stop. We have been talking about sharing a project and that happened from April to June this year.
What is screwloose? And what is your Vision behind it?
The whole idea behind it started with my really good friend and partner, Notis Agellis. Around four and a half – five years ago. We had a talk about making a hardware company. Producing bolts combined with some apparel and some videos that share our view about living in this urban environment in Greece. We have these kinds of brutalist buildings around us every day, concrete surrounds us. That has an effect on you, so, that's why we started.
With whom have you been working together? Artist wise?
They are some friends of ours, the crew we skate with here mainly in Thessaloniki. But there are also some really good friends of ours from Athens involved. Like Solon Salas who is one of our main artists. He is a painter and occasionally he does some sculptures. Once a year we try to invite a guest artist to work with us as well. Lately, we had a collaboration with our friend OneLegRollerBoy. He is a graffiti artist. Before that, we had one with Miltos Digkas. He is a painter from Athens. We always keep our eyes open for fresh and suitable artists to fit with our view of the company.
Where do you see the company in the future? Young guns?
Currently, we can see that Screwloose is slowly expanding by taking some small but stable steps. We are working together with multiple skate shops all over Greece. And I feel like soon our stuff will be in shops all over Europe. There are a lot of guys skating our stuff and orders are coming in from all over the world. Like from Australia & the USA, so I think that somehow the people get what we do. They like our vision. we are not in a rush, little by little, how we are going to grow.
What is it like to run a small Greek skate brand? That's something pretty unique I would say.
Thing is that the whole scene in Greece is kinda lagging behind the rest of Europe. I mean there are some top-tier skaters in Greece but they were never well-organized, company-wise. There are skate brands here, like "lover skateboards" or "S.O.S." from Athens which are really good friends of ours but we wanted to do something different. So we tried to gather a combination of our favorite greek people that skate well. And try to make something that feels like a collective.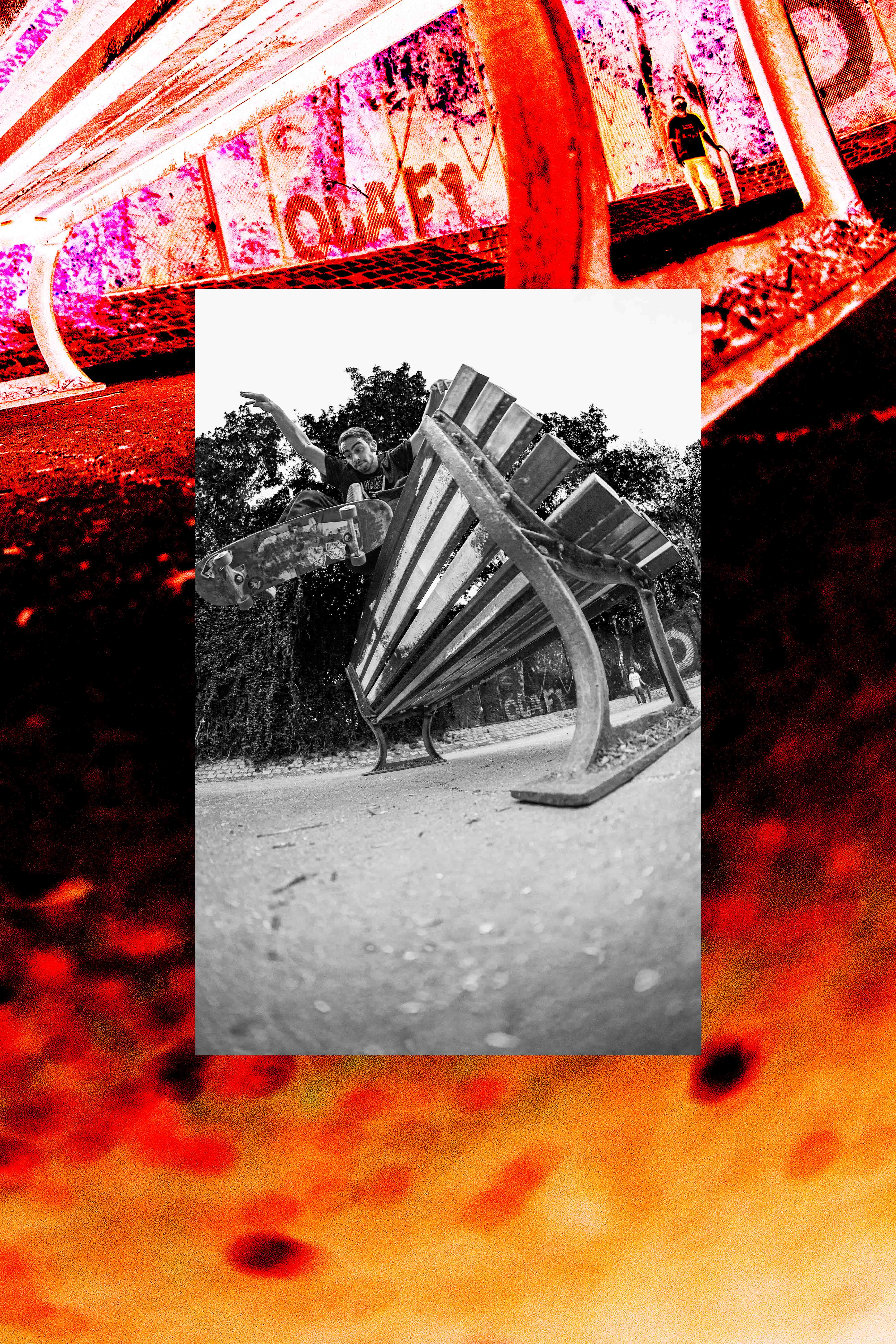 The vision that you mentioned is also visible in your output on film, right?
If you say so (laughs), I am happy to hear about that. I mean, the idea is more or less to use some pretty intense imagery in our work. And for this video "EXILE", I am really happy that we managed to work on making it together with you. (Jonas Strecke)
(laughs)
I enjoyed the fact that we shared our visions of filming, put it all together, and spent some time together in Thessaloniki and Hamburg, I am pretty excited about the end product. It was really fun and actually one of the most fun projects I have ever been a part of. It was all about having fun and skating. And I hope that while watching the video everyone can see the fun we had making it. 
I hope so too man. It was a no-brainer between us, and that made it fun. I have had other cases where I worked together with people and we always argued about this and that but that wasn't the case between the two of us. What was pretty crazy to me was the fact that we just edited as we went along. We edited the first part when I was in Greece and the second when you were in Germany with the crew.
We worked pretty fast but that made it legit as well. I should mention Dela Charles also, she was a part of the crew, taking photos. Those photos might pop up here. Somehow, everyone that planned to get involved with our project and even some other people that got on board while we were making it – seemed really hyped to be part of it.
Especially people like Dela gave me that hype. We went to Berlin and she tells us, "maybe I can show you some spots." in the end, she just took all the photos and they look fucking dope. That all happened organically.
I mean we had, let's say – low expectations about the outcome which made it really easy, we had no pressure and we had a good workflow and everything. I would really love to keep on doing projects with you, like these small and fun things.
Much more fun. Every fucking skate video has a huge ender you know and everything seems to be about the fucking ender. Fair enough, I get it, if there is a good trick at the end it's definitely a plus. But this was not what the project was about and our main focus was on filming. Show different angles, and different perspectives. The last clip just fits into that concept perfectly.
But to be fair. I could consider some of the clips to be bangers. You don't see huge handrails or some stair sets. But still, there are some things that are high-level… I don't think there are a lot of dudes who can do those moves.
Like the fence wallride of Dimitris.
Exactly. Everything seems to be easy. But man if you knew how many kilometers we had been walking per day just hunting for some hidden spots in Berlin, Hamburg, and Greece. I mean it looks nice but we put in some serious effort. I was so amazed when we found this brand-new plaza that no one had ever skated before in Hamburg. This thing was like paradise. The one you did the slappy crooked on the wave thingy at.
I am amazed that nobody dropped the spot yet, you know. I saw somebody taking pictures of the big stair set but the slappy had not been discovered. It's insane.
By the way, every time I visit Thessaloniki someone tells me that the metro is about to be done.
Both laugh.
And when I return I will ask the same question "Is it done yet?"
I think that by the time you are back here it will be working. It's done. I mean, it's not used by the public now but supposedly in the upcoming three-four months, everything will be working. Finally, after almost 20 years, man haha.
Any shoutouts?
Huge shoutout to Notis and all of my friends that are involved in the screwloose project. Big shoutout to you for being part of it since day one – more or less. And thanks to everyone skating and supporting us.