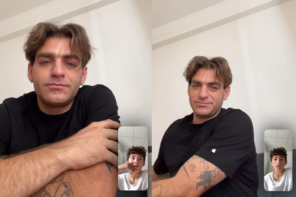 Welcome to our first-ever Petros Presents! A small column dedicated to the work of our new intern Petros Vlachos. He is a young and very curious fella, not of the shy variety and as such he suggested that his first assignment should be to interview one of the premier Greek skaters, Notis Aggelis. How can we deny such a show of initiative right? So we asked Jonas Strecke (Screwloose family member) to connect our young buck with the OG and this is what came out. I will let Petros do the rest of the talking now. Enjoy!
Intro by Roland Hoogwater.
Interview by Petros Vlachos.
Special thanks to Jonas Strecke & Notis Aggelis.
Hi, I am Petros Vlachos, I am 14 years old and I live and skate in Berlin and this is my first time doing an interview for Place Mag. The idea was to interview a skater from my home country, Greece. Last month I flew there to go on holiday and meet my family, but I also met up with Notis to go eat Pitogira's and talk and skate a little bit. I remember when I first saw him on Instagram and after that, I watched some of his parts and really liked his skating so I asked Place to make the connection to Notis and that is how I ended up doing this interview. In it, you can read and learn more about him and how skating works in Greece, Thessaloniki to be exact.
First, introduce yourself to the readers
My Name is Notis Aggelis, I am from Thessaloniki, I was born and raised here, and I am 28 years old.
What are your sponsors at the moment?
Vans, Carhartt, Screwloosefc, Krooked, Spitfire, Venture, Ashes
Sick! So, who are you looking up to in Skateboarding?
When I was young I liked different skaters now if I had to say probably Cyrus Bennet, Max Palmer, Bobby Dekeyzer, and Anthony Papalardo.
How did you get into skating?
I started when I was 8 years old because of my brother who also skated. We were watching Skate videos at home and afterward, I asked my dad again and again to buy me a board… ever since he bought me one I have been obsessed.
What do you think about the Greek skate culture? Do you think there are some talented skaters out here?
In recent years, Greece has become more and more relevant in Skateboarding and it also became a destination for skaters. The scene has progressed and I think there are some kids who skate well.
Who are your close friends with whom you skate daily here?
On a daily basis, I skate with the Leikon Crew… they are my friends out here in Thessaloniki.
What was the best skate trip that you have ever been on?
It would be hard to choose cause trips are always fun, but I think when we went to New York with Carhartt! because it was my dream to go there and I had a beautiful time there, it was a great experience.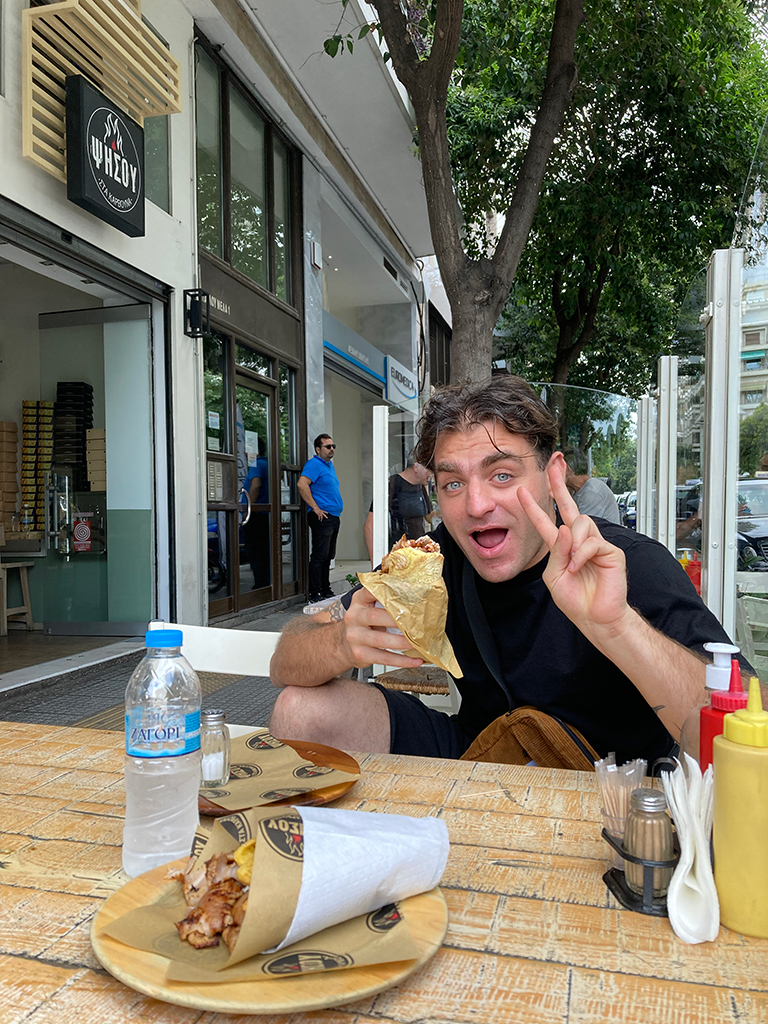 *The pitogira we ordered finally arrived
Are there enough opportunities for you to skate here in Thessaloniki or would you maybe prefer living in another city?
I would not say I'd like living in another city for skating, it is always nice to travel and see other spots and new places for skating, but I dont think it would be enough of a reason to move somewhere else.
Now that you are hurt, how do you spend your time?
I could not do much up until now, which is why the first two weeks I was just chilling at home watching movies. After that initial period, I was able to walk on crutches and I started going out to the coffee shop with my friends. At night I often went to a public square and chilled there. Yeah, that was it for a while but soon I am starting my physical therapy and gymnastics courses so my days are going to be more fulfilling.
When you start skating again do you have any specific plans?
I am always thinking about tricks that I want to do and I also walk around and try to find new spots. I hope when I recover that my ideas on the board can become a reality.
In recent years, Greece has become more and more relevant in Skateboarding and it also became a destination for skaters.

Notis Aggelis, 2023.
One last question: How did your brand Screwloosefc start, how did the idea come about and is the company doing well currently?
At first, the idea was Georges's (my partner) idea and then he asked me if I was down to join the new project! After some conversations, I decided to join and so we started screw loose as a hardware and clothing brand! It's been five years now!
Right now about 6-7 skate shops in Greece sell our stuff and we also have a website to sell our stuff internationally. Currently, we are working on a new skate video with our team.
That sounds exciting! Thank you a lot for doing this and I hope to see you next time I come to Greece.
Okay, hit me up, and thank you!