With the recent passing of legendary skater, businessman, influencer, and family man Keith Hufnagel we decided to delve into the archives and found this interview from 2012. Obviously, this was before he became sick, and even before Dylan's passing so the tone of the talk is actually quite upbeat and happy. He touches on things that inspire him which is nice to hear from a person that managed to touch and inspire us. So take a trip, go down memory lane and enjoy Keith's words in this Classic.
Originally by Benni Markstein. / Photos by Erik Gross.
Added intro by Roland Hoogwater.
Keith Hufnagel is originally from New York but moved to San Franciso in 1992 for College and to follow his passion for skateboarding. Ten years and a well-done pro career later he opened the HUF store in 2002 to give back what he got from the scene so far. Although the shop closed in 2008 the longtime Real Skateboards Pro established HUF as a brand with worldwide success. We present an interview about inspiration, influencing skateboarders, and his view on Germany.
What did change the most within the skate market in the last 15 years? How did the brands change that have been in the business for that long?
It is crazy just how much the skateboarding market has changed in that amount of time. This is really the biggest skateboarding has ever been, and this is the most accepted skateboarding has ever been. I mean, skateboarding these days is on TV, in advertisements, in the news— it's absolutely huge right now. In many ways this is good because we are finally listened to, we are invested in, we're even sort of taken seriously, haha. There is money in skateboarding now that allows us to actually make a living and survive, even prosper, doing what we love. But then again there is the downside to all of this as well. Because of the state of skateboarding now, we are seen as something "profitable," something worth being "invested into." Yes, it is awesome we have financial backing, but in the end, in the eyes of the major corporations and big businessmen buying into our "sport," we really are just another dollar. Where were these corporations 15 years ago when skateboarders were despised and laughed at? Where will they be if skateboarding falls from public acceptance as we have seen it repeatedly do in the past? I think the most important thing for brands nowadays is to make absolutely sure that they keep enough of skateboarding for skateboarders. This means holding on to enough of the brands and industry to ensure that we as skateboarders are the ones profiting most, as we are doing all the work.
As we've seen over the past 15 years, a lot has changed for a lot of skate companies—some for better, some for worse. And then there are those that have not changed much at all, and those are the brands that I think are doing it right, the brands who keep doing the same shit that has always worked for them. I think something like the DELUXE camp (Real, Spitfire, Thunder, Anti-Hero, Krooked) has it all figured out—they've been sticking to the same thing for a long time now. They are really a "for skateboarders by skateboarders" crew over there, and make sure that every one that is working hard for them is taken care of in return. I could be a bit biased 'cause I've been with them for so long, haha, but they are really like a family over there. They make skateboards for skateboarders, simple as that.
Name three skateboarders that had and are having a massive influence on what's happening in skateboarding right now.
Hands down, Mark Gonzales. He absolutely changed the way people looked at street skateboarding and opened everyone's eyes to a whole new way of skating. He didn't invent the ollie, but he took it to the streets and applied it in a way no one had ever seen it done before. There are those few people in this world that can turn water into wine and he is one of them, haha. You can watch Mark skate down the street and be completely stoked.
Danny Way. He essentially invented the mega-ramp, which is seriously one of the craziest things ever. I honestly don't understand it. Danny Way completely killed gnarly street skateboarding, and as if that wasn't enough, he is now pushing boundaries with the mega-ramp that are just beyond comprehension. I mean, he has both acid-dropped off out of a helicopter and ollied over the Great Wall of China, haha. I feel like we are going to be seeing a lot of progression on the mega-ramp over the next 10 years.
Rodney Mullen. He probably invented every street skateboarding trick there is today, he was just doing them as a freestyler. He has undoubtedly had a huge influence on why street skateboarding tricks are the way they are today.
Can you give us some info about why you think these guys are so important.
Well, for one thing, I have the utmost respect for individuality. One of the most important things in this world is to have a vision, a dream, a goal, and just go for it no matter what. All three of these guys had that vision and just went with it. It's insane to think that everything they did on a skateboard simply did not exist before. They literally invented new forms of skateboarding. Nothing was copied– these were original minds taking skateboarding to a new level… that, to me, is what trendsetting and innovation is all about, which is the only thing that advances this world.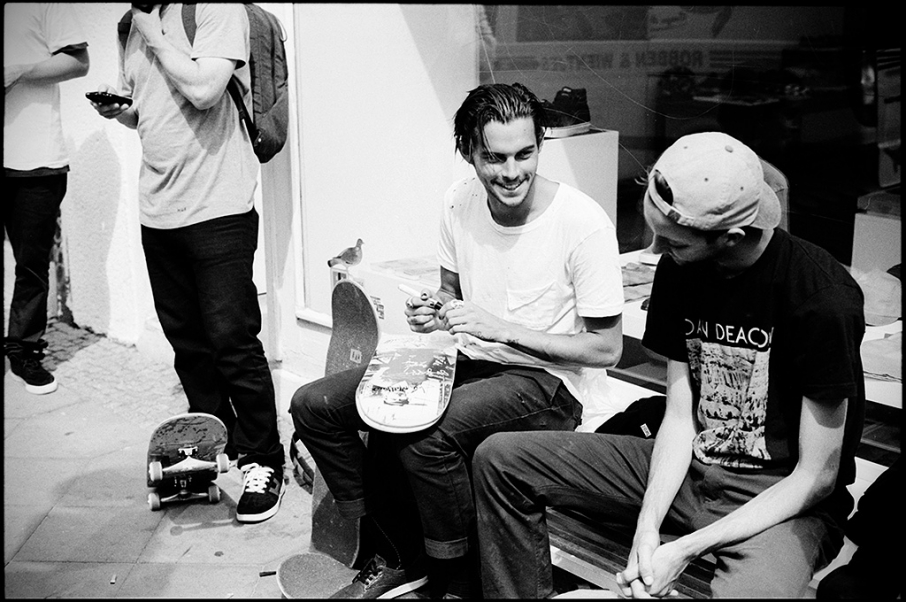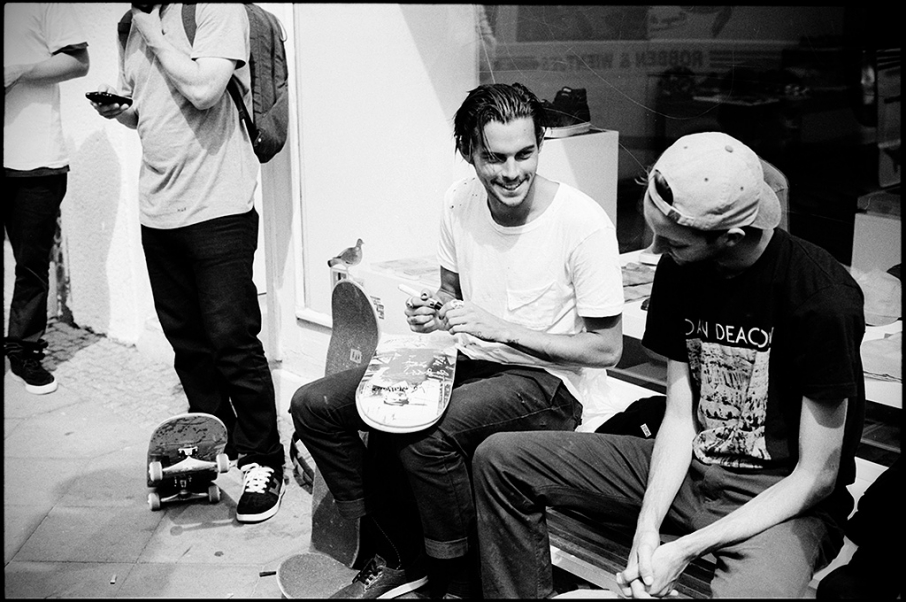 What did you inspire most for your actual collection? What is different than before and what do you see coming next year?
Well for our current HUF Fall '12 collection we took a lot of inspiration from that sort of "do-it-yourself" skate style of the '90s. Over here at HUF, we're heavily influenced by the 90s skate scene… that's the environment I grew up skating in, so that's what's closest to home for me. Back in the 90s, you didn't have the variety of brands you get today. A lot of the style that emerged at that time was just totally DIY, you know, piecing together gear from all over the place. For Fall '12, we wanted to return to those roots, so we took inspiration from both the DIY and hip hop scene of the 90s, and just added a modern 2012 twist.
Looking forward to Fall '13, I would say it's not necessarily about what is different in comparison to this current season, but more so just where we have added on. We look at each season as a new layer as we build our vision, so are always feeding off our collection as a whole as we adapt and develop as a brand. For Fall '13 we continue to pull a lot of influence from our 90s NYC roots, so you can expect to see a lot of saturated, bold colors, sitting alongside the classics that people have come to expect from HUF. If I had to find one difference, it's that our Fall '13 season is merchandised really well, so you can expect to see overarching color stories as well as mini capsules within the line, which can be put together in so many ways. I guess all in all it's going to be a really versatile collection, but still on some "we don't give a fuck" kind of shit, (laughs).
Where do you see HUF as a brand in 5 years? Where do you see yourself in 5 years?
As a brand, I see HUF evolving more and more into a larger and more solid footwear company. I love where we are at right now, but see a huge amount of potential for growth in footwear. We are still relatively new to the footwear game, but I feel we have the originality, creativity, and authenticity that can really drive us into becoming one of the most solid footwear companies in the industry, a footwear brand that is able to compete with the major corporations out there. I am really stoked on our skate team right now and feel honored to be a part of such a genuine crew. I plan to continue to remain completely involved in the company, and definitely see myself playing such a part as long as HUF is around—I plan on being here forever, haha. I may not always be the person doing creative, but I'll always be here to guide the brand along with that same original vision we had when we first started.
What's your most favorite place in the world? 
Oh man, that's always a tough question. I feel very fortunate to have traveled all over the world because of skateboarding and have fallen in love with many places. What's awesome about skateboarding is that it takes you to places that "normal" people really don't ever end up seeing, simply because it is completely out of their radar—a hubba behind some centuries-old European church, a ledge behind an abandoned American grocery store, a set of stairs on top of some mountain in Mexico, haha… Every place has its unique qualities, it's own vibe. I guess one place I wouldn't mind settling down at might be something like Hawaii, for when I'm a bit older. I really enjoy the whole beach life out there.
What do you like about Germany? Cars, beers, Nurnberger Bratwurst?  
Germany is awesome. I'm a big fan of German-engineered cars, beers, and sausages, haha. I haven't spent too much time in Nuremberg specifically, but do know the city saw some gnarly times during the war. I'd definitely have to say that Berlin has become one of my favorite cities out of everywhere I've visited. It has such a crazy history, and it's awesome to me to see how it has developed into this huge hub for the art world. I really liked all the different artist areas there, and the whole creative vibe that is going on there… lots of good times out there!
Thanks a lot, Keith!