PUNK! That is what Mobina and Melika are. why, you might ask? Well, first of all, they are DIY people. Coming to Germany together with their whole family and finding a new way in a country, a society & a city that bares at best small resemblances to where you were born. That said, they took on that challenge and are well on their way of knocking it out of the park. All while staying humble but not shy and they are certainly not shy! HIGH ENERGY, that is what they bring, jokes for days, a lust for life that in all honesty, we haven't seen that often. Mobina (18) is a wild child, dancing at parties, skating with the pros, finding out about all that Berlin has to offer while still maintaining a serious attitude to her education. Melika (15) is a bit more relaxed, strong-willed on the board, not afraid to take a slam or even go back to get what she feels she can land. All while putting great value into people treating each other with kindness and respect, she doesn't suffer fools lightly either and will let her opinion be known. At the same time, they both like to pull pranks on one another, pretend like they hate each other saying things like "You make me want to vomit!". But in all honesty, it is a game and they are playing the game well and have fun doing it together!
Text by Roland Hoogwater / Photography by Tina Willim.
We first met Melika Nazari one and a half years ago at Heidelberger skatepark in Berlin, a random skatepark to be at, if you are a young upstarting skater in the German capital. The transitions are steep, the ledge and the flatbar are pretty high & the flat ground is not the most fun but Melika found her way.
We all skated for about an hour after which our crew sat down, immediately Melika introduced herself and started asking questions:
"Who are you? What are your names? Where are you from? Do you skate here often? What are your IG handles?"

Melika Nazari.
Needless to say, we where a bit overwhelmed but at the same time she was nice to us and obviously so interested in skateboarding that we obliged her and she made a real impression on us. It was only when we fired some questions back at her that we found out she wasn't German, she was a refugee from Afghanistan. That fact almost seemed unreal to us because she was fluent in German (no real accent) and dressed like a skater no shyness either, it just showed us not to judge a book by its cover.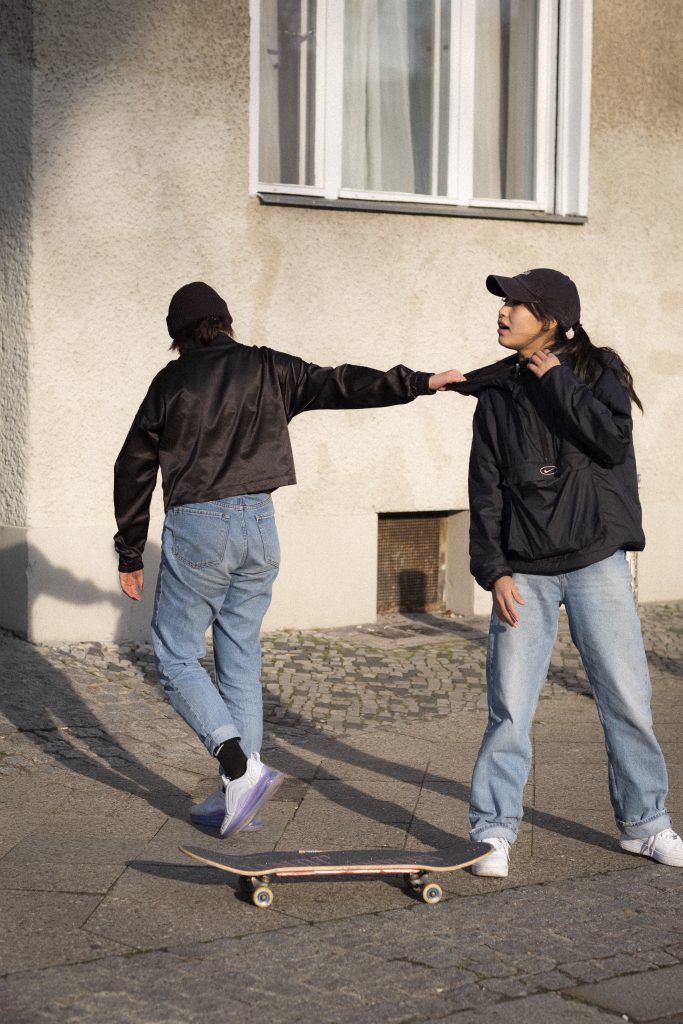 I met Melika a couple more times and each time she showed a lot of improvement, she had found a new home at the better-suited skatepark DOG SHIT SPOT. And that is where they really became a part of the Berlin skate scene. People have opened their arms and welcomed them in, helping them with boards, shoes and all the little things so that they could continue to skate.
Fast forward to November the 10th, at the Nike SB Shelter in Berlin to be exact. That Sunday we first saw the girls in their natural form… together. It was at the Skate For More Session that was part of the then-new Just Do It Campaign of which both sisters were a big part. That day hosted best tricks, a race, a potential to vote for a new Bowl section but most of all they stood out by co-hosting the workshops, investing their energy into giving back to new often young skaters from all walks of life.
Question:
How does a person that flees Afghanistan via Iran ending up in Berlin find skateboarding? Drop-In that is how! DROP-IN is a foundation that hosts projects for Refugees and as the founder Joest Schmidt explained uses sporting activities to engage in education and integration of new-comers into German society. Mobina & Melika entered a summer program that helped teach German, showed them the city and introduced them to their first love Skateboarding.
They were hooked from day one, we offered other sporting activities but they were only interested in one thing. If we would go swimming they would ask if they could go skate instead.

Joest Schmidt, Drop-In Founder.
Joest being a skateboarder himself obviously obliged them and so their journey began. Their German language skills developed at least as fast as their skating did, that is in part due to the fact that Drop-In's courses involve mixing local Berlin kids in with the Refugees creating the necessity for both to find a way to get out of their comfort zone and talk to each other.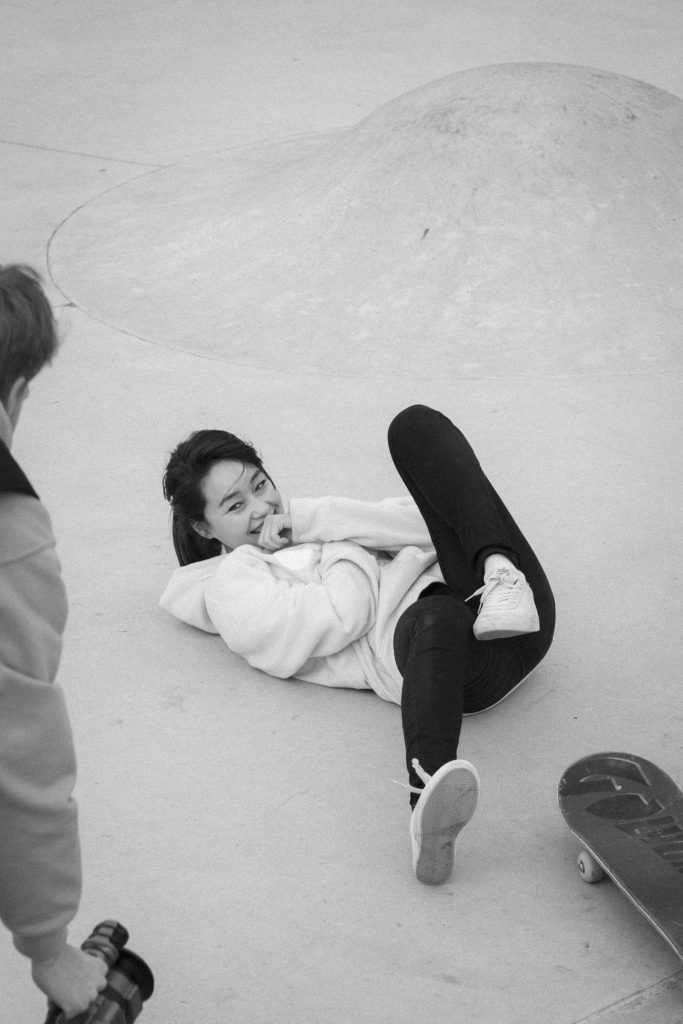 "That and the fact that we where hanging out at the skatepark a lot, really helped us learn German fast! We had to try and talk on a daily basis we couldn't stay in our own language bubble." Melika tells us.
Now within three years, they don't only still attend skate classes, they are able to host them and teach new people, in a sense closing the circle that Drop-In created.
Imagine this, they came to Germany 3 years ago, found a new hobby, sport, art… whatever you want to call skateboarding and within 2 years they were not only fluent in German but also good enough at skating that they could stand in front of a group of native speakers and teach them their new hobby, their new lifestyle.

Joest Schmidt, Drop-In Founder.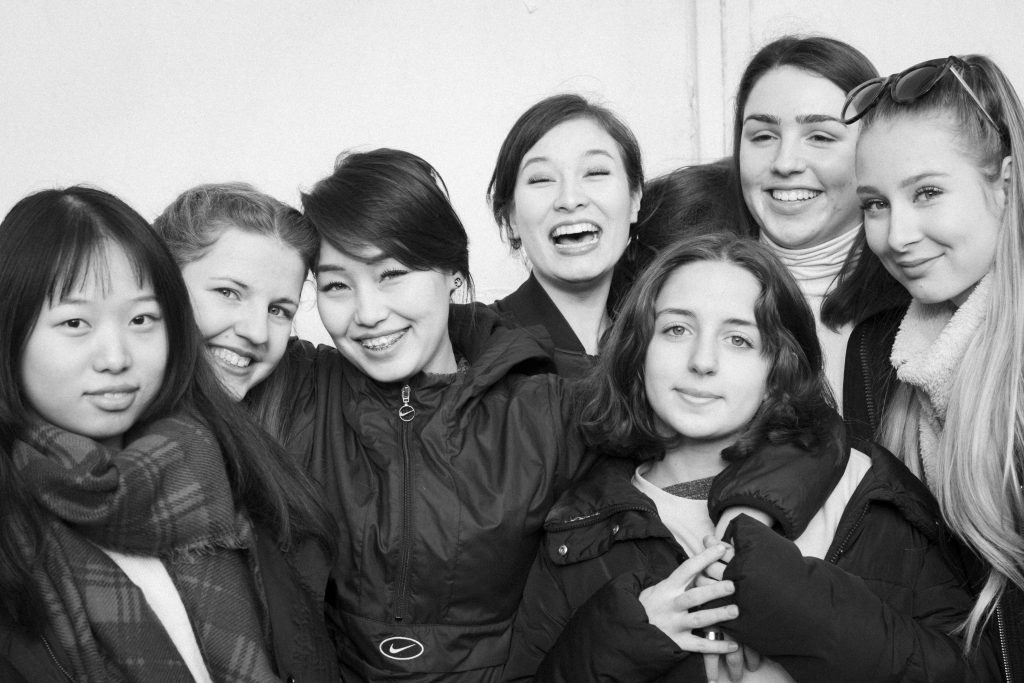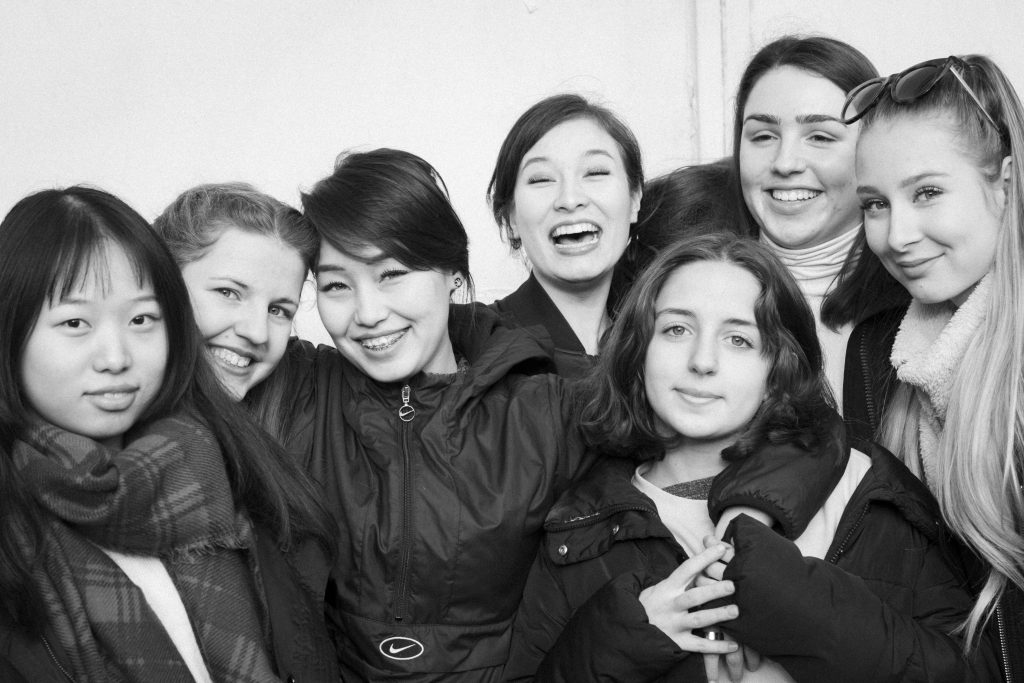 As I said in the intro they are PUNK, they might not dress like PUNKS did in the '80s but they are "Do It Yourself" people taking their own route and not following the mold that other refugees, skaters or teens have followed in the past. For a lot of girls with Muslim backgrounds, a lot of activity can be forbidden depending on the strictness of their religion. Riding a bike is one of those activities but skateboarding is so new that it is not Haram so it can be practiced freely. And even though skateboarding is an activity that you perform alone it is something that you do together with your friends, culture, heritage, age, ethnicity all fall to the side the only thing that counts is "are you a real skater?" and if you can fulfill that requirement you can hang.
So to close it off, this is, of course, a story about two young women who through hard work and having an open attitude managed to find their way into Berlin. But more than that it is a story about skateboarding, social work and that special mix that can help people from all walks of life.