Tjark Thielker is a professional skateboarder who's passionate about what he does. He definitely knows how the game works, and he's playing his own role in it. But if "professional" means that he earns enough money to make a living, we might have to rethink that term…
We know for a fact that there is only a handful of Germans who actually make a living out of skateboarding. Tjark does get a lot of support from his sponsors, and yet being a sponsored skater is not enough to make ends meet in his case – although he's been sponsored for about 10 years by now. "In a good relationship with a company you could get sponsored for at least 15 years I think, maybe even longer," Tjark says.
Skateboarding can make you feel quite worn-out every now and then. Either you win or you lose. There is no insurance company that's willing to pay in case you're not landing tricks. "If I didn't skate, I would probably already have my degree, a lot more brain cells left and maybe even some more hair left on my head." But let's be honest, skateboarding opens up your horizon in many ways. No way Tjark would have seen places like Kyrgyzstan, San Francisco, NYC, or all the other destinations around Europe in the way he's experienced them over the last years. "It's a privilege," he agrees. "With next to no money in your pocket you can travel all around the world, see different people and learn about their culture," he enthuses.
As corny as it might sound, skateboarding is a choice of lifestyle. People might treat you differently, because they picture you as Bart Simpson or the guy on the cereal box. Although it's a dog in a clown's dress with a dorky hat, there are certain stereotypes about us, and people outside of skateboarding are not to be blamed for that. That's just how society works, and we play our own role in it. "Even though quite a few things in my life have changed over the last five years, skateboarding was always on my mind, no doubt," he says.
And yet, it's just not enough to make a living. As a side job he is interested in buying and selling old furniture, records and suitcases. Together with one of his best buddies Dominik he buys things by auction and re-sells them at flea markets or online. Some days, things go really well, but the one time we followed them they were pretty much out of luck. That's life, I guess. Here is one day with TJ at an auction somewhere on the outskirts of Berlin:
The rack Tjark and Dominik are interested in is lot number 229. It's about one and a half meters high, and about a meter wide. 120 records, and there might be some real treasures in this pile – hits only! Reason enough for Dominik and Tjark to decide about how high they're willing to go for this one. It's still about half an hour until the auction starts. This is not the type of auction were you have to sit on your spot and raise your hand when you see something on stage that you like. This is one where you walk around – but you still raise your hand if you are interested. The storehouse is about the size of a basketball field, filled with racks full of stuff that no one really needs.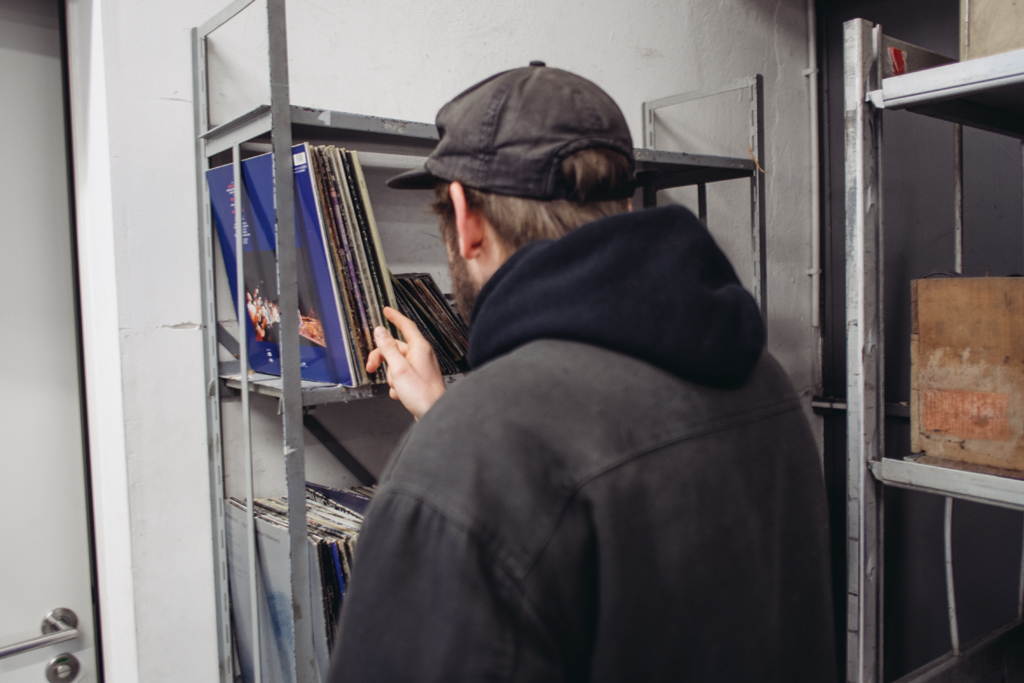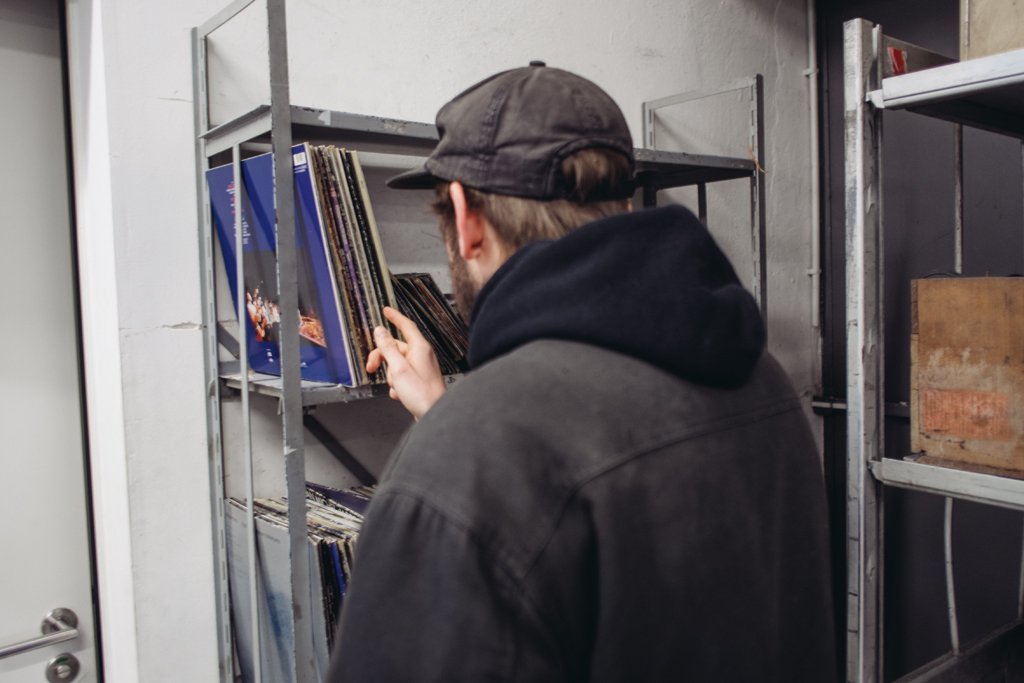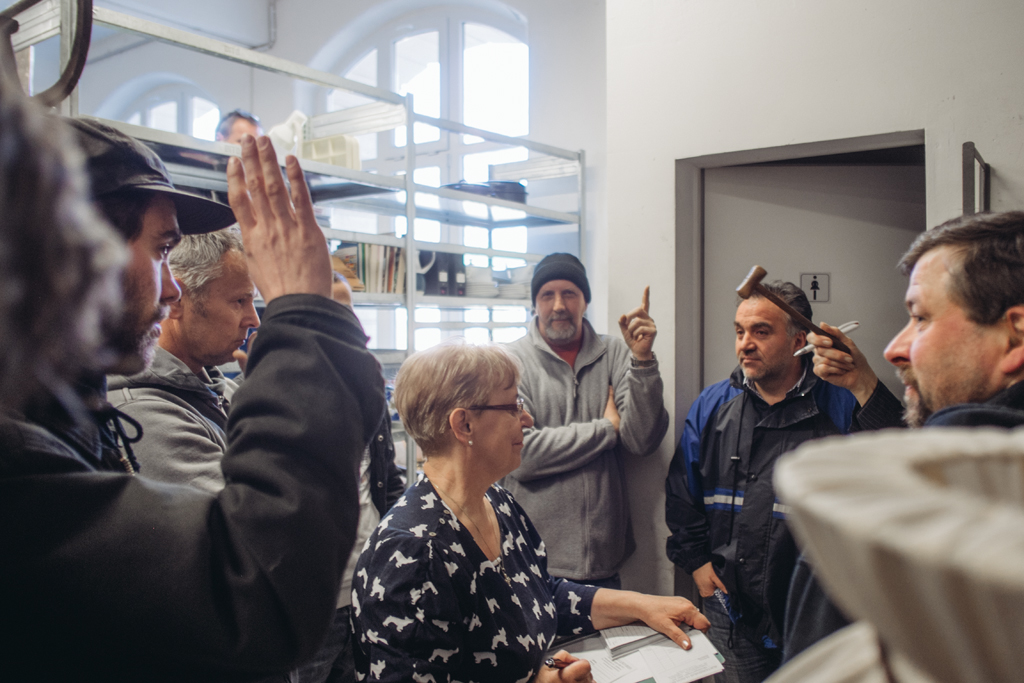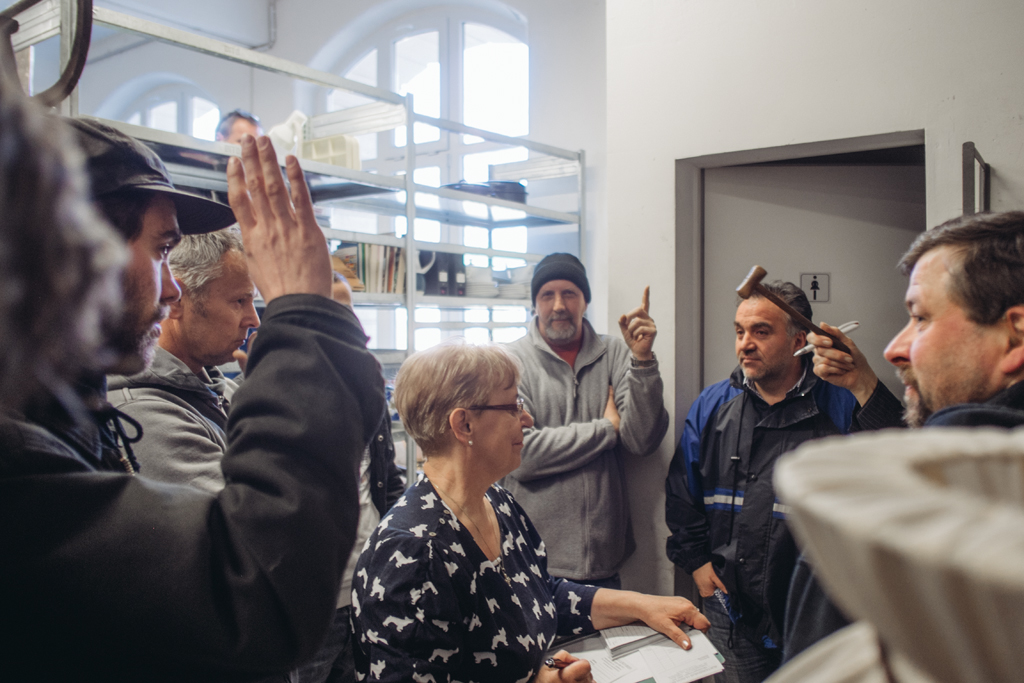 It's totally ridiculous how much money people are willing to spend for this crap. I saw a rack with broken vases, expired apple juice, coffee filter boxes and framed images of strangers, dogs or entire families. Two meters high, four meters deep, for a price of more than 500€…
But back to the records: "Usually most people don't recognize the value of records over here, so this could be a bargain for us," Dominik explains while browsing the collection. The smell is comparable to being inside an old church or lost in grandmother's basement. "It's interesting how different the people are over here," Tjark offers while screening the crowd for people who might also be interested in the record rack. It doesn't take long until Dominik discovers a familiar face: "This guy bought records off of us, maybe he will be interested again." Unfortunately, the man is interested in the whole rack.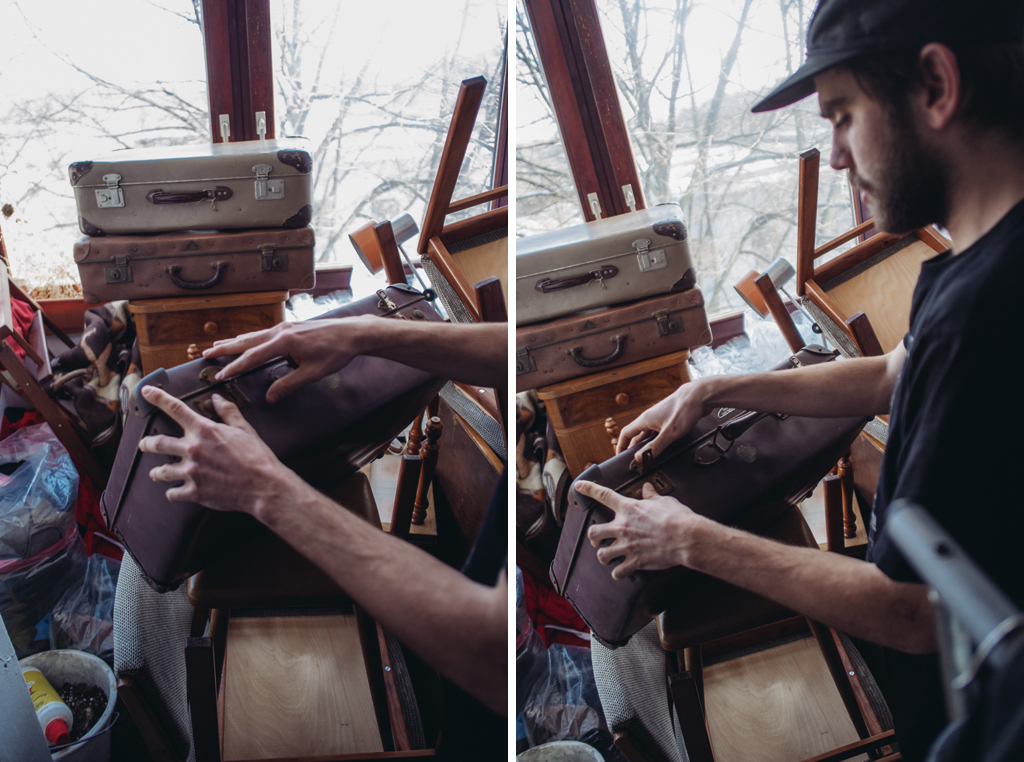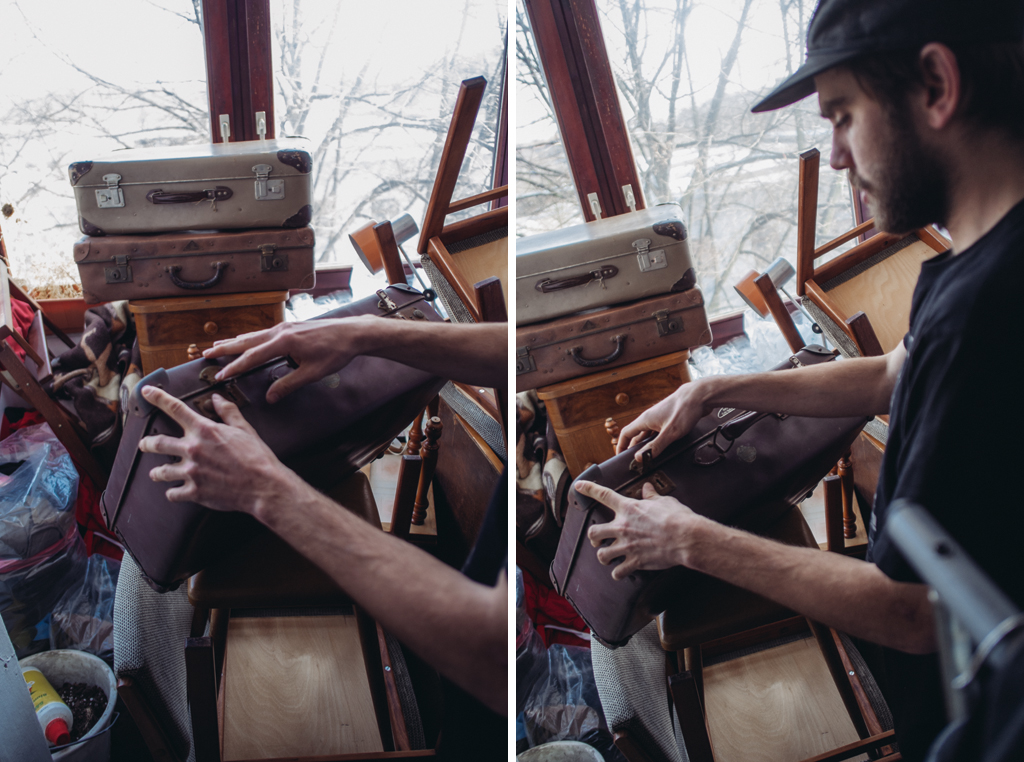 Tjark found another man who might show interest. "This guy does not know what he bids on. The minute we raise our hand, he goes in," says Tjark, then adding: "A pretty dislikable person. I really hope he is not interested this time." He's wrong though. The man is interested in the rack, probably because of Tjark's and Dominik's looks. Seems like he just sensed it somehow. Before you can join an auction you need to sign up first to get a registration number and a little ID-card to show.
The whole rack starts at 80€. Not willing to pay more than two Euros per record, Tjark and Dominik agree to stop at a price of 250€ for the whole thing. Everything happens really quickly, and all the bidders seem to be aware of that. "The moron saw that we're interested, and that was the only reason he made a bid on the records." The moron eventually buys the rack for a price of 540€ plus 20% auction tax. It all went down in less than two minutes, and I actually had a hard time keeping track of the situation. "Usually this would have never happened, we were just unlucky that he noticed we're interested," Dominik tells me.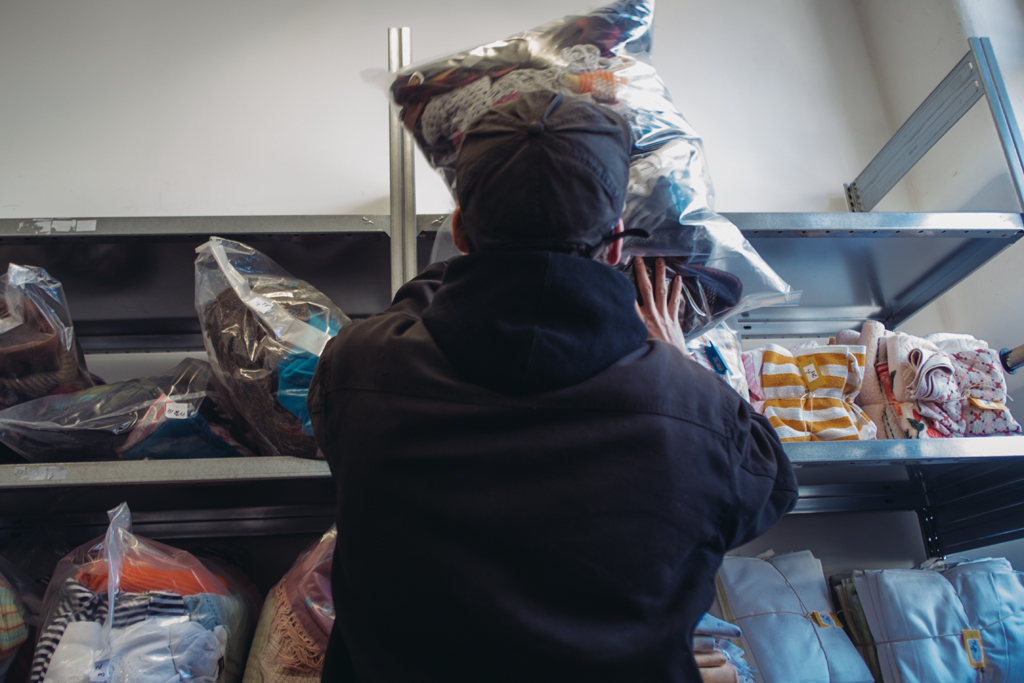 After a little break with homemade potato salad for 3,50€ the whole group moves on to the next room – the furniture room. Everything you could wish for, marked with a little scratch or a crack here and there, but nothing too bad. Some of the guys have already seated themselves on some of those couches, desks or chairs, just to make sure they will bid as far as they need to. To my mind, this does not really make sense from an economic perspective, but what do I know? Reverse psychology, maybe?
Tjark and Dominik don't seem to be too motivated. TJ is taking notes in his iPhone about some of the items. Number of item, starting bid, and how high they are willing to go. "To call it a day right now would be wasting time, and there is more to it than just the biddings," Tjark says. He's got the feeling that there is at least a little something left for them. A chair and a coffee table for 20€, for example.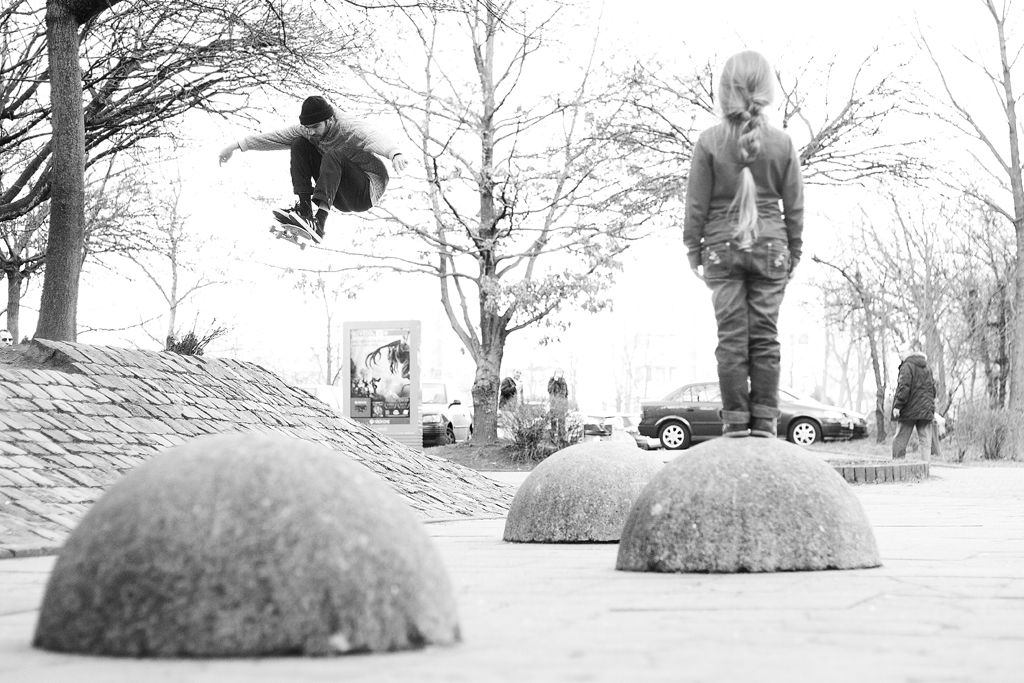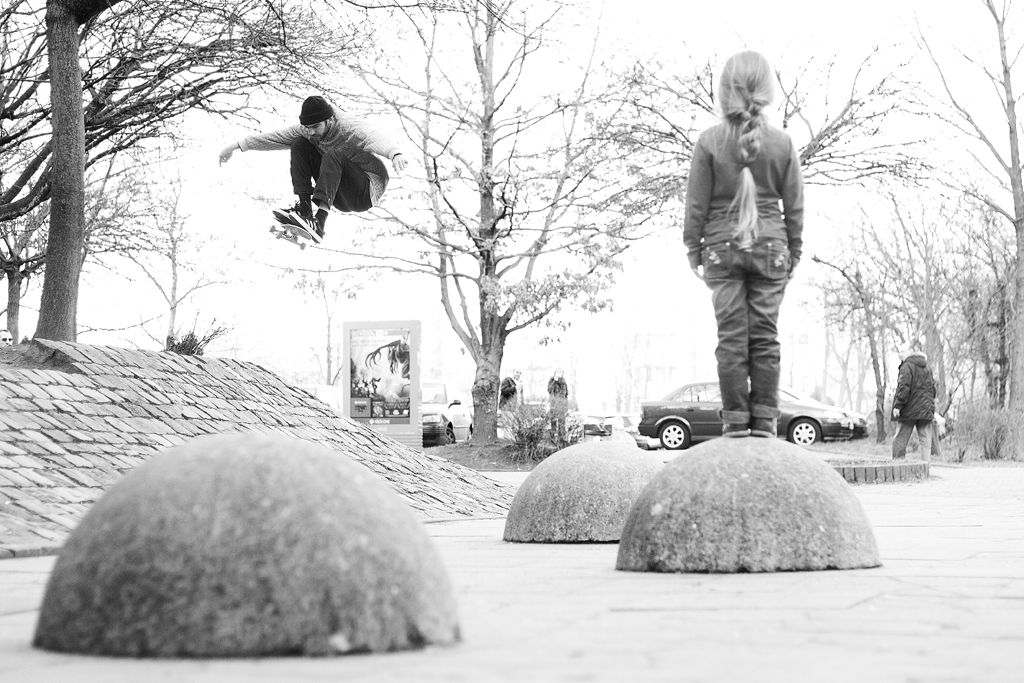 Ollie
"This couple makes about 90€ if we take care of it," Tjark replies with a little smile on his face. "At least something," adds Dominik. Last bid of the day is on a roll-front cabinet with no keys to it. Apart from TJ, one young woman seems to be interested, but for some reason she also seems to be in a really bad mood. "I think she doesn't like us at all, she must have seen us here before." Tjark got lucky once again for a price of 90€. In total, they spent about 110€ on furniture. "Next time we just need to invest more money to make a better profit," Dominik speculates. Turns out he was right: A week later, TJ and Dominik got lucky by investing a higher amount of money.
Words: Daniel Pannemann
Photos: Friedjof Feye (b&w) & Danny Sommerfeld (auction)