Leon Charo-Tite is our next "Unsigned Hype" and he is from Freiburg/Germany and that part of his heritage can be an issue. Many have gotten stamped and sidelined as the "German Skater". To our U.S. audience, that's kind of like being stamped Canadian or Brazillian in the early 2000's. Not all Germans suffered this fate obviously, Jan Kliewer, Michi Mackrodt, Sami Harithi to name a few have escaped this treatment. And let's be fair it is a bullshit stamp. Leon is also Kenyan and once he found out that David Jakinda is also of Kenyan heritage he got very excited and asked if I could introduce him but Covid happened. Still, these kinds of things are important to Leon. Imagine a double part between the two of them! 2021, David were you at? Anyway, Felix Schubert and Leon did the work! while being the two most humble, relaxed, and kind people you could work with. I haven't heard any bad words about the two of them ever and you know as well as I do that people love to hate (the comments after this will be the true judge of that statement). But through this process they remained hungry, hard working and with good results. You will be seeing a lot more from them after this moment. Mark my words.
Film & Edit by Felix Schubert.
Interview by Roland Hoogwater.
I want the truth, the whole truth, and nothing but the truth. First question, how are you guys feeling right now?
L: Great!
F: Nervous, I want to know what people think of the video.
Are you afraid that people won't like the video?
L: I am pretty confident with the stuff we got and I am happy with the way the edit came together. At some point, I was thinking that people would think it was lame or that it wasn't good enough. But I think it turned out pretty well.
F: I am happy too, but I am curious what the comments will be.
I think it will be fine, you are young and coming into your prime. So, how did you guys get to know each other?
L: It was here in Berlin, a friend of mine from down south in Germany had moved up here and he introduced me to Felix. I think we skated that park in Moabit together. We clicked and started filming clips. That was in 2018.
F: Nope, that was 2019, you moved in January.
L: We filmed that "Obstsalat" video in a few months, that happened fast.
F: I'm more introverted and usually need some time to open up to people but with Leon I clicked from the beginning. I had the feeling with Leon I just can talk about everything. That's what makes working on projects with him so easy.
Leon, you moved here from the South of Germany close to Freiburg and the Swiss border. Berlin has its very own vibe, how was it to make that change?
L: It changed me a lot. Down there we have cool parks, cool spots and I went to Basel a lot. Basel is cool, the scene is great but things are a bit sleepy there at the same time. I wanted to move to Basel but it is really hard for German people to move down there. The Swiss want to keep the circle tight (laughs). I felt a bit stuck, and last minute I thought about Berlin, some of my friends had moved before me. So in the last 3 weeks of 2018, I managed to pack my stuff, rent a car, one way, and arrived in Berlin. It has been a bit over 1.5 years now and time in Berlin moves fast!
You established yourself fast as well.
L: Berlin just has a lot of people and a lot of the right people for me!
F: I guess your skating helped too. (laughs)
Are you from Berlin, Felix?
F: I moved up from Koblenz about 5 years ago to do my vocational training. I stuck to my friends at first but I found myself hanging out with a crew of people from the Freiburg area quite soon. People like Domi & Michi welcomed me in.
Dominik is a ripper, I didn't know that about him.
L: They are from Offenburg, the next city over. I know him from back in the day. Him and his little brother were the contest rippers. His little brother always won the kids division. Domi was exciting to watch, when it was contest season I always got excited like "Here comes that nice Back Smith on the hubba."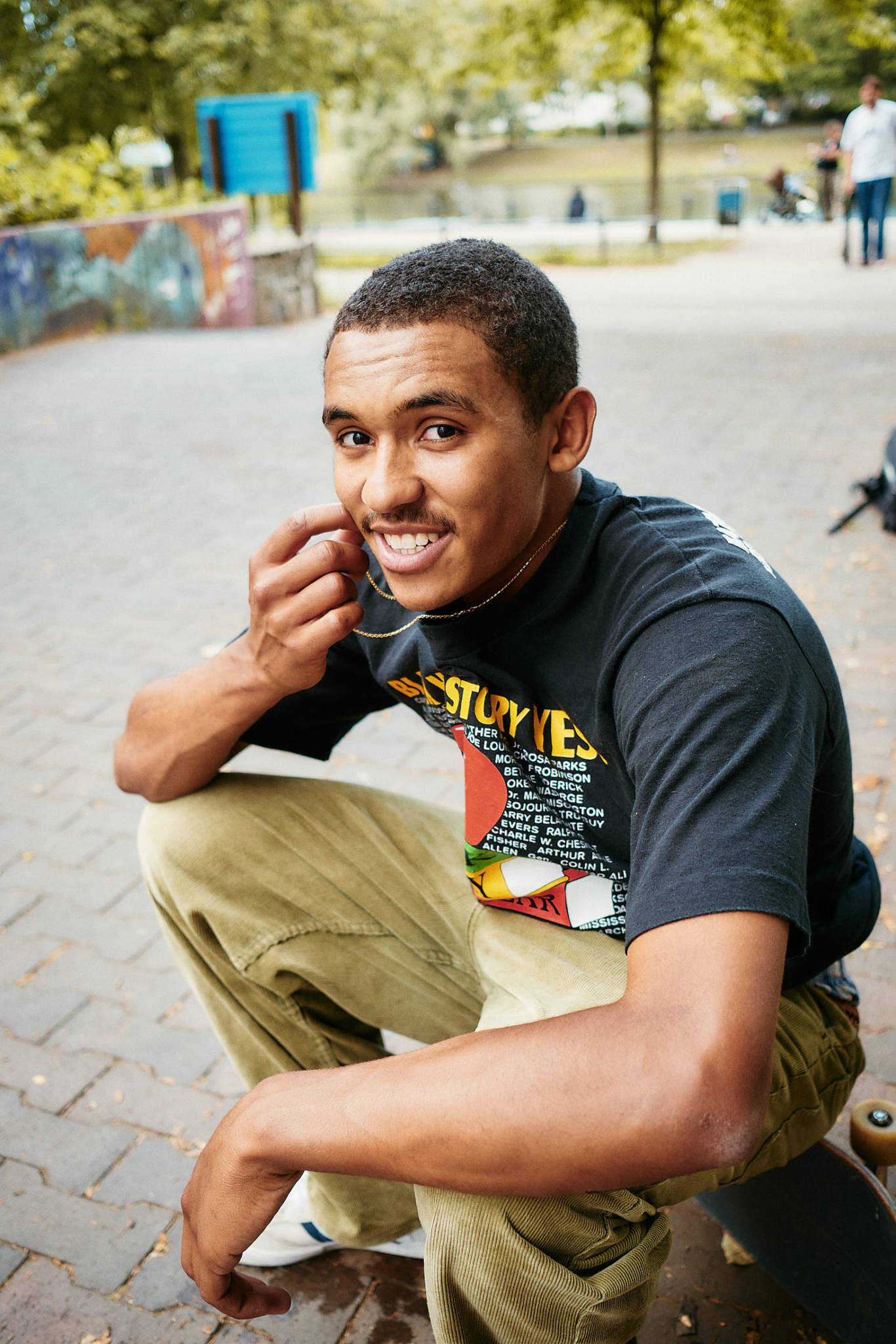 You guys live together now, how did that happen?
F: It was kinda random, I had a friend living with me and he built a bunk bed in the hallway. So after Leon lost his flat, I told him he could move into our hallway (laughs). So after a while one of the rooms became available and he moved in there and that is our current status.
L: It is at Frankfurter Allee really close to the famous stair that people skate.
Did you ever kick people out or throw down eggs if the skaters didn't want to leave?
L: (laughs) Not as much as the people living right above it. I also never skated the spot myself, I think I am too heavy to go up like that.
They kept that on the low for sure (laughs). Felix back to you when did you start filming?
F: Well, me and the hometown crew put the money together to buy a camera. Soon I noticed that I was filming better than they were and I wanted the footage to look good so I took on the role of filmer. We dropped a full length in 2016 after 4-years of filming (laughs).
You can get hooked on filming and editing quite easily. And I think filming motivates people to do their best tricks and I like that. I think I became a filmer because I was interested in showing people that were better than me. I just felt like I wanted to show those peoples skating.
"Obstsalat" is actually the first video I fully did on my own. I guess I just kept filming stuff when I moved to Berlin, without having a project in mind, but when I got to know Michi, I was so stoked about his skating that I figured it's about time to make my own videos with the guys I like to see skate.
People are at a higher level here. I remember going to one of the skateparks here and just looking around like?! It seems like every cities local hero is just ripping up the park. How did you deal with that coming here, Leon?
L: What shocked me more than seeing some of the skaters that I had seen before in videos is the fact that their ripping looked so casual in real life. I remember going to Skatehalle for the first time and I felt like "What!! Is this a demo or something?"
So I adjusted and thought like "Ok this seems to be the level, let's see if I can play. Not in a competitive way but I just wanted to see if I could hang.
I definitely saw a "Before & After" effect. Because when we first met at the Kindle Banks I was impressed but after the 2019/2020 winter there was a difference.
F: There was, but even back when we filmed Obstsalat he would always get like one or two good clips each session.
L: I got better except for my wheelie skills, wheelies get me depressed. I want to do them but I don't know how.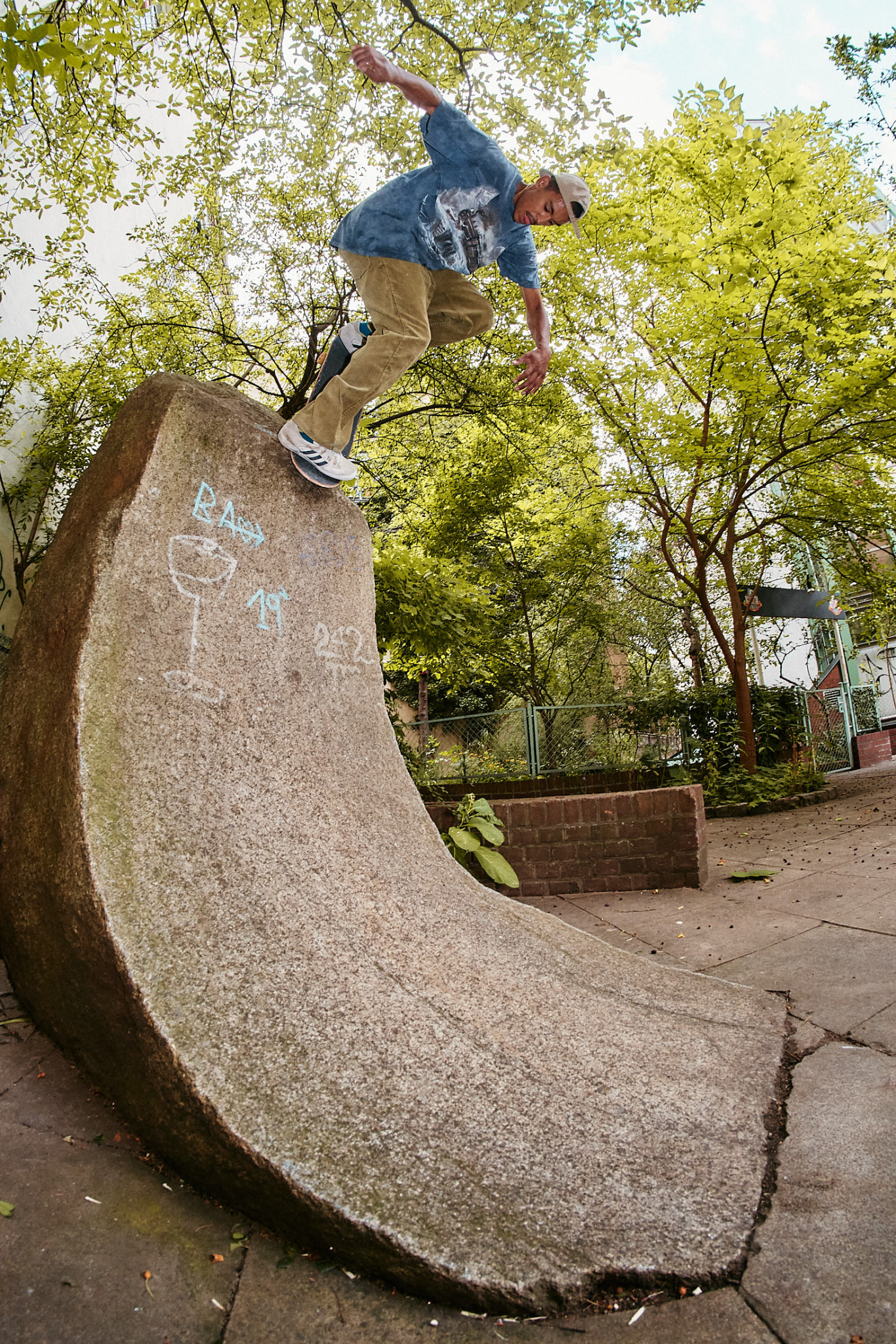 It seems like you just take it to bigger spots and transition more naturally.
L: I don't even skate transition for that long, I started 3 years ago and I just started learning transition faster than I did any other type of skating. I was into it because it is fast, you can grind long and you go high and because it came naturally to me I stuck with it.
That is kind of crazy because it really seems like you have that level of confidence that comes with growing up on transition. When we did that "Eat Your Veggies" you skated that ramp with ease.
L: That ramp is sketchy but I have this idea that helps me with transition skating. So, on higher ramps, I feel like the basic calculation of the quarter is kind of the same. So whether it is a high ramp or a small one you just need to figure out how to land in the middle of the transition and you can walk or slide out of a bail easily. Also, I look at cats and how they do things and try to emulate that (laughs).
To be honest it kind of shocked me to hear that you have been skating transition for only 3 years and did an ender like that. Could you share a little bit about that process?
That day was crazy, we woke up had breakfast and we just said let's go to Kreuzberg and we happened to pass the spot. We looked at each other and thought, why not go here. So I warmed up with those Frontside Oski's, then did a stall on the top to drop in and after that, I wanted to Nose pick. But I landed in a Noseblunt a couple of times and I kind of started believing it might be possible. So I kept going, had a blackout moment and woke up rolling away from it like "What The Fuck".
How many tries did it take total?
F: Maybe 20, that was before we even met up with the crew. We kept skating and got more clips that day.
L: I filmed that ollie up, Front board fakie line like right after. You can tell in my part I wear a lot of the same outfits because a lot of stuff happened in sequence.
What was the biggest challenge for this part?
L & F: THE MUSIC!
L: We tried everything, from funk, soul, whatever, and we would come home and try to edit it, and either it didn't work or we got less psyched after we saw the results. Also, the trick selection was hard, we struggled a bit with that.
F: I am happy that a lot of things got leftover and that will go forward to my next project.
Continuing, did you guys carefully select the spots you wanted to skate? Because some of these spots are not typical berlin spots.
F: I am just not interested in filming the same old spots, I am not interested in filming too many lines at Bänke. Berlin has so much to offer and looking for spots by bike is a big part of that experience.
L: I remember Felix would come into my room really stoked saying that he had found a spot on google maps. We would then go there on the weekend and use the spot as a Geiger meter. On the way, we would find things and skate them. That was probably the most productive method for us, sometimes being too prepared and stuck on the idea of doing a certain trick at a certain spot can be detrimental to being productive. I feel if you keep an open mind you approach the spot differently and you often get a better result.
Who is the leader when it comes to picking directions.
L: It is a group thing but Felix knows a lot of spots.
F: And Leon can skate a lot of them so the combination really works.
Except, you never seemed to land at any wheelie pads.
L: (laughs) No he never brought me to any of those luckily.
F: He doesn't like to try them and I don't like capturing them on my vx.
What is your personal top 3 when it comes to things in this part.
L: Halfcab down the stairs Wallie Frontside 180.
L: Switch 270 Wallride over the coffin.
L: A toss-up between the line with the Max Palmer Ollie and the Backside Noseblunt.
F: The Ollie at Görlitzer park into the short bank. I like how it looks on tape.
F: The Wallie transfer from stone to stone in Schöneberg. Also not the most common spot.
F: The Ollie over the rail into the bank and dropdown into the next bank.
Funnily enough, there is a lot of Barcelona in there and I remember that after seeing that footage calling you (Leon) and saying that I felt you could do better.
L: Pfffff, I was scared after you said that, I had an "Aaah I don't know if I am good enough!" type of moment. At the same time, I did have some tricks to hold on to. I felt like some tricks had a good level and all I had to do was get slightly better than that and I felt that motivated me to get better day after day.
F: I was surprised. But I also felt that you said it to keep Leon motivated and not chill too much. Because we all know those tricks were good tricks.
My goal with that was to get you to keep the same newfound confidence you had inside of the park and I wanted you to take that to the streets. I mean some of those Barcelona tricks are in the ender section of the video but I felt like all-round the possibilities were greater.
F: It worked because most of the footage we got happened in the weeks after our Barcelona trip. We also had a lot of time because of the lockdown.
L: I think we never felt that we could sit and chill with the footy we had, I always felt like we should keep it going.
Even after you did the Backside Noseblunt and showed me the clip? my reaction was pretty reassuring.
F: (laughs) I remember you instantly took out your phone and texted Daniel (Pannemann). And he texted back "Damn @streetquarter on a street quarter."
Looking back you tried some gnarly stuff in Barcelona too. You tried that big kink rail.
L: That was crazy, you had to gap over a 3 stair, into a flatbar, that changes into a 10 stair rail.
F: You had it though!
L: Almost, I think if I could go back I would try it again. That could have been the ender. I know I can do it though!
Compared to "Obstsalat" you don't have too many rail tricks in your part. This feels like a part where you shifted focus.
L: You think? Maybe that's true but at the same time, there weren't too many good rails around.
Instead of that you just did gnarly drop-ins instead. How many boards did that one under the Prinzenbrücke (bridge) take you?
L: It took like three tries and it didn't cost a board. I thought I was going to eat shit though! That little slappy wedge at the bottom was scary but I was trying to be mentally prepared for it.
It was the same day as the DDR museum line where I broke the sign. The whole museum area was closed so we could skate some spots that are normally hard to hit. Did anyone ever hit you guys up after seeing something like that and wanted to get the information of the skater?
No, Not really, I received an e-mail once about our stickers being found somewhere but nothing came of it. Random question but what about the frontside flip over the rail? How did that happen?
L: That is in Potsdam, I went there and skated with Justin Sommer and Jose was there as well and we just tried to skate the rail. I tried to Backside Smith it and the rail kept catching my kingpin so I just tried to Reynolds it instead. I got lucky in the end and managed to roll away.
The other line with the Max Palmer Ollie was also in Potsdam but not on the same day.
F: You had learned the Max Palmer Ollie that day. And I made you do it twice because I didn't like the filming on the first one.
L: I was like, NOOOO PLEASE! (laughs).
In a way, that line is important because it shows you something quite different from the rest of the footage.
L: It was to pay homage to one of my favorite skaters Max Palmer. That guy has it figured out.
I think your part feels a bit more Ishod, to be honest. Except for the fact that you don't have any ledge lines.
L: I get that a lot. As far as the ledge lines go I will leave those to Pascal Moellaert.
What do you like to see in other people's parts?
L: I think it is important to stay true to yourself. A lot of parts want to convince you of their quality by going gnarly but in my opinion that only really works if the skater feels like he wants to do it. Like Hyun's part, you can tell that he skates the way he wants and likes to skate. Or even Shin Sanbongi's /// part, a lot of people could do a lot of those tricks but you can see that they are true to themselves.
F: I like to see that the skater had ideas and thought about the way he wanted to skate for the part and what he wanted to skate.
L: And in a way, you can't train street skating. The spot forces you to make choices or it allows you to create combinations that are almost exclusive to the spot.