In 2016, we will celebrate the groundbreaking ceremony for the further development of a unique DIY spot in Berlin, The Dog Shit Spot. Legendary skaters Jan Kliewer and Lennie Burmeister will build and regularly install in cooperation with Yamato Living Ramps and 1. Berliner Skateboardverein e.V. new elements (obstacles) over a two year period. These developments will be celebrated with events as the construction progresses.
During the process, Berlin locals will be able to enjoy and participate in the events that will take place at their favorite skate shops in the city. They also will have the opportunity to provide us with their feedback as well as partake in the development of Project DSS. In the end, the decisions about particular plans and obstacles will be decided by votes.

#ProjectDSS is served! After six events of collective preparation we're super close to finally enjoy the delightful result of all our diligent work. Join us and the Nike SB, Civilist and Skate Mental team at the ceremonial supper at June 27th. Enjoy sessioning some fresh mouth-watering concrete while delicately savoring a hot slice of pizza made by 'Ragazzi della Fontana' and getting rewarded by € 1.500 cash for delicious tricks.
The '1. Berliner Skateboard e.V.' and 'Yamato Living Ramps' will officially open the venue and pizza oven at 7 PM. If you're around Civilist you'll be able to jump on a shuttle bus at 6.30 PM. Buon appetite and see you at the DSS!
Head over to the Facebook event to join us and to keep yourself updated.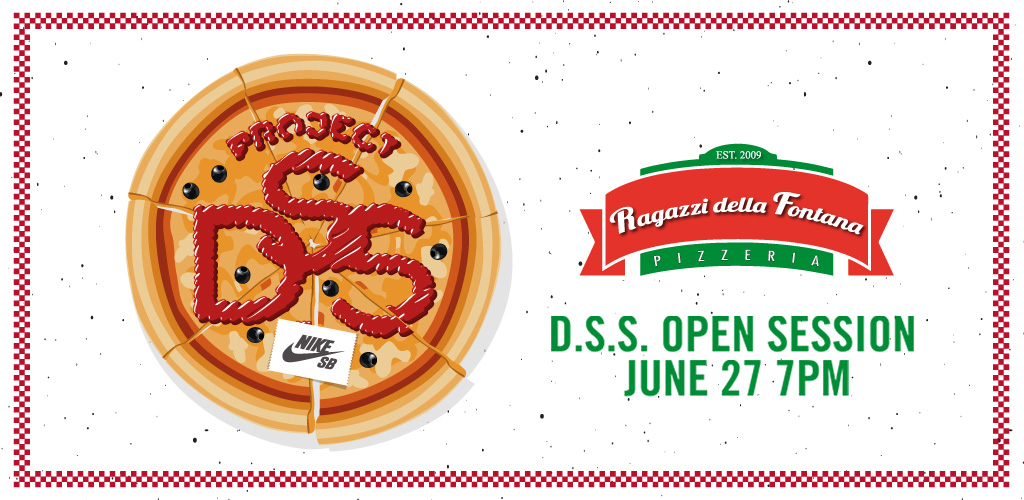 Every year with the beginning of summer on June 21st (the longest day), skateboarders all around the globe meet up to celebrate the international Go Skateboarding Day. For this reason, Nike SB once again organized a whole event in Berlin. This year was different because of the Project DSS connection, the day started at a classic spot and ended at what will probably be one of Berlin's new hotspots for the next years to come! On this day, Polendenkmal was host to the first best line contest and, people definitely went off! Some NBD lines were made with considerable ease and style. After that, we cruised down to eat and skate the DSS. Watch the video and see exactly what the atmosphere was like, who did what and who rolled away with the prize money.
Go Skateboarding Day 2016 Video