It is no secret that skateboard media is mostly run by people like me, a "Cisgender-white-human-male" now that in itself doesn't have to be a problem if you recognize and work on the privileges those attributes afford you. But it doesn't really make me an expert on the topic this tour video is about, which is on the one hand, FLINTA people. And on the other hand a concept for a possible more inclusive vision of our future. Now that last part connects us to this project. As you may or may not have noticed we are trying to show you as much quality content from all sides of the spectrum. From LUCKY to the VUM VAN TOUR and articles by people like Stefani Nurding. Now that isn't a cop-out we still have work to do…But we believe and are committed to helping people like Lea Isabell Uhle get to where they need skateboarding to go. If you don't want to listen to me, listen to her, she knows. So without further ado, here is Lea Isabell.
LEXICON:
*FLINTA: female, lesbian, intersexual, non-binary, transgender & a-sexual.
* LGBTQ*: lesbian, gay, bisexual, transgender & queer.
Intro by Roland Hoogwater.
Film, Edit & Photos by Leon Moss.
Planning your first Skatetour is not that easy, but this summer around 20 beautiful human beings helped me to make it happen. So I want to thank every single one of you!
In the last few years, we have all experienced a worldwide change in skateboarding. In the past, we only really saw men properly represented in skateboarding, whereas, nowadays, we see humans of many gender types and walks of life represented. To achieve that, we worked hard. Seeing so many people, passionate about the same sport/lifestyle, is truly heartwarming. But still, we could argue that we are a too homogeneous group. Many people, minorities, are still in the shadows and only feel comfortable in so-called, safe spaces. This skate tour was my first attempt to try and involve the unseen people, to give them the chance to be seen. And through this trip, have the ability to show all of you, how things could look, if we all start to seriously work to overcome gender-specific borders.
In 2021 we all know events like girls-night. Events, which are focused on either the location or girls-only projects which include only Womxn and LGBTQ* people. In demarcation therefrom, the idea of this skate trip was to create a safe space, not by using a location but only through the will of the participants. We went into many public spaces in and around Berlin, which led us to create this skate video together, which in turn, allowed us to be visible. It was an attempt to try and create a futuristic image of skateboarding both in real-time and on social media. Important was, that the people who participated consist mainly of people we need to include and support in our 2021 skateboard community. But…and this is a big but… without excluding other gendered humans like CIS men. Because: Inclusion doesn't work if we exclude!
One of my male friends asked me once: We already make space, what else can we do? It seems like we separate more than coming together.'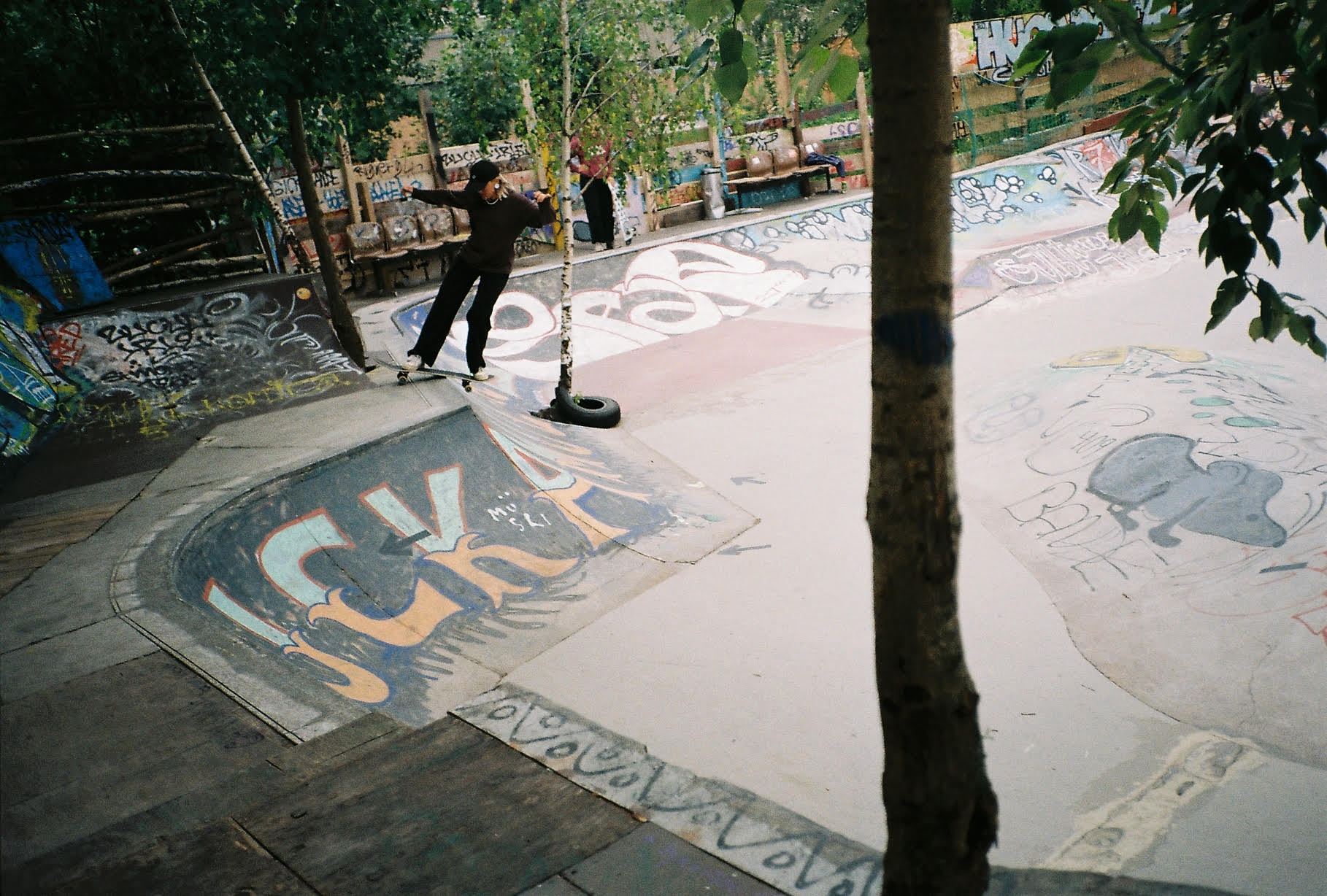 Up until now, we have always thought integration would be the solution. The so-called "minority" consists mainly of Womxn and LGBTQ*, people need to integrate themselves if they want to become a part of "our group". But the problem with integration is that the difficulties for less privileged and often more discriminated people remain unseen and at the same time this "integration" does reproduce a certain sense of hierarchy. Always remember: Just because you make space, doesn't automatically mean that everyone is able to take that space.
We need to give each other a helping hand. You need to see everyone as equal, no matter which gender, or level of skateboarding they possess, support each other! Sometimes it helps to encourage people to try something new or to simply offer some help.
You can start by asking yourself, "why is there no Womxn or LGBTQ* Person in my skatecrew, and in which way is it your own responsibility to try and change that?" Why do you believe Womxn or LGBTQ* need to fight for their rights instead of people just giving those rights to them?
Here are a few notes:
– Inclusion instead of integration.
– Turn your privileges into activism.
– Give each other a hand.
– Make space to listen, not only to skate.
– Not everyone grows up in the same circumstances as you do, remember that.
In the end, I hope within producing this video I can give you a glimpse into the future and get us one step closer to a gender-equal skateboard community.
Thanks to Goodpush, Iriedaily, Skatedeluxe, and Poetic Collective for helping me make this project happen! Place Magazine for always helping me structure my plans and giving us the platform to show what we did!
Thank you, Leon Moss, for your amazing work and support throughout the whole project.
Thank you Julian Ruhe for helping me out and being just you!
Thank you Selin Ardak for coming to Berlin, and supporting me like you always do!
And a special thanks to Klaudia Smaga, Anna Christofferson, Lucía Cortés Soltmann, Marleen Nesner, Mia Luise Grützenbach, Anna Schäffner, Malin Teichler, Nina Kruse, Anna Gleissner, Aaron Ahfedah, Leonie Fikentscher, Helena Long, Leon Charo-Tite, & Roland Hirsch for being part of my first Skatetour! It was an amazing experience made possible by all of you!